the film
forum
library
tutorial
contact

As Spring Chinook Return Gathers Steam, Sea Lion
Numbers in Bonneville Dam Tailrace Above Average

by Staff
Columbia Basin Bulletin, April 17, 2015
---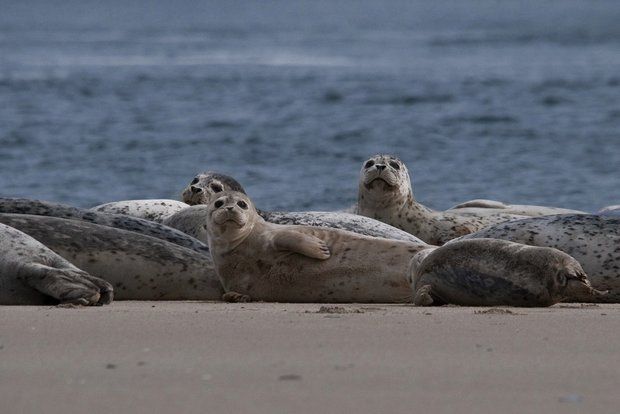 Just a short time into the spring chinook salmon run, with only 3,253 fish passing Bonneville Dam by April 7, sea lions stalking the fish in the dam's tailrace have already taken 474 salmon.
That's only part of the impact of a couple thousand sea lions -- both Stellar sea lions and California sea lions -- have had on activities in the lower Columbia River, where they have been sited from the river's mouth to Bonneville Dam.
Last week's commercial fishing catch fell short of its target and some commercial gillnetters in the lower river didn't want to open the early commercial season until the California sea lions leave the river, which is expected in early May.
Astoria docks have been overrun by pinnipeds and an incident of shooting sea lions at Astoria's east end mooring basin shows how frustrated lower river gillnetters, anglers and residents are with the loud and smelly mammals. NOAA Fisheries, the only federal agency that can authorize states to remove or kill up to 100 sea lions at Bonneville Dam, is investigating the Astoria incident.
According to an April 9 status report by the U.S. Army Corps of Engineers, as of April 6, there has been an average of 65 pinnipeds per day observed at Bonneville Dam in April, with a high of 76 on April 3.
Since March 28, the number of pinnipeds per day has been at least double the 2002-2014 daily average, according to the report. The 76 pinnipeds in the tailrace on April 3 is almost three times the 2002-2014 daily average of 26 pinnipeds for the same day.
Although the number of sea lions is far higher than the average, the numbers of adult salmon and steelhead they eat are near the 2002-2014 cumulative average for this time period.
"The predation estimate of 681 salmonids is similar to the 2002-2014 cumulative average of 669 salmonids consumed through April 6," according to the Corps' report. "We have observed 265 salmonid catches by CSL and 296 salmonid catches by SSL." CSL is California sea lions and SSL is Stellar sea lions.
The first California sea lion in 2015 was observed on February 9. The maximum number on one day was 42 on March 12. The Corps documented 38 branded CSL in the tailrace so far and, of these, 15 were brands seen in previous years, 10 were brands that had not previously been observed at Bonneville, and 13 were CSL that were trapped and branded at Bonneville this year.
Steller sea lions have been present since observations began on January 13. The highest number in one day was 51 on April 3. Forty-three unique SSL's have been documented in the tailrace and, of these, 32 were repeat individuals from last year and 11 were previously unidentified and may be new to Bonneville, the report says. Of the 32 repeat SSL, 15 were branded animals.
But sea lions in the tailrace at Bonneville Dam take more than salmon, although at lower levels.
The predation estimate for white sturgeon of 30 sturgeon is far below the 2006-2014 cumulative average of 1271 sturgeon consumed through April 6.
Lamprey predation is three, American shad predation is four and other and unknown species account for 108 fish.
The Corps and other agencies and tribes are taking measures to reduce sea lion predation with sea lion exclusion devices installed at fishway entrances and some powerhouses, as well as boat-based harassment by the Columbia River Inter-Tribal Fish Commission and dam-based harassment by the U.S. Department of Agriculture.
In addition, according to Oregon Department of Fish and Wildlife information, as of April 6, six California sea lions on the list for removal were trapped and euthanized. Thirteen California sea lions not on the list were trapped, branded and released.
NOAA Fisheries is investigating what could be the shooting of sea lions in Astoria. According to Port of Astoria Executive Director Jim Knight in an interview in the Daily Astorian, a report to NOAA about a possible shooting of sea lions April 6, led to the discovery of 19 bullet casings on the east end docks, with reportings of several other dead sea lions on Clatsop Spit and near the 17th Street docks.
NOAA Fisheries said that the number of sea lions around Astoria rose for a few hundred in January to 2,000 in February. Just 200 sea lions were present in 2010.
The problem is a warming ocean that is shifting the distribution of food that sea lions prey on northward.
By the beginning of May, the male sea lions depart for the summer breeding season at the rookeries in Southern California.
"It's like flipping a switch," said Bob DeLong, fisheries biologist with NOAA Fisheries. "Suddenly it's time to go."
Related Pages:
Gillnetters Fall Short Of Harvest Target in Tuesday Fishery; Heavy Sea Lion Presence Cited by Staff, Columbia Basin Bulletin 4/10/15
Sea Lions Showing Large Presence in Lower Columbia; Smelt First, Then Come Spring Chinook by Staff, Columbia Basin Bulletin 3/13/13
---
Staff
As Spring Chinook Return Gathers Steam, Sea Lion Numbers in Bonneville Dam Tailrace Above Average
Columbia Basin Bulletin, April 17, 2015
---
See what you can learn
learn more on topics covered in the film
see the video
read the script
learn the songs
discussion forum