the film
forum
library
tutorial
contact

Sea Lions Showing Large Presence in Lower Columbia;
Smelt First, Then Come Spring Chinook

by Staff
Columbia Basin Bulletin, March 13, 2015
---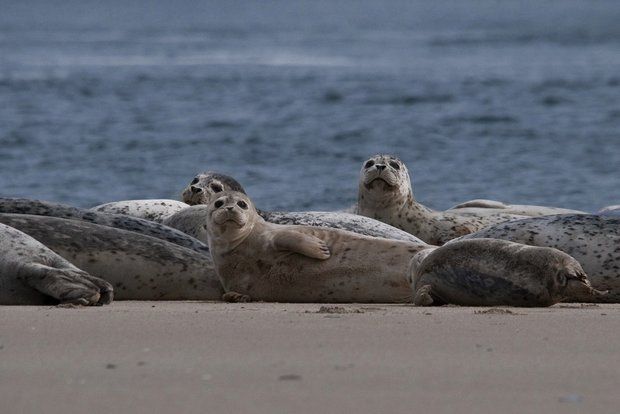 The late winter presence of marine mammals in the lower Columbia River has been huge, and obvious, with animals settling in at Astoria, Ore., and other estuary sites to prey, many suspect, on returning eulachon.
The fatty bite-size fish commonly known as smelt are a favorite hors d'oeuvre for sea lions. A main course is salmon.
And with the annual smelt spawning run likely disappeared into lower Columbia tributaries, sea lions in particular are starting to look around in search of their next meal(s).
"The first California sea lion (CSL) of the 2015 field season was observed on Feb. 9" by observers stationed atop the Columbia's Bonneville Dam, according to a status report released Thursday that was prepared by U.S. Army Corps of Engineers researchers Bjorn van der Leeuw, Katherine Abbott, Ryan Bart, Travis Bybee, Dina Grinstead, Jessica Mejia, Alina Montgomery and Gregory Robertson.
The Corps operates the dam, which is located about 146 river miles upstream from the river mouth at the Pacific Ocean, and has since 2002 carried out research in late winter and spring to evaluate the behavior, and feeding habits, of California and Steller sea lions and harbor seals in the waters below the hydro project. Of particular interest is the predators' impact on spawning salmon and steelhead that are protected under the Endangered Species Act.
California sea lions have been observed in the tailrace in low numbers (fewer than 5 per day) until March 10, the status report says, when 16 CSL were recorded.
"The maximum number of CSL observed on one day was 21 on March 11. The vast majority of CSL observed this year have been younger animals that are quickly moving around the tailrace in groups of 5-15 individuals. These groups have not stayed in the vicinity of Bonneville Dam for more than a few hours at a time."
The beginning of the spring chinook salmon run is also starting to show itself. A total of 138 adult fish have been counted thus far this year. All but 8 of them have been counted since March 1. That count is well ahead of the 10-year average through March 10, which is six adult fish.
Steller sea lions have been present since research observations began on Jan 13, according to the report. The maximum number of Stellers observed on one day was 16 on Jan. 21. The researchers have documented 23 individual Stellers below the dam thus far this year. Of these, 16 were repeat visitors from years past and seven were previously unidentified and may be new to Bonneville.
The spike in average daily pinniped abundance at the dam this week is more than double the 2002-2014 average though March 11. Abundance has typically peaked in late April.
"Adult salmonid (chinook salmon and steelhead combined) predation has been near the 2002-2014 cumulative average for this time period," the status report says. "The predation estimate (expanded for weekends only) of 130 salmonids is lower than the 2002-2014 cumulative average of 203 salmonids consumed through March 11. All observed salmonid predation was by SSL, except for three salmonid catches by CSL."
The observed predation on another favored sea lion target in Bonneville's tailwaters -- white sturgeon -- has been low this year.
"Estimated white sturgeon predation has been very low for the 2015 field season. The predation estimate (expanded for weekends only) of 25 sturgeon is far below the 2006-2014 cumulative average of 1131 sturgeon consumed through March 11."
Counts of pinnipeds in the lower Columbia River has been as high or higher than 2013 and 2014, when record totals were recorded at, particularly, Astoria's East Mooring Basin docks.
During a recent presentation to the Northwest Power and Conservation Council state officials said the number of California sea lions witnessed at the mouth of the Columbia and in the lower river swelled over the past two years -- from spring peaks that were generally less than 250 from 2005-2012 to highs of 750 in 2013 and nearly 1,500 in 2015 at Astoria near the river mouth. The mostly male California sea lions swim north typically in search of food, before returning to warm southern California and Mexico waters for their early summer breeding season.
According to the Steve Jeffries, a research scientist and marine mammal specialist for the Washington Department of Fish and Wildlife, an estimated 1,500 California sea lions were seen resting on East Mooring Basin docks during a Feb. 11 flyover.
That number has gone done over the past month "but there are still 800 to 1,000" of the big marine mammals at the lower river location, Jeffries said.
The Feb. 11 aerial survey conducted by WDFW also showed at estimated 6,000 harbor seals Desdemona Sands near the mouth of the Columbia.
"That's the biggest haul out site in the Columbia" for harbor seals,' Jeffries said. The harbor seals are mostly resident, while the California sea lions are regular visitors to the Columbia river system.
"There are a lot of sea lions out there," said Doug Hatch, senior scientist for the Columbia River Inter-Tribal Fish Commission.
CRITFC last week conducted the first of its seasonal boat surveys last week, floating from Bonneville down to Astoria, and a second count this week. Raw counts were about 1,300 sea lions between the dam and Astoria, with the vast majority in the lower river.
Some the larger groupings of sea lions were "in the areas where smelt are" such as the mouth of Washington's Cowlitz River and Oregon's Sandy River, Hatch said.
---
Staff
Sea Lions Showing Large Presence in Lower Columbia; Smelt First, Then Come Spring Chinook
Columbia Basin Bulletin, March 13, 2015
---
See what you can learn
learn more on topics covered in the film
see the video
read the script
learn the songs
discussion forum