---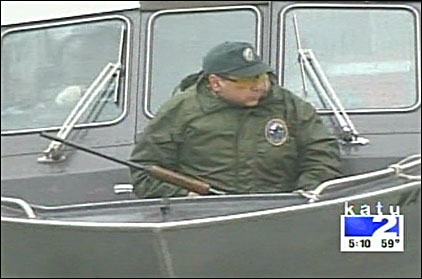 Who said the following?
"Our worry is that their behavior encourages the same behavior by others. There is something to be said for trying to deter a few aggressive individuals early on."
A. In the 1953 movie "Stalag 17," a German army officer at a POW camp talking about rebellious U.S. inmates.
B. Russian scientist Ivan Pavlov, famous for using dogs in his groundbreaking research on conditioned responses, discussing a troublesome German shepherd.
C. The late William Dunn, principal from 1930 to 1957 at the old Shumway Jr. High School (now Vancouver School of Arts and Academics) and one of the county's strictest and best school administrators, as quoted in his Columbian retirement story.
D. A spokesman for a federal fisheries agency discussing sea lions that gather just downstream of Bonneville Dam and devour salmon and sturgeon.
D it is. And I say shoot a few of the slippery fish-slurping sea lions and see if that doesn't deter the rest of 'em.
"We are seeing increasingly aggressive sea lions in larger and larger numbers" at Bonneville Dam and even farther upstream, said Brian Gorman of the National Oceanic and Atmospheric Administration fisheries division in Seattle. "Ten or 12 years ago it was unheard of to have sea lions near the dams. Now we get hundreds."
The ravenous sea lions are protected under the 1972 Marine Mammal Protection Act, which makes it nearly impossible to get a permit to pick off a few.
So, authorities spin their wheels trying just about everything short of rifles, including underwater noisemakers, rubber bullets and bad-tasting dead fish. None of it works, at least not for long. And don't even suggest catching the critters live and hauling them away. In the late 1990s, three sea lions that had been feeding on steelhead at Seattle's Ballard Locks were captured, outfitted with tiny radio transmitters and trucked 900 miles to Monterey Bay, Calif.
"Within three or four weeks they were back," Gorman said.
"The law does not allow much flexibility in letting authorities deal with the situation," he said when asked about using rifles. "There are provisions for killing nuisance animals, but it is a convoluted, time-consuming process."
Then, putting on his philosopher's hat, Gorman said, "The sea lions are just doing what nature tells them to do. The irony is lost on fishermen that the sea lions are doing what the fishermen want to do," which is kill salmon.
Irony schmirony. The salmon and sturgeon may well be headed for extinction, but the sea lions are not.
They kill seagulls, don't they?
Did you know we, the taxpayers, already kill salmon-feeding seagulls?
"We use shooting as one small aspect of our efforts to keep gulls from feeding on migrant salmon and steelhead smolts on the way downstream," said Roger Woodruff, the U.S. Department of Agriculture's Washington-Alaska director. "They take 8 to 10 percent of the smolts" at some dams.
He said "a couple of thousand" gulls are shot every year on the Columbia and Snake rivers, although none in the past two years at the three lower dams. "Over time, we have trained these gulls to forage somewhere else. Each year, there have been fewer and fewer."
Fishing guide Duane Huber of Carson in Skamania County (RiverRunGS aol.com) isn't just wringing his hands. He has collected some 5,000 signatures so far in his effort to get the states and Congress to do something.
As for the sea lions, consider what Dan Edge of the Oregon Fish and Wildlife Commission said at a meeting in February: "We wouldn't have to lethally take very many animals before the other ones would figure it out."
---
Gregg Herrington
If You Shoot Them, They Won't Come
The Columbian, March 31, 2006
---
See what you can learn
learn more on topics covered in the film
see the video
read the script
learn the songs
discussion forum