---
Conference in Boise looks at clean energy
Idaho's political leaders need to do more to encourage alternative energy sources in Idaho.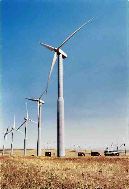 That's the message from alternative energy experts gathered in Boise Monday and today for the "Harvesting Clean Energy Conference."
The conference is sponsored by the "Harvesting Clean Energy Network," a network made up of a variety of Northwest organizations including agriculture associations, universities, public interest groups and government agencies like the U.S. Department of Energy.
Patrick Mazza, a research director for Climate Solutions, one of the key sponsors of the conference, said alternative energy projects are capital intensive, so states that provide financial incentives to offset those costs tend to land more projects.
"This is our opportunity to show what other states have done, why they're doing it and what the benefits are," Mazza said in an interview Monday.
Alternative energy projects not only provide power, but also bring additional property taxes and jobs to the states where they're located, Mazza said.
In the last few years there's been a growing interest in renewable energy in Idaho.
Nearly a dozen sites in Idaho are currently being investigated for wind power projects, and there have been discussions about building anaerobic digesters that would turn waste from Idaho's dairy industry into power.
Michael Heckler, a spokesman for Boise-based Windland Inc., which is developing a 200-megawatt wind power project in the Cotterel Mountains southeast of Burley, said if all the sites now being investigated were built to capacity it would mean about $8 million in new property taxes and 1,000 megawatts of power.
Although the Idaho Legislature hasn't passed any legislation providing incentives for renewable energy, it could happen in the future.
Sen. Joe Stegner, R-Lewiston, co-chair of the Legislature's interim committee on electrical restructuring, said the committee has been exploring incentives to promote alternative energy.
Stegner said he's drafted legislation that would offer financial incentives like investment tax credits for renewable projects, but he couldn't say whether that legislation would be introduced in this session.
As part of the conference, an action plan was introduced to identify ways states could best encourage alternative power.
The plan includes everything from tax credits to state-sponsored energy loans, Mazza said.
Although it's not included in the plan, some states also have mandated that utility companies use a certain percentage of renewable energy in the makeup of the power they provide to customers.
Among the 13 states with renewable energy standards, California has the highest percentage.
The state is requiring that by 2017, 20 percent of the power provided by utilities come from renewable sources.
Stegner, however, says such mandates probably won't be a reality in Idaho.
"We've looked at that, but we prefer to offer incentives to reach objectives rather than mandates," Stegner said.
---
Ken Dey
Panel: Wind could Boost Idaho's Power Production
Idaho Statesman, February 11, 2003
---
See what you can learn
learn more on topics covered in the film
see the video
read the script
learn the songs
discussion forum