---
Those who want lax environmental regulation are naive enablers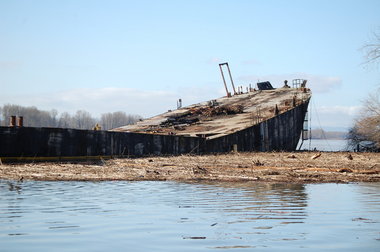 It has been unfolding too slowly to have become big news here near the Columbia Rivers mouth, but a toxic spill that is oozing from a grounded barge near Camas, Wash., is symbolic of pollution problems that deserve our rapt attention.
The 431-foot converted World War II liberty ship Davey Crockett has been leaking oil for more than two weeks, along with cancer-causing PCB chemical compounds. The U.S. Coast Guard can't find the barge's registered owner. The bill to taxpayers now stands at $2.5 million and counting.
The salvage crew was working late last week to pump the barge full of water in hopes of stabilizing its hull, which is in danger of breaking in half. They will be trying to find the source of the oil and chemical leak within the wreck so that it can be contained and pumped to safety.
Oil is bad enough, but PCBs linger in the environment for decades, being absorbed into the food chain. It can cause birth defects in wildlife and cancer in humans. We emphatically do not want more of it coming down the Columbia, where river currents will deposit it in river and beach sediments that are home to clams and a diverse network of other creatures.
A single point source of such pollution, such as this hulk, is only a small part of the overall issue. Sitting as we do at the end of an extremely long watershed, our mud and water have long been the recipients of hazardous waste products from upriver. Well-focused monitoring and intervention are essential, if costly.
Some of this pollution is a legacy of past decades of lax regulation of industrial and agricultural chemicals. We taxpayers just have to grit our teeth and pay to deal with this.
But when it comes to known pollution sources like the Davey Crockett, strict insurance requirements must be coupled with civil and criminal penalties to make sure that culpable parties foot the bill. Those who call for environmental deregulation forget that some business people - like the owner of this decrepit vessel - are wilfully negligent and will happily pollute on a large scale. We all pay a steep price when derelict vessels and other waste sites spew poison. We need to pay attention and demand accountability.
---
Editorial Board
Here is a Willful, Negligent Polluter
The Daily Astorian, February 8, 2011
---
See what you can learn
learn more on topics covered in the film
see the video
read the script
learn the songs
discussion forum