---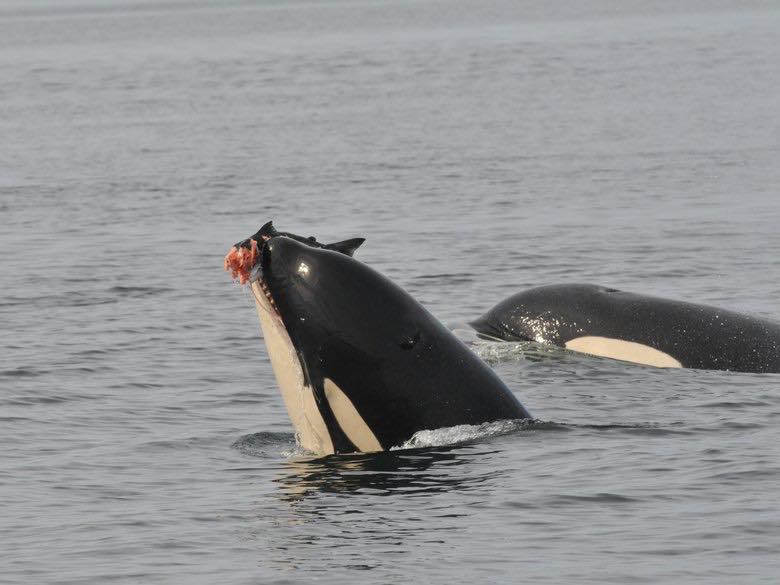 If this headline startles you, it should. Washington state is losing its resident orca pod. And government agencies are using your tax money to do it.
If you're pissed, you have every right to be. Diplomacy and logic have failed. We are past the maybes, the perhaps, the likely scenarios and the government-spun statistics that are unrealistic and unfathomable. It's progressed far beyond that point now. Wild salmon are facing extinction and with them, the beloved, endangered Southern Resident orca population. Your federal government is starving them to death.
There is a video in this article. A highly important video. Please watch it. It encapsulates the dire situation faced by salmon and the orca who feed on them. It is also the best explanation for what is currently happening with your tax dollars. It speaks to how the mismanagement of funds and the actions or inaction of federal government agencies are not "ignorant", but willful, deliberate and arrogant.
Since 1991, 25 YEARS now, a quarter of a century, the battle with federal agencies over the Columbia/Snake River salmon has played out. On umpteen occasions, the feds' plan for salmon recovery has been ruled inadequate. Just last May, the 'Seattle PI' wrote:
"Once-mighty Columbia River and Snake River salmon runs are in a "perilous state" and U.S. government restoration efforts are "failing," a U.S. District Court judge said ... Judge Michael Simon threw out the feds' latest plan for managing the Northwest's greatest river system. The 149-page ruling by Simon is the fifth time courts have rejected federal plans as flawed or inadequate under the Endangered Species Act and the National Environmental Policy Act."
More recently, a guest piece published by the 'Idaho Statesman', added:
"Federal fisheries managers estimate that we'll lose 80 percent to 90 percent of sockeye salmon returning to Idaho this year and about half of the unlisted sockeye headed for tributaries of the Columbia in the Cascades. These are the same managers who, only 11 months ago, held a press conference to pat each other on the back and tout the difference they were making for salmon.

NOAA Fisheries, the Army Corps of Engineers, Bonneville Power Administration and special interest groups gathered at Bonneville Dam last September to celebrate "the collaboration that is bringing more fish home," according to a Sept. 30, 2014, U.S. Army Corps of Engineers press release."
Allow me to introduce Jim Waddell -- a knowledgeable, reasonable, and rational advocate for dam removal. A retired Civil Engineer from the Army Corps of Engineers, he was also the Deputy District Engineer for programs during the Lower Snake River Feasibility Study. He knows what he's talking about because this was his life, and in the following video, he will explain how the $800M-1B fraudulent waste and abuse of taxpayers' money has failed salmon.

His resolutions are simple but effective. Please watch all of it, or bookmark it and return to it later. It's a long video by internet standards -- almost 52 minutes, an hour of your time. That hour has the potential to make a world of difference for the Southern Resident Killer Whale population. You can help them.

By now, you ought to be angry, more than a little shocked but eager to take action. Here's additional food for thought. As described in the video by Ken Balcomb -- the Executive Director and Principal Investigator, Center for Whale Research (CWR), the ultimate scenario is no longer about to happen, it is happening right now. The orca and salmon are out of time. I've seen it with my own eyes.

Few orca appeared at this year's Superpod5 on San Juan Island, Wa. Sporadic and dispersed, they proved elusive. As CWR noted in their July 22nd blog, "the whales were noticeably absent from their core summer habitat."

In early December 2014, J32, also known as Rhapsody, was found deceased with a near-term fetus disintegrating in her uterus. It was a daunting glimpse into the future. Preliminary findings from the CWR revealed how "J32's blubber layer was relatively thin and dry of oil ... consistent with inadequate diet for an extended period."

Fast forward to yesterday, the CWR announced that the 42-year-old whale -- J14 or 'Samish', was missing and presumed deceased. This tragic news was followed by worse, 'Polaris' -- J28, may be approaching her final days. The young 23-year-old female has a 7-month-old calf that may not survive without her:
"Things are shaping up to be pretty bad," said Ken Balcomb of the Center for Whale Research, who keeps tabs on the orca population. "J-28 is looking super-gaunt, and I would say she is within days of her death."

The saddest part of my conversation with Ken this morning was to hear him say that Polaris' 7-month-old calf would become an orphan and probably will not survive without his mother."
For those who follow this population of orcas closely, no doubt you know that losing a breeding female would hammer another nail into this populations' coffin. The time to act is NOW. Not in 6 months, 1 year, or even, as some conservation groups have suggested, five years. The orcas do not have that long. They cannot afford to out-wait the federal agencies who are making a mockery of the Endangered Species Act -- they need to be held accountable right now.
Joel Manby, SeaWorld Parks and Entertainment CEO, said recently, "a couple of centuries from now, orcas' conditions in the ocean many deteriorate to the point that people may ask us to take whales again."
There are no "couple of centuries," and SeaWorld's answer as to its availability as a "just-in-case" scenario, is despicable. These orcas need help now. SeaWorld could and should help these orcas in their own habitat. Given the park's ardent and fervent assurances as a conservation-minded facility, and because it is one of the leading causes for why these animals merited endangered status (mass captures from this population of whales), the park has both a moral and ethical duty to help them in any way they can. Lamenting the threats to wild orcas is not conservation, conservation requires actions that make a difference for the sake of a species. If they chose to, SeaWorld and other marine parks could massively influence public perception about this issue. But will they? Let's see how much 'SeaWorld Cares.'
What you absolutely must do and can do:
Contact your politicians. The Southern Resident Killer Whale Chinook Salmon Initiative makes it EASY to do it from one page.
Sign the petition to President Obama and ask him -- by Executive Order, to remove the four lower Snake River dams.
Call the White House 202-456-1111, express your displeasure and demand action.
Join the 'Free the Snake' Flotilla in Washington on Saturday, Sept. 17th.
Join the 'Rally for Endangered Orca & Salmon' hosted by Rachel Carberry of 'Empty the Tanks'. It is Friday, Sept. 16th. There is a planned march to
Governor Inslee's office.
Submit comments online to Gov. Inslee and call 360-902-4111.
Visit the Center for Whale Research for the latest news. Follow them on Facebook and Twitter, and please act on their recommendations.
Follow Dam Sense on Facebook and at their website DamSense.org.
Tweet, tweet, tweet. There is also a call-in taking place to President Obama on Sept. 16th. Take down the dams.
Related Sites:
Fisheries Canada: www.pac.dfo-mpo.gc.ca
National Marine Fisheries Service: www.nwr.noaa.gov
Orca Network: www.orcanetwork.org

Related Pages:
As the Chinook Go, So Go the Orcas by Peggy Andersen, Seattle Post-Intelligencer, 4/5/6
---
UPDATE: Via DamSense. A breakthrough:
Jim Waddell managed a face to face conversation with Senator Patty Murray. They spoke about dam breaching, the importance of holding the current Administration accountable and the need to act now. He also connected with Shawn Bills, Murray's Legislative Director. Jim encouraged both of them to directly contact Assistant Secretary of the Army (Civil Works) Jo-Ellen Darcy to press for movement on breaching. Let's give Senator Murray all the encouragement she needs to take that next critical step!
---
Elizabeth M Batt
The Southern Resident Killer Whale Population is Dying
Ocean Preservation, August 25, 2016
---
See what you can learn
learn more on topics covered in the film
see the video
read the script
learn the songs
discussion forum