the film
forum
library
tutorial
contact

For 2019 Columbia/Snake Spring Chinook, Sockeye
Returns Forecasted to be Well Below Average

by Staff
Columbia Basin Bulletin, February 1, 2019
---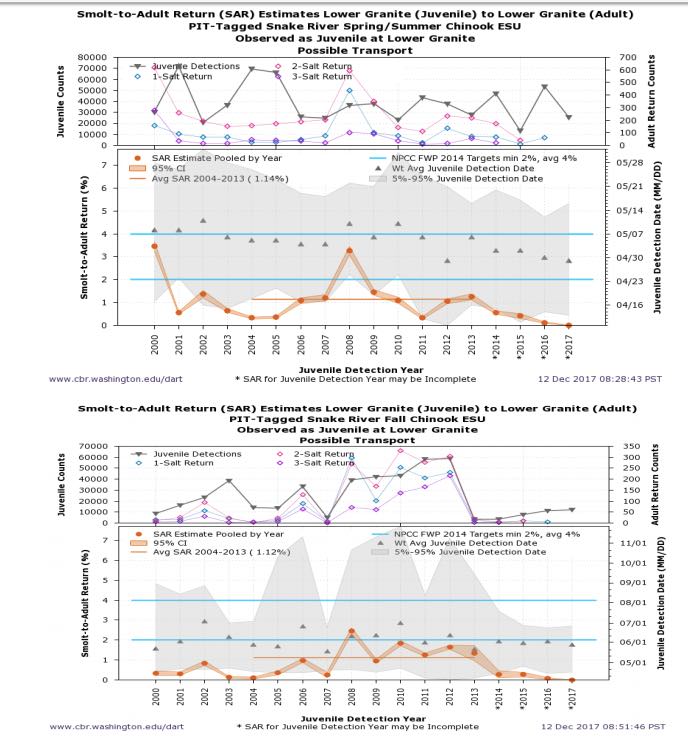 Anglers can expect fewer spring chinook salmon returning to the Columbia River this year as fisheries managers are predicting a total run of 157,500 fish. That's about 11 percent lower than the actual run in 2018 of 177,043 fish.
In fact pre-season forecasts for all runs of salmonids in 2019 are lower than 2018 actual runs, with the exception of wild winter steelhead that are forecasted to be 14,400 fish, compared to last year's actual but dismal run of 11,323 (the 2018 forecast was 11,700 fish).
Hit especially hard this year are sockeye salmon with a forecasted total of just 94,400, less than half the 2018 actual run of 210,915 (2018 forecast was 99,000). Just 200 endangered Snake River sockeye are expected to return. Last year's actual run that made it past Lower Granite Dam on the Snake River was 297, while the forecast last year was for 600 fish.
The two-state Columbia River Compact met this week for the first time this year to discuss opening a test research level eulachon (smelt) fishery, as well as lower river select area commercial fisheries and John Day and The Dalles pools tribal fisheries.
The hearing, Tuesday, Jan. 29, did not give any indication of what recreational anglers will have in store for fishing this year, but the Compact will determine that and treaty winter commercial fisheries at its next scheduled meeting Feb. 20.
When the Compact does take action on spring chinook fishing, it will follow guidelines set by the 2018-2027 U.S. v Oregon Management Agreement, which provides the treaty Indian and non-treaty fishery harvest frameworks and harvest rate schedules for salmon and steelhead stocks destined for areas upstream of Bonneville Dam (see CBB, March 2, 2018, "Agreement Guiding Columbia Basin Fisheries Harvests, Hatchery Production For Next 10 Years Approved".
It will also follow Oregon and Washington fish and wildlife commission's guidelines. The commissions jointly manage the Columbia River fishery under the two-state Columbia River Basin Salmon Management Policy that was enacted in 2013 to assure recreational anglers would receive a larger portion of the non-tribal harvest allocation of salmon and steelhead. The Management Policy's intention also is to remove commercial gillnetters from the mainstem of the river.
According to the Management Policy, the non-tribal allowed ESA impacts to upriver spring chinook are allocated 80 percent for recreational fisheries and 20 percent for commercial fisheries. The majority of the commercial allocation is expected to be utilized in Select Area fisheries not in mainstem commercial fisheries, according to the Compact's Winter Fact Sheet No. 1..
Each year from 2014 through 2018, a limited conservation-level commercial research fishery for smelt has been set in February to help evaluate run strength and provide biological data. Fishing has been limited to eight 7-hour periods over 4-5 weeks, the Fact Sheet says. The test fishery has generally yielded about 9,000 pounds of smelt, but last year that dropped to just 110 pounds. This year's forecasted smelt run size is even smaller than in 2018, so the Compact staff recommended not to initiate the test fishery and alerted recreational smelt dippers that a smelt fishery on the Sandy River in Oregon and the Cowlitz River in Washington in 2019 is unlikely.
Smelt were listed as threatened in 2010 under the federal Endangered Species Act.
The Compact approved a 12.5 day tribal commercial gillnet fishery Feb. 1 through Feb. 13 in The Dalles and John Day pools only. In addition, it approved a platform and hook and line fishery beginning Feb. 1 and ending March 21 throughout all of Zone 6 (Bonneville Dam pool upstream through the John Day pool).
Looking ahead to winter, spring and summer commercial salmon gillnet fisheries in lower Columbia River select areas, the Compact set fishing times in Youngs Bay, Tongue Point/South Channel and Blind and Knappa sloughs.
See the Jan. 29, 2019 Columbia River Fishery Notice for details of treaty and select area fisheries at here.
By the numbers:
Annual forecasted runs of salmon and steelhead are provided by the U.S. v Oregon Technical Advisory Committee, which provides the pre-season forecasts as well as keeping tabs on fish runs during the season and updating those run sizes when appropriate.

For upriver spring chinook -- chinook passing Bonneville Dam through June 15 -- the anticipated run is just 99,300 fish, 86 percent of last year's actual run of 115,081 (the return that was predicted in 2018 was 166,700), and half the 10-year average of 198,200.

Snake River wild spring/summer chinook and upper Columbia wild spring chinook are components of this run and are listed under the federal Endangered Species Act, according to the Fact Sheet.

Spring chinook returning to other tributaries above Bonneville Dam are part of this run but are not ESA-listed. Based on the recent ten-year average, Bonneville Dam passage is usually 50 percent complete by May 8. Over the past ten years, adult runs have averaged around 198,200.

The Willamette River forecast is 40,200 spring chinook (20 percent are wild) slightly higher than the 2018 actual return of 37,441 fish. The 2018 forecast was 53,820. Over the past ten years, adult returns have averaged around 59,700 fish (range 35,400 to 107,700).

The forecasted return of spring chinook to select areas is 8,200 fish. Last year's actual return was 9,887 and the 2018 forecast was 12,300.

The mid-Columbia forecast is 40,000 spring chinook. Last year's actual was 34,641 and the 2018 forecast was 39,200.

The upper Columbia return of spring chinook is 11,200 (2,100 wild). Last year's actual was 12,844 (1,977 wild) and the 2018 forecast was 20,400 (3,400 wild).

Snake River spring/summer chinook forecast is for 48,100 (8,200 wild). Last year's actual was 67,596 (11,339 wild) and the 2018 forecast was 107,400 (18,500 wild).

The Upper Columbia summer chinook forecast is 35,900. Last year's actual was 42,120 and the 2018 forecast was 67,300.

The Wenatchee River can expect 18,300 sockeye (last year the forecast was 25,700), the Okanogan River forecast is 74,500 (72,600 last year's forecast), and the Yakima River forecast is 1,300 (last year's forecast was 50 fish). All of these rivers are in Washington. The Deschutes River forecast is 100 sockeye (50 were forecasted last year).
Details of anticipated runs can be found here.

Related Sites:
Science Review Of Salmon Survival Study: Snake River Fish Not Meeting Smolt-To-Adult Return Goals by Staff, Columbia Basin Bulletin 11/4/16

Related Pages:
Fisheries Managers Offer Grim Forecast by Eric Barker, Lewiston Tribune, 1/25/19
Idaho Mulls Scrubbing Steelhead Season by Eric Barker, Lewiston Tribune, 11/14/18

---
Staff
For 2019 Columbia/Snake Spring Chinook, Sockeye Returns Forecasted to be Well Below Average
Columbia Basin Bulletin, February 1, 2019
---
See what you can learn
learn more on topics covered in the film
see the video
read the script
learn the songs
discussion forum