---
Ocean, Buoy 10 fishing hot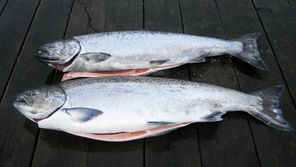 It does appear that the fall Chinook returns are slowly beginning to grow.
A total of 23,401 fall Chinook have been counted at Bonneville Dam through Tuesday with daily counts from 966 fish on Saturday to 4,455 on Monday, but trending downward -- 2,570 on Tuesday, 1,775 Wednesday and 1,076 Thursday.
That annual count through Aug. 21 is nearly 18,000 behind last year's count through that date but above the recent 10-year average of 18,406. Bonneville is 146 river miles upstream from the river mouth at the Pacific Ocean.
The total 2013 Columbia River fall Chinook adult return of 1,268,400 adults was 227 percent of the 2003-2012 average of 557,600 adults and 187 percent of the forecasted return. Individual stock components were within 120 percent to 300 percent of forecast.
The 2013 fall Chinook return was the largest in recent history to at least 1938, the year Bonneville Dam's construction was complete. Passage last year at Bonneville totaled nearly 953,000 adults, with a peak daily count of 63,900 adult fish.
The forecast for the 2014 fall Chinook adult return to the Columbia River totals 1,510,600 fish which would be another record-breaking return. The 2014 forecast is 119 percent of the 2013 actual return (1,268,400) and 254 percent of the 2004-2013 average return (595,200).
The summer A and B steelhead counts at Bonneville from July 1 through Aug. 19 totaled 168,892. The preseason expectation was for a total count of 272,400 by season's end. Daily counts over the week ending Aug. 19 ranged from 2,665 to 8,717.
According to ODFW, ocean salmon fishing off the Columbia River has been hot with better than 1.5 salmon per angler last week.
Sport fishing is picking up near the river mouth in the Buoy 10 fishery. The WDFW best check of the fall Chinook season so far was last Saturday with just over a fish caught per boat. Coho catches are beginning to increase again.
Effort at Buoy 10 is heavy with over 1.5-hours waits to launch a boat, according to WDFW. The state agency notes that effective Aug. 30-Sept. 1, all Chinook harvested at Buoy 10 must be adipose or left ventral fin clipped.
Effective Sept. 2, all Chinook must be released and the hatchery coho daily limit increased to 3 fish.
On the lower Columbia below Bonneville Dam, summer run steelhead remain the dominant sport catch, though increasing numbers of fall Chinook are being caught, WDFW says. In addition, a couple of adult coho were found in the sample.
Last week WDFW on the lower Columbia sampled 1,862 salmonid anglers (including 340 boats) with 62 adult and 6 jack fall Chinook, 542 steelhead, and two adult coho.
All of the adult Chinook and 291 (54 percent) of the steelhead were kept. Both of the adult coho were wild and were released.
In the Bonneville Pool, boat anglers are catching some summer run steelhead and a few fall Chinook. Most of the effort last Sunday was found at the mouth of the White Salmon River (18 boats).
Up on the mid-Columbia's Hanford Reach, an estimated 87 boats fished for salmon in the Hanford Reach (Hwy 395 and Priest Rapids Dam) this past week. WDFW staff interviewed five boats (11anglers:46 pole hours) fishing for salmon with seven chinook. Staff also interviewed 17 bank anglers at Ringold with no catch
The lower river, non-Indian commercial catch is also on the rise. The fleet caught 1,580 fall Chinook during three nine-hour fisheries last week; they caught 2,724 in the first of three-hour fisheries that were scheduled last week.
The fishers from the Nez Perce, Umatilla, Warm Springs, and Yakama tribes are taking to the Columbia River for the fall commercial fishing season while the anticipated record-breaking fall Chinook return is heading up the Columbia.
The first of five tribal commercial gillnet openings started Monday. Fisheries will also take place in each of the next four weeks. Salmon, steelhead, shad, yellow perch, bass, walleye, catfish, and carp may be sold or retained for subsistence use.
Tribal fishers could harvest as many as 240,000 fall Chinook during these first five openings. A harvest of that size equates to approximately 3.5 million pounds of salmon.
The public is allowed to purchase salmon, steelhead, and coho directly from Indian fishers. Sales to the public should last into October with peak abundance from just before Labor Day through mid-September. The majority of the tribal harvest is sold to wholesale fish dealers and can be found in stores and restaurants around the Northwest.
Fishery managers are predicting a record return of 61,000 Snake River fall chinook will be included in the 2014 run.
---
Staff
Fall Chinook Salmon Counts at Bonneville Bounce Up and Down
Columbia Basin Bulletin, August 23, 2014
---
See what you can learn
learn more on topics covered in the film
see the video
read the script
learn the songs
discussion forum