---
PITTSBURGH -- Aluminum company Alcoa Inc., focusing on nations with low-cost energy, is planning a $1 billion aluminum smelter on the island of Trinidad, even as it prepares to break ground on another $1 billion smelter in Iceland.
Those smelters, the first ones built from the ground up by Alcoa in 20 years, will replace mothballed capacity in several states of the U.S., especially in the Pacific Northwest where high energy prices have made them too costly to operate.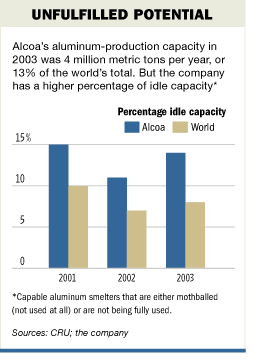 Under a preliminary agreement, the Caribbean plant would produce about 250,000 metric tons of aluminum annually, with Alcoa owning 60% of the plant and the government owning 40%. The government has options to buy as much as 100,000 metric tons of aluminum a year to sell to other Caribbean manufacturing sectors or back to Alcoa. The plant will use low-cost electrical power converted from the country's natural-gas fields.
The new plant will be able to tap into Alcoa's established raw-materials base in the Caribbean. The company has bauxite mining operations located in nearby Suriname and alumina-refining plants in Suriname and in Jamaica, which process bauxite into the white powdery alumina that is smelted to make aluminum.
The company said it also is looking at smelter projects in China, Brunei, Bahrain, Brazil and Canada. "We are looking anyplace in the world where there is competitively priced energy," said a spokesman, Kevin Lowery.
Analysts say aluminum companies are trying to stake claims to low-cost energy regions before competitors can. Last month, ZAO Russian Aluminum, the world's second-largest producer of primary aluminum, bought a 65% stake in a Jamaican mining and refining company.
Global aluminum capacity has grown in the past five years to 30.4 million metric tons annually in 2003, up 20% from 25.4 million metric tons in 1999. "We would like to capture some of that growth," said Mike Baltzel, president of primary development at Alcoa. Prices have risen 30% in the spot market in the past year and supply is expected to dwindle in 2004 and 2005 as some plants face difficulties in getting low-cost electricity.
In the Pacific Northwest where energy costs have soared, eight of 10 aluminum smelters have been idled or permanently closed in the past few years. Alcoa has idled three U.S. plants with about 625,000 metric tons of production since 2000, including those in Baden, N.C., and Ferndale and Wenatchee, both in Washington state.
---
Paul Glader, Staff Reporter
Alcoa to Build $1 Billion Smelter on Trinidad
The Wall Street Journal, May 24, 2004
---
See what you can learn
learn more on topics covered in the film
see the video
read the script
learn the songs
discussion forum