---
Fishing still hot on Hanford reach, Snake River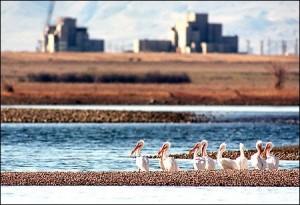 Eastern Washington anglers shouldn't despair completely at the news of large parts of the Columbia River closing to salmon fishing.
The Hanford Reach remains open, as does the Snake River.
As for the economic impact, Tri-Cities Coastal Conservation Association President Don McBride said Eastern Washington anglers and guides will be somewhat buffered.
"It's really unfortunate that they had to close that area," McBride said. "But as far as our Tri-Cities, Spokane and Yakima fishers, the reach is still here and will still have a pretty robust fishery."
Last week the Washington Department of Fish and Wildlife limited anglers to one fall chinook from the reach. That decision was made to prolong the season.
"(WDFW biologist) Paul Hoffarth did a terrific job of being proactive," McBride said. "Of watching the numbers, crunching the numbers and really trying to keep the season open."
The closures will likely bring more anglers to the reach. Downstream, many anglers will lose out. Popular fisheries near the mouth of the Deschutes and the Klickitat River will be closed during the heat of the fall chinook season.
The Snake River is also open for fall hatchery chinook salmon and hatchery steelhead from the mouth (Burbank to Pasco railroad bridge) to the Oregon (sic Idaho?) state line. Adult hatchery chinook and jack chinook longer than 12 inches may be retained in the Snake River.
Gear restrictions apply and adipose fins must be clipped on adult fall chinook and all steelhead for retention. Jack chinook may be retained whether clipped or not. Anglers should note that the limit for steelhead on the Snake is one hatchery fish.
Tribal fisheries also closed to salmon fishing along the Columbia last week, said Bill Tweit of the Washington Fish and Wildlife Department's Columbia River Policy office.
Related Pages:
Rare Columbia River Salmon Fishing Closure Mix of Bad Ocean, Bad River Conditions in 2015 by Eli Francovich, Spokesman-Review, 9/17/18
Idaho Mulls Scrubbing Steelhead Season by Eric Barker, Lewiston Tribune, 10/14/18
IDFG Cuts Clearwater Steelhead Bag Limit by Eric Barker, Lewiston Tribune, 9/30/18

---
Eli Francovich
The Hanford Reach Remains Open, as Does the Snake River
Spokesman-Review, September 17, 2018
---
See what you can learn
learn more on topics covered in the film
see the video
read the script
learn the songs
discussion forum