---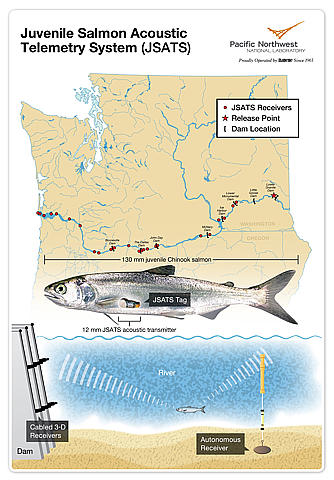 Researchers at the Department of Energy's Pacific Northwest National Laboratory have developed acoustic tags and river models to help improve salmon passage in the area.
Salmon may taste great on the dinner plate, but salmon in the Pacific Northwest are a legally endangered species. The problem? When the fish try to pass through the Columbia Basin's hydroelectric dams, they're easy pickings for predators that lurk in shallow water, such as the northern pikeminnow.
The Juvenile Salmon Acoustic Telemetry System plans to change that, helping scientists track salmon migration patterns so they can better guide the fish toward the Columbia River's deeper channels where predatory fish are less abundant.
By surgically implanting 4,140 young salmon with a tag that functions as an acoustic trasmitter, engineers found that an average of 76 percent of young Chinook salmon that pass through the three hydroelectric dams in lower 100 miles of the Snake River survive the trek.
Here's how it worked: engineers released the tagged fish from the Lower Granite Dam on the Snake River, where hydrophone receivers in the river picked up audible "pings" emitted by the acoustic tags every few seconds.
The appeal of JSATS is that it requires one-tenth as many fish to work as other methods, and it's more precise for this application than the Passive Integrated Transponder system in use today.
Better still, its 0.015-ounce tags are much lighter than the 0.1-ounce tags used by the VEMCO system -- important because fish can only bear tags up to 6.7 percent of their body weight without adverse effects to their survival.
The non-proprietary JSATS tags cost approximately $200 each, about $40 to $135 less than other commercially-available acoustic tags.
As for those salmon, the PNNL researchers and the U.S. Army Corps of Engineers created a detailed, three-dimensional computational fluid dynamic model of The Dalles Dam (picture below) that the Corps will use to build a concrete guide wall downstream of the dam's spillbays to keep the migrating salmon away from predatory fish.
Related Pages:
Acoustic Tags Track Movement of Salmon Through Dams by Matthew Preusch, The Oregonian, 7/29/9
New Technology Improves Salmon Passage at Dams by Erik Robinson, Red Orbit, 7/24/9
---
Andrew Nusca
Underwater Acoustic Tags Help Endangered Salmon Avoid Becoming Dinner
Smart Planet, January 28, 2010
---
See what you can learn
learn more on topics covered in the film
see the video
read the script
learn the songs
discussion forum