---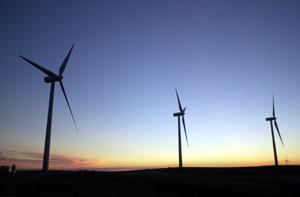 A new gust of wind-propelled electricity is blowing into California.
The largest windmill farm in the state began selling power this month from the Delta town of Rio Vista. And more windmills are proposed or are being developed on the Altamont Pass and in the Tehachapi Mountains.
It is the biggest surge in windmill development in California since the 1980s, when developers capitalized on huge tax breaks and pushed the state to the forefront of the nation's nascent wind industry, according to the California Energy Commission.
"This is a renaissance, a return to California's leadership," said V. John White, executive director of the Center for Energy Efficiency and Renewable Technologies.
High natural gas prices, better windmills and a mandate that Californians nearly double their use of electricity from renewable sources combined to revive a wind-power industry that had been sluggish for more than a decade in the state.
Near Rio Vista, huge blades whoosh slowly and powerfully as they spin from the top of 20-story-tall, space-age supports over the pasture and dirt roads of the Montezuma Hills.
By the end of the year, there will be 90 such windmills here, making the High Winds Energy Center the largest wind farm in the state under a single ownership, energy officials said.
Their presence is due, more than anything, to a law signed last year requiring that California utilities increase to 20 percent their reliance on renewable sources of electricity.
Last year, just 11 percent of California's electricity came from renewable sources, and nearly half of that came from geothermal sources. Biomass, small hydropower turbines, solar and wind power made up the rest, with a mere 1.3 percent of the electricity used in California generated by windmills.
But as the state expands its use of renewable sources, the energy commission figures that windmills will generate two-thirds of the mandated increase.
"There is a resurgence of renewable power, and wind is the one with the greatest potential," said Claudia Chandler, the commission's assistant director. "Wind is the technology that will get us to that 20 percent (requirement) by 2010."
The High Winds project, built by FPL Energy, began testing in June and this month went into full commercial operations, selling power to public utilities in Sacramento and in Southern California.
Even with the project, which will triple the generating capacity of windmills in the Rio Vista region to 235 megawatts, there is still less than half the power-generating capacity here than on the Altamont Pass or the two major wind regions in Southern California. But energy officials say nearby transmission lines and thermal wind flows that coincide with periods of peak demand for electricity make this area a good place for development.
Wind-power developers received a further boost recently when the California Independent System Operator relaxed requirements that it schedule sales ahead of time, a problem because of the difficulty in predicting wind speeds. Now, wind companies using high-tech wind forecasting methods can reserve space on transmission lines with shorter notice.
"These are now starting to become competitive with what we're seeing coming out of the natural gas-fired plants," said ISO vice president Randy Abernathy. "That's huge."
Although wind power is selling for roughly the price of electricity from natural gas power plants in recent months -- because natural gas prices have been high -- the comparison is skewed by tax incentives that wind companies receive and because the comparison lumps new power plants with expensive-to-operate older ones.
"Wind is definitely getting more economical," said Severin Borenstein, director of the University of California's Energy Institute.
Still, new, efficient gas plants can still generate electricity cheaper than windmills. New liquefied natural gas supplies also have the potential to drive gas prices down.
"The people I talk to, and these are people who are pretty supportive of wind energy, still think it's not really competing with natural gas," he said.
California's wind industry developed in the 1980s in response to state and federal tax breaks -- implemented in response to the energy crisis of the 1970s -- that amounted to 50 percent of the cost of building windmills.
By 1990, California had more than half of the world's windmill energy capacity. But many of those windmills were poorly built and have been decommissioned or replaced.
Today, wind energy companies receive a tax credit of 1.8 cents per kilowatt-hour of electricity they sell, and the state energy commission will also make up small differences between the price charged by renewable energy companies and customer rates set by utility regulators .
The chief executive of PPM Energy, the company that is selling power from High Winds, said he can sell power from there for 5 cents or less per kilowatt-hour, about what gas-fired power plants are charging at today's gas prices.
As Terry Hudgens sees it, the opportunity for wind is largely the result of a construction boom for gas-fired power plants. The increase in demand for natural gas has reached the point where gas producers cannot keep up.
"People saw that (natural gas) as something that was going to increase consistently. We're now on a treadmill to keep pace, and we're starting to fall off," Hudgens said.
Twenty years ago, during the first windmill boomlet in California, about one-fourth of the electricity used in California came from power plants that were fired by natural gas. Today, that figure is 36 percent.
Consumer groups say that because wind can reduce the demand for natural gas, that can lower consumer gas bills.
---
Mike Taugher, covers the environment and energy.
Windmill Industry Surges Since '80s Boom
Contra Costa Times, September 27, 2003
---
See what you can learn
learn more on topics covered in the film
see the video
read the script
learn the songs
discussion forum