---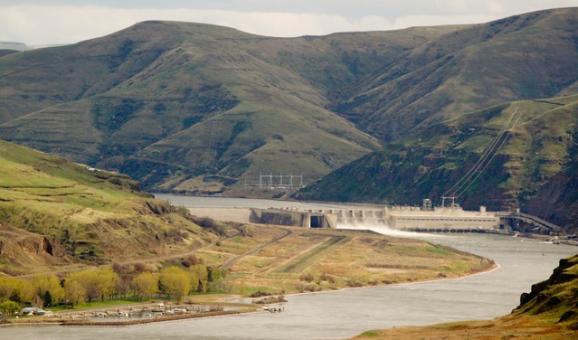 You may have read this week about a steelhead program in central Washington, where researchers are "putting the spa in spawning." Northwest News Network's Anna King reported about the Yakama Nation program:
When a Columbia River steelhead completes its epic journey from ocean to spawning grounds, it is usually too exhausted to make it back down the river again. Often, the fish just dies.
But tribal biologists have created a rehabilitation center that helps steelhead recover so they can get another chance to spawn again in the future.
Most fish that journey out to the sea and return to the river for breeding make that trip once in their lifetimes. Steelhead, however, can make the journey at least a second time. There have been rare instances where steelhead have spawned up to five times because they were able to recover from their long journeys with help from programs like the one by the Yakama Nation.
Biologists have been fine tuning this program for 12 years. Four years ago, they passed some of their knowledge on to a program for the Nez Perce tribe. (There are also similar programs in Northern Washington and Oregon.)
"This is, really, a new frontier, a new approach to restoring steelhead populations," said Doug Hatch, senior fisheries scientist with Columbia River Inter-Tribal Fish Commission. "We're taking a resource that normally is dead and gone and turning those back into productive, spawning steelhead. Not only that, they're productive b-run steelhead: the big, prized, listed fish."
I recently traveled to Orofino, Idaho, to see Nez Perce biologists release reconditioned kelts, steelhead that have already spawned once, into the Snake River.
Half a dozen biologists and technicians gathered at the Dworshak National Fish Hatchery. They'd collected the kelts from the Lower Granite Dam last April, brought them to the hatchery, fed them nutrients rich in lipid proteins, and helped them recover from the 432 mile journey past eight dams up the Columbia and Snake rivers.
"What it does is eliminate a lot of stress out in the river without being in a hatchery setting," said Scott Everett, the kelt program manager for the Nez Perce fisheries department. "It allows their eggs to redevelop, and hopefully, gets them to spawn again."
Now it was time to return them to the wild.
The crew slipped on waders. Technician Noah Jackson jumped into one of the tanks holding 57 steelhead. He began to corral the fish by moving a gate inside the tank.
"You just want to slowly close it," Everett explained to me.
"It always reminds me of 'Finding Nemo' -- when they're like, 'Swim down!' Because they'll push these corrallers," Jackson said.
Jackson began scooping the fish into a net. He handed the net to Everett, who handed the it over to technician Paul Eneas. Eneas then dropped the kelts into a tank that was strapped onto the back of a flatbed truck.
These fish can splash. I hopped up on the truck to get some photos and sound of the fish plopping into the tank. And woosh. I was hit with a Sea World-sized wave of water -- okay, maybe I'm exaggerating a little. But their tails have some power.
We then drove close to two hours to release the fish in the Snake River just below the Lower Granite dam.
As I walked up to the banks of the river, one of the trucks had already begun to release some of the steelhead. Technicians Joe Sammuels and Laura Jenkins scooped the fish out of the tank and let them go in the water, where they quickly swam off.
"That's it?" I asked, a little surprised at the speed of it all.
"That's it. No goodbye or anything," Jenkins joked. She said releasing the steelhead, which she'd helped take care of for six months, was a little bittersweet.
"It's nice to see them splashing around down there," Jenkins said as a large kelt landed a porpoise-style jump in the distance.
The group released 57 steelhead that day. They can now use pit-tags to track the fish and see if they swim upstream or downstream.
Last year, the Nez Perce program released nine fish. Six went downstream to the ocean; three went upstream to spawn. Upstream is where biologists would like the fish to head.
"We're hoping to get at least a 33 percent respawn rate this year," program head Scott Everett said. "If we can detect them heading upstream after we release them, we're assuming they're heading upstream to spawn again."
Biologists hope to eventually get a 6 percent increase in kelts spawning. That's about 190 fish swimming upstream after being reconditioned. For those types of numbers the tribe would need a larger facility, Everett said.
"We're really trying to get these b-run fish off the endangered species list," Everett said. "They're very popular among fisherman. It'd be great to get a native species up here that people can enjoy, both fishing and just knowing it's back in the river."
---
Courtney Flatt
Increasing Steelhead Numbers with a Little TLC
EarthFix, October 25, 2013
---
See what you can learn
learn more on topics covered in the film
see the video
read the script
learn the songs
discussion forum