---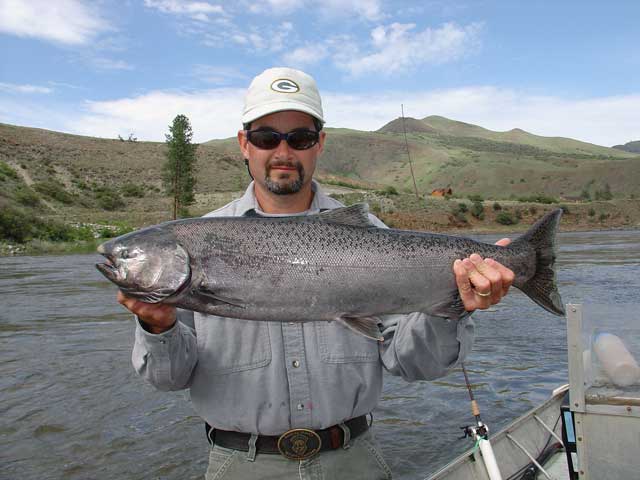 Despite a reduction in the number of spring chinook salmon forecasted to enter the Columbia River, the two-state Columbia River Compact last week reopened recreational spring chinook fishing both downstream and upstream of the dam.
Fisheries managers from Oregon and Washington, meeting May 23, approved opening chinook fishing beginning Friday, May 25, downstream of the dam and will continue until June 6. Fishing upstream of the dam to the Oregon/Washington border also began May 25 and will continue through June 15.
A late run of spring chinook and low daily numbers of the fish passing the dam caused the U.S. v Oregon Technical Advisory Committee at its May 21 meeting to downgrade the preseason forecast of the fish from 166,700 to an in-season forecast of 116,500 upriver fish. TAC noted that even that number is uncertain given current high river flows and fluctuations in chinook passage at the dam.
On May 22, the day before the Compact met, some 70,855 chinook had passed the dam. As of May 30, that number had climbed to 86,804, about 57 percent of the 10-year average of 150,337. About 1,200 fish on average are passing the dam each day (based on the four previous day's passage). Last year on May 30, also a year when spring chinook arrived late, just 82,313 had passed the dam.
Unless the daily average passage of 1,200 fish rises in the next two weeks, the total count of spring chinook through June 15 would be about 106,000 fish. Fish passing the dam after June 15 are considered summer fish.
TAC meets at least once a week and will continue to monitor the run and provide updates as needed, according to the Compact's Spring Fact Sheet No. 1.
Last year's actual run was 115,821, but the early run size forecast was far higher at 160,400 fish.
Over the past ten years, adult runs have averaged around 204,600 (range 115,800 to 315,300), according to the Compact's Winter Fact Sheet #3.
While that projection (TAC's in-season forecast of 116,500 spring chinook) is down from the preseason forecast of 166,700 fish, the run is still strong enough to allow for some additional days of fishing, said Ryan Lothrop, a Columbia River fishery manager for the Washington Department of Fish and Wildlife.
"We've been monitoring fish passage at Bonneville very closely because we didn't want to reopen the fishery without a better idea of the actual run size," Lothrop said. "We now know that run was both late and smaller than expected, but it's still strong enough to support reopening the fishery."
The decision to reopen spring chinook fishing in the mainstem Columbia River was not without opposition.
Noting that the current run of spring chinook was only about 50 percent of the 10-year average and pointing at TAC's uncertainty, David Moskowitz of The Conservation Angler called for fewer fishing days. "Your level of optimism is unwarranted," he said.
However, Columbia River recreational advisor Randy Wolsey, along with Liz Hamilton, executive director of the Northwest Sportfishing Industry Association, said there's no reason not to reopen the season and suggested an even earlier opening, Thursday, May 24, instead of the Compact staff recommendation to reopen fishing May 25.
Previously, chinook fishing had been open from January 1 through April 7 and on April 14. The preliminary catch estimate was 6,008 fish kept from about 68,400 angler trips, the Fact Sheet said. Kept and released mortalities of upriver chinook are estimated at 4,533 fish, or 64 percent of the current allocation of 7,098 fish. That leaves about 2,565 upriver chinook mortalities that are available for mainstem angling downstream of Bonneville Dam.
The Compact staff estimates catch below the dam through June 6 to be 2,400 upriver fish, bringing the total to 6,933 spring chinook, which is 98 percent of the allocation based on the updated run size.
In addition, under permanent rules, the lower Columbia River from the Tongue Point/Rocky Point line upstream to the I-5 Bridge opened May 16 for hatchery steelhead and hatchery jack chinook, and shad retention opened May 16 from Buoy 10 upstream to Bonneville Dam. Through May 20, an estimated 111 steelhead had been kept (18 released) from 1,020 angler trips, according to the Fact Sheet.
Recreational chinook fishing was open from Bonneville Dam upstream to the Oregon/Washington border March 16 through May 7. Catch estimates were 436 adult chinook and no steelhead kept from about 4,830 angler trips. Kept and release mortalities of upriver chinook are estimated at 443 fish, or 47 percent of the current allocation of 946 fish for this section of river. That leaves 503 upriver mortalities that are available for mainstem angling upstream of the dam.
Staff estimates the catch upstream of the dam through June 15 to be about 210 upriver mortalities. The combined season total, then, would be 653 mortalities or about 69 percent of the allocation.
The recreational fisheries on the lower Snake River (Washington waters) are ongoing until the harvest allocation is met. Catch estimates through May 21 totaled 267 kept adult fish. Kept and release mortalities of upriver chinook are estimated at 272 fish or 30 percent of the current allocation of 912 fish.
Tribal fishing in the upriver pools created by lower Columbia River dams has been limited to "some ceremonial permit fishing with gillnets," according to Stuart Ellis of the Columbia River InterTribal Fish Commission and also lead with TAC. "But with the fairly small run, we have just had a subsistence platform and hook and line fishery going."
The 2018 white sturgeon retention season was adopted on a days-per-week approach (Mondays, Wednesdays, and Saturdays) for 10 days from May 14 through June 4. Through May 19, effort has been nearly double (194 person) preseason expectations but the kept catch rate has been about 40 percent of expected. Total harvest to date is tracking about 80 percent of the preseason modeled expectations for this point of the season, the Fact Sheet said. Effort and catch rates are expected to increase as the season progresses.
In the downstream section of the river, chinook angling is open from the Tongue Point/Rocky Point line upstream of Beacon Rock for both boat and bank anglers, and bank angling only from Beacon Rock upstream of the dam.
Boat and bank angling will be allowed from the Tower Island power lines about six miles downstream of The Dalles Dam upstream to the Oregon/Washington border. Downstream of Tower Island, salmon and steelhead angling is allowed only from the bank.
The daily bag limit is two adult salmonids (chinook, coho or steelhead) per day, but only one may be a chinook. Only hatchery fish may be kept. All wild chinook and steelhead must be released.
Related Pages:
Spring Chinook Fishing Closed Until Run Update; Steelhead Fishing Opens In Lower Columbia by Staff, Columbian Basin Bulletin 5/18/18
Daily Spring Chinook Passage At Bonneville Dam Picks Up, But Still Far Below 10-Year Average by Staff, Columbia Basin Bulletin, 5/4/18


---
Staff
Spring Chinook Forecast Downgraded, But Managers Say Run Good Enough for More Fishing
Columbia Basin Bulletin, June 1, 2018
---
See what you can learn
learn more on topics covered in the film
see the video
read the script
learn the songs
discussion forum