---
"The species remains at risk of extinction," says NOAA Fisheries of the fish
first listed as endangered under the federal Endangered Species Act in 1991.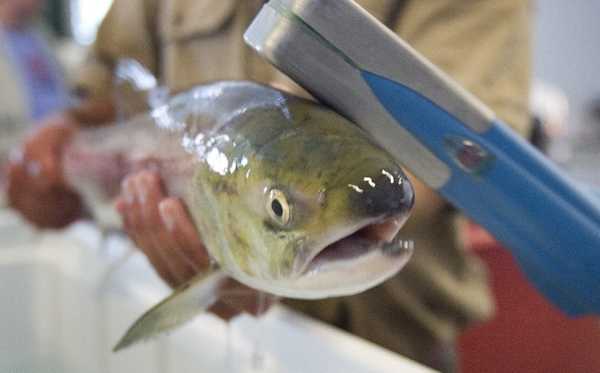 Fish managers hope a change in the spill pattern at Lower Monumental Dam on the lower Snake River will stimulate endangered sockeye salmon to pass the dam in higher numbers.
While the water temperature remains relatively cool – generally under 68 degrees Fahrenheit – in Lower Granite Dam's tailwater due to additional cold water releases from Dworshak Dam on the North Fork of the Clearwater River, further downstream another issue had fish managers concerned at the interagency Technical Management Team meeting, Wednesday, July 18. TMT fish and hydro managers guide river operations throughout the Columbia River basin.
Fewer than half the sockeye have passed Lower Monumental than have passed Ice Harbor Dam, the furthest downstream of the four Snake River dams.
Some 600 sockeye had passed Ice Harbor as of July 17, but only 250 of the fish had passed Lower Monumental, the next dam upstream. The conversion rates at the upper two dams, Little Goose and Lower Granite, are much higher: 199 of the 250 sockeye that passed Lower Monumental had passed Little Goose, a 79 percent conversion rate, and 167 sockeye had passed Lower Granite Dam, an 84 percent conversion rate.
In this case, conversion rates are the percentage of fish that pass one dam downstream and then pass a dam upstream. Snake River sockeye salmon are listed as endangered under the federal Endangered Species Act.
Overall, some 189,987 sockeye had passed Bonneville Dam as of July 17, about 60 percent of the 10-year average, but most of those will migrate into the upper Columbia River, according to Paul Wagner of NOAA Fisheries.
The U.S. v Oregon Technical Advisory Committee, which forecasts fish runs, doubled its forecast of sockeye into the Columbia River at its June 25 meeting. The preseason forecast was 99,000 sockeye. TAC increased its estimate to 209,000 fish.
Fisheries managers aren't certain why a lower percentage of the fish are passing Lower Monumental than the other three dams. Tom Lorz of the Columbia River Inter-Tribal Fish Commission and representing the Umatilla Tribes said it could be how fish are counted at Ice Harbor and then at Lower Monumental, perhaps mistaking summer chinook jacks as sockeye at Ice Harbor but counting them correctly at Lower Monumental.
Or, it could be that some of the fish that pass Ice Harbor are really upper Columbia River fish and they have fallen back and will never pass Lower Monumental, Wagner surmised.
It could be as simple as the sockeye aren't moving over the dam because the "turbine operations at LoMo are unusual," Wagner said, pointing to a persistent outage of generating Unit No. 1 and No. 2. The units are closest to the north fish ladder and would normally provide a stronger attraction flow into the ladder. "This is a fundamentally different turbine operation than last year."
Wagner and Russ Kiefer, IDFG, asked for a 12-hour test that would take the removable spillway weir, which is an aid to juvenile salmon migrating downstream, out of service and change the spill pattern in order to provide attraction flows toward the south fish ladder. The test would be successful if more fish are counted passing the dam during the test.
Some fish managers were lukewarm in their support of the test, but said they'd support it if that's the consensus. Charles Morrill of the Washington Department of Fish and Wildlife said he'd rather support an operation that would leave the RSW in place because he "would prefer to protect juveniles," but that he wouldn't oppose the two-day test.
The 12-hour test began yesterday, Thursday, July 19, at 4 am and continued to 2 pm. It is being repeated today. In the test, the RSW is shut off at Lower Monumental and the spill pattern is changed from a "bulk" pattern, which consists of just three spill bays operating, to a "uniform" pattern which has seven spill bays operating. The volume of spill will not change and 17,000 cubic feet per second will continue to be spilled under both the bulk and uniform patterns. This operation will continue both days until 2 pm at which time the RSW will be put back into operation and the spill pattern returned to the "bulk" spill pattern.
TMT is meeting again this afternoon at 3 pm to evaluate the results.
TMT also lowered flow of Dworshak's cold water from 12.9 kcfs to 10.5 kcfs as of 11 am yesterday, July 19. The water is released from Dworshak to ensure that adult Snake River sockeye salmon have a cool passage upstream.
Water temperatures in the Lower Granite Dam tailrace have remained at or under 68 degrees Fahrenheit and are expected to fall to as low as 66 F in the next few days as nighttime air temperatures in the area decline (as of this morning at 6 am, the tailwater temperature was at 66.66 F).
Migrating adult sockeye hit a thermal block in 2015 as river temperatures rose considerably above the 68 degree F limit set by the Federal Columbia River Power System biological opinion for salmon and steelhead. Some 90 percent of sockeye died before reaching Ice Harbor Dam, the lower of the four Snake River dams. Idaho Department of Fish and Game, NOAA Fisheries and the Nez Perce Tribes set up a rescue project at Lower Granite Dam to trap the adults and haul them to the Eagle Hatchery.
Steve Hall of the U.S. Army Corps of Engineers' Walla Walla District recommended a drop in flow from Dworshak to 9 kcfs. He had modeled both the 10.5 kcfs and 9 kcfs, finding little difference between the two when it came to holding water temperature in the Lower Granite Dam tailwater at 67 F or less (he said the Corps is targeting 67 F). The lower flow, he said, would conserve water for summer flow augmentation as the Snake River continues to heat up throughout the summer.
Kiefer suggested dropping Dworshak flows only to 10.5 kcfs. "There are still some sockeye issues," he said, "and we want to provide the best conditions for this low run. The tailwater criteria (at Lower Granite) is not our only concern. We want to also keep the water cool lower in the system."
"There's merit to be conservative for sockeye," said Jay Hesse of the Nez Perce Tribe. "But managing water for the entire summer is also important. We've been running at a pace that's not sustainable (speaking of the 12.9 kcfs flow at Dworshak). Still, I will support the 10.5 kcfs."
TMT agreed to drop flows to 10.5 kcfs as of 11 am yesterday, and if Lower Granite's tailwater temperature drops to 66 degrees, then the Corps will lower Dworshak flow to 9 kcfs.
Related Pages:
Count the Fish by Government Accounting Office, GAO-02-612, Salmon and Steelhead Recovery Efforts
With Temps Rising, Corps Cools Snake River With Dworshak Water To Aid Endangered Snake River Sockeye by Staff, Columbia Basin Bulletin, 7/13/18
Corps Report On 2015 Columbia/Snake Warm Water, Fish Die-Off Will Discuss Actions To Avoid Repeat by Staff, Columbia Basin Bulletin, 4/1/16
Snake River Sockeye: Lowest Return Since 2007, Captive Broodstock Program Increases Spawners by Staff, Columbia Basin Bulletin, 9/11/15
NOAA Fisheries Releases Snake River Sockeye Salmon Recovery Plan: 25 Years Of Actions At $101 Million by Staff, Columbia Basin Bulletin, 6/12/15

---
Staff
River Managers Test Lower Monumental Spill Change to Stimulate Sockeye Passage
Columbia Basin Bulletin, July 20, 2018
---
See what you can learn
learn more on topics covered in the film
see the video
read the script
learn the songs
discussion forum