---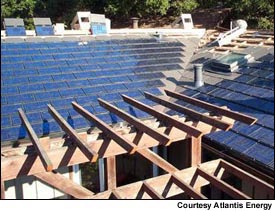 You just drove home through an eye-burning cloud of air pollution. You go into shock after looking at your electric bill, and now the roof is leaking. Put a pan under the drip and consider one solution to all those problems.: A new roof of solar tiles.
Solar roofing could solve the problem of the leaking, cut your power bills and help combat air pollution. A solar tile is a photovoltaic (PV) module and a connection box, laminated together and glued to the surface of a unit of roofing material, such as a slate made of lightweight concrete. It measures about 12 x 16 inches and weighs about nine and a half pounds. Lightweight enough to replace that leaking roof, it is attractive enough to blend in with existing design.
Photovoltaic modules create electricity from the energy of the sun. No fossil fuel is burned, no greenhouse gases, emitted, and no rivers are crippled by hydroelectric dams.
Solar power for home uses not new. But today's new technology means that homeowners no longer have to have enormous solar panels bolted to the roof, and can dispense with bulky storage batteries that do not fit anywhere.
New developments in thin, strong films are revolutionizing solar roofing. The new materials function as an integral part of the design and building materials of the house. Users on the cutting edge of technology are roofing with tiles which can be connected to the power grid which provides electricity to the house.
Electricity made by the roof can be used on site, or, if not all of it is required at once, it can be fed back to the grid through the use of a sine wave inverter. The homeowner, now a power generator, is credited grid at the end of the month for energy fed back into the grid through a process called net metering.
California and Florida, two of the most populous and sunny states, have jumped on the solar bandwagon. The owners of 13 affordable homes in Compton, California have been enjoying solar benefits for more than a year. A group of companies and agencies cooperated to build the homes, among them the California South Coast Air Quality Management District (AQMD). According to Ranji George, program supervisor for the AQMD, homeowners are saving about one third of their electricity costs, paying $20 as opposed to $60 per month.
Sandy Miller, account manager for the emerging renewables buy down program at the California Energy Commission, explains that the sine wave inverter is necessary, because PV power is direct current, and homes use alternating current. The grid will accept only alternating current in volts and cycles identical to that which the grid produces. The inverter makes the adjustment. Installed near the main breaker panel, the device is no bigger than a breadbox, Miller said.
Miller's program is one which has money to offer for those interested putting in a solar tile roof. Checking out your state is one of the first things to do if you are interested in a solar roof. There may be buy down money available to help pay for it.
The state will also have information on whether the power company you use will allow you to connect to the grid, or whether you have the option to change providers if it does not. Florida is the first state to require approval of PV systems by a state agency. The Florida Solar Energy Center has approved photovoltaic kits for home use, and has buy down money available for approved projects. Siemens Solar Industries manufactures the solar electric kits approved in Florida. Atlantis Solar Systems Ltd. provided SunSlates, the solar tiles used to roof the Compton homes.
Keith Dresbach, project manager for Atlantis in Sacramento, California explained the construction of a solar tile roof. Solar tiles can be added to an existing roof by removing some or all of the shingles or tiles, said Dresbach.
Solar tiles must have ventilation underneath, plus space for the wires that connect them together. They are applied parallel to the surface of the sub-roof, 1.5 to 2 inches above it and sealed at the gutter and ridge line. A two kilowatt roof, facing due south, in Sacramento, California, would produce 1400 kilowatt hours of direct current, equaling 2800 hours of alternating current, each year. Dresbach estimated that a three to five kilowatt roof at that location would provide a saving of 50 to 80 percent of electricity costs.
Variables that affect the performance of a solar roof include your geographic location, the pitch of the existing roof, and its orientation toward the sun.
At their website, Atlantis will calculate costs, savings, economic incentives and tax benefits for users who click on Payback Calculator and enter their zip code. New home builders are ideally positioned to consider a solar roof.
Solar tile roofs come with a much longer guarantee than conventional roofs, plus the energy cost cutting benefits. Check to be sure that a solar roof can be included in a new home financing package. There may be an added advantage to a solar tile roof on a second home occupied only part of the year. That roof will produce electricity all the time, allowing the owner to bank the the power generated when the home is unoccupied for vacation days, winding up with no vacation electric bills.
In very warm areas, solar roofs may lose some efficiency. Extremely cold temperatures affect roof efficiency less than heat. Residents in the northern tier of states need not ignore solar tile, and Canada is embracing solar power in a big way.
The United States government is making a big push for solar energy. Public and commercial buildings are featuring solar arrays from the Library/Community Center in Tuckahoe, New York to the Mauna Lani Bay Resort Hotel in Hawaii.
In view of a recent report issued by a coalition of environmental and public health groups claiming that power plant pollution contributes to 30,000 premature deaths in the United States each year, 93 million miles away may be the perfect location for a power plant - the Sun.
Related Sites:
Atlantis Energy
Siemens Solar
---
Staff
Solar Roofing Tiles Generate Integrated Energy
Environmental News Network, August 27, 2001
---
See what you can learn
learn more on topics covered in the film
see the video
read the script
learn the songs
discussion forum