---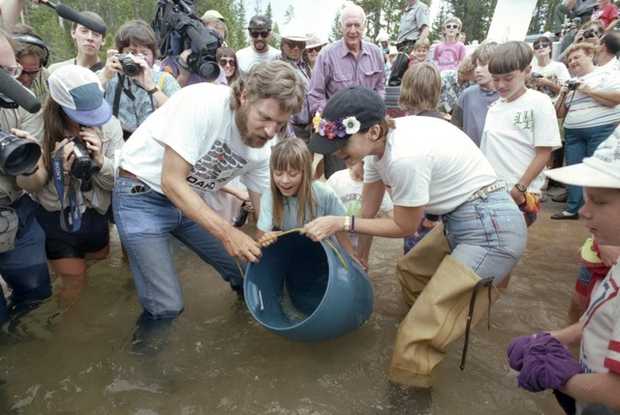 Research tracking the juvenile migration of many different sockeye populations has identified migrating Columbia River sockeye stocks using DNA identification techniques.
Juvenile sockeye from Lake Wenatchee, Okanagan Lake, and Redfish Lake were observed off the west coast of Vancouver Island, and after reaching its northern tip, most appeared to migrate into Queen Charlotte Sound, according to research published in the latest issue of Transactions of the American Fisheries Society.
Terry Beacham, lead author of the paper (Migration Routes of Juvenile Sockeye Salmon) works at Canada's Department of Fisheries and Oceans' Pacific Biological Station in Nanaimo, B.C.
Juvenile sockeye from all three populations were found in Queen Charlotte Sound and Hecate Strait, but only individuals from Lake Wenatchee and Okanagan Lake were found in sampling efforts off Haida Gwaii (Queen Charlotte Islands) and southeast Alaska. Sockeye from Lake Washington were picked up in summer sampling in the Prince William Sound region.
"However," the article noted, "not all individuals of Columbia River origin migrated to the Gulf of Alaska by the summer. A few Okanagan Lake individuals were observed in the Southeast Alaska-inside region during the fall and were also present in samples collected along the WCVI [west coast of Vancouver Island] in March."
Some Washington sockeye were found in the Strait of Georgia, but researchers said a "large majority" of Washington juveniles migrated through the Strait of Juan de Fuca to the outside of Vancouver Island, and migrated north past the island via Hecate Strait, then continued north off Southeast Alaska.
Some Lake Washington juveniles were observed off Prince William Sound and Kodiak Island. However, the authors noted that a small number of the Washington fish remained in coastal waters off Vancouver Island, and more northern inside waters during the fall.
Most Fraser River stocks migrated north, up the east side of Vancouver Island, but some like the late-migrating Harrison River stock, had a component that swam through the Strait of Juan de Fuca, and up the west side of the island. During the winter sampling, 86 percent of the young sockeye off WCVI were from the Harrison River.
Fall surveys in the Prince William Sound and Kodiak Island regions found that "virtually all of the juveniles sampled originated from southeast Alaska southward to the Columbia River, with about half of the juveniles identified as originating from the Fraser River."
The paper said other research has shown that these individuals would subsequently overwinter in the Gulf of Alaska or south of the Aleutians, with some moving into the Bering Sea for summer rearing.
---
Bill Rudolph
New Research on Sockeye Routes
NW Fishletter, November 21, 2014
---
See what you can learn
learn more on topics covered in the film
see the video
read the script
learn the songs
discussion forum