---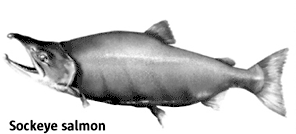 Sockeye, chinook and steelhead are all keeping anglers occupied on the Columbia River.
At mid-week, County Line Park west of Longview was reportedly jammed with anglers concentrating on sockeye.
That and Puget Island have been the best places to catch for sockeye, said Joe Hymer, a fish biologist for the Washington Department of Fish and Wildlife.
"Some anglers have figured out where to catch them and how to catch them" use smaller Spin-N-Glos, sand shrimp or prawns, Hymer said
Sockeye range from 15 inches to a hefty 5 pounds, he said.
The Columbia River sockeye run forecast is 183,000 this year, compared to an actual Bonneville Dam count of 214,500 a year ago. Many of those fish are headed to hatcheries on the Wenatchee and Okanagan rivers in Eastern Washington.
"It should be close to the peak if we haven't already been there" for sockeye, Hymer said.
Adult summer chinook are another lure for anglers.
The summer chinook fishery got off to a good start June 22 on the lower Columbia River, where boat anglers fishing around Kalama are averaging one fish for every two boats. Bank anglers were also doing well below Bonneville Dam, according to opening-day creel surveys by the DFW.
The chance to catch summer chinook - known as "June hogs" due to their size - is expected to draw a strong turnout in the days ahead, "We just got a report of an angler catching a 45-pounder," near Camas, Hymer said. A fish weighing around 40 pounds was reeled in near Kalama. "These are big, chrome-bright fish, so it's hardly surprising that this is such a popular fishery."
Anglers fishing below Bonneville Dam may retain any adult summer chinook - not just those with a clipped adipose fin - as part of their daily catch limit through July 5. Above Bonneville Dam, summer chinook may be retained upriver to the Highway 395 Bridge at Pasco from July 1-31. In both areas, the salmonid daily limit is six fish, no more than two of which may be adult salmon or hatchery steelhead , or one of each. Sockeye salmon also count as part of the adult limit.
Fishery managers anticipate a run of 70,700 summer chinook to the Columbia River this year, up from 55,500 a year ago.
In the week prior to the summer chinook opening, 1,200 anglers fishing below Bonneville Dam reported catching 85 steelhead, 41 sockeye and 27 chinook jacks, while releasing 40 adults.
Hymer noted that catching a spring hog requires a somewhat different approach than the one used for the other species. "While sockeye and steelhead generally stay close to the bank, summer chinook run in fairly deep water - at least 20 feet," he said. "Plunking works best for sockeye and steelhead, but you need to let out some line to find summer chinook," he said.
The summer steelhead run is still building, but shad may be on the downhill side, Hymer said.
The white sturgeon fishery below the Wauna power lines is scheduled to close at the end of the day Sunday and reopen July 2-5.
Catches improved during the week ending June 21, when charter boat anglers averaged one legal-size sturgeon for every two rods and private boaters averaged one for every 3.5 rods. Bank anglers were also catching some legals.
Fishing on Columbia River tributaries has been mixed. Cowlitz River bank anglers fishing at the barrier dam are still catching some spring chinook, while boat anglers near Blue Creek are mostly catching hatchery steelhead. Some hatchery steelhead are also being caught on other tributaries to the Columbia River including the Kalama, Lewis, Washougal and Klickitat rivers.
Trout anglers can take note that WDFW planted Goose Lake with 4,500 good-sized brown trout and 869 even-larger cutthroat in mid-June. The browns averaged two-thirds of a pound apiece and the cutthroat averaged 1.5 pounds. Skate Creek and the Tilton River are also in line for trout plants in the coming days as is Mayfield Lake. Anglers fishing Riffe Lake have been catching a mixture of landlocked coho and landlocked steelhead.
Related Pages:
Returning Adult Sockeye Counted at Lower Granite Dam Source: Fish Passage Center www.fpc.org and Idaho Fish & Game
---
Staff
Sockeye Action Heats Up West of Longview
The Daily News, June 25, 2009
---
See what you can learn
learn more on topics covered in the film
see the video
read the script
learn the songs
discussion forum