the film
forum
library
tutorial
contact

Sockeye Run at Halfway Point Double 10-year Average,
Over 20,000 a Day Crossing Bonneville Dam

by Staff
Columbia Basin Bulletin, June 28, 2014
---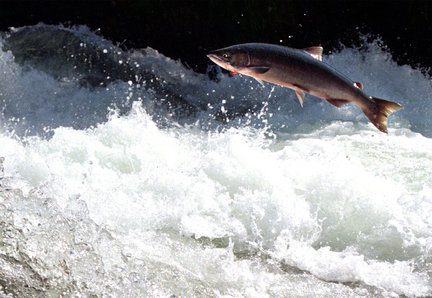 With summer Chinook adult spawner counts on track to achieve preseason return estimates, and sockeye salmon numbers looking even better than advertised, Oregon and Washington fisheries officials this week gave their go-ahead for two more weeks of commercial fishing for treaty tribes on the Columbia River mainstem reservoirs above Bonneville Dam.
The 2014 sockeye count at Bonneville's fish ladders reached 224,679 through Thursday, which is more than double the 10-year average through June 26 (108,827) and well ahead of last year when 89,166 sockeye had been counted at Bonneville through that date.
Bonneville, located at river mile 146, is the first hydro project the sockeye climb over on their way towards, primarily, spawning grounds in the mid-Columbia's Okanogan and Wenatchee river basins. Both tributaries turn off the mainstem Columbia in central Washington. A small share turn right into the Snake River on their way to the Salmon River and their birthplace in central Idaho.
That 224,679 count is already the fifth largest on record for an entire season. And half or more of the 2014 return is likely still swimming toward Bonneville. State officials say that, on average, 50 percent of the run has passed Bonneville by June 25, but that halfway date has been as late as July 1, or as early as June 22.
Daily counts have been in the 27,000 range from June 22-25 and jumped to 30,262 Thursday. And the June 23 count was over 23,000.
The 2014 forecast for sockeye is for a very strong return of 347,100 fish to the Columbia River. The forecast includes 63,400 Wenatchee stock, 282,500 Okanogan stock, and 1,200 Snake River stock.
The record count was 515,673 in 2012 and the second highest count at Bonneville on a record dating back to 1938 was 386,525 in 2010.
The 2014 return is likely to climb into at least third place on the list. Returns now lodged in 3-4 place are 237,748 (1955) and 235,215 (1953).
Technical Advisory Committee Chairman Stuart Ellis said Thursday that the panel would meet Monday to reconsider run-size estimates for steelhead, sockeye and summer Chinook salmon. TAC, composed of federal, state and tribal fishery officials, takes into account run status, such as dam counts, in re-evaluating run-size estimates that are used in large part of help manage fisheries.
"Generally the counts at Bonneville seem consistent with the preseason forecast, and in the case of sockeye, higher than the preseason forecast," Ellis told the Columbia River Compact Thursday. The Compact, which sets mainstem commercial fisheries, is made up of representatives of the Oregon and Washington departments of fish and wildlife.
The Compact on Thursday approved tribal commercial fisheries for this week and the week after aimed principally as catching Chinook and sockeye salmon. The fishing periods are from 6 a.m. Monday, June 30, through 6 p.m. July 3, and from 6 am. Monday, July 7, through 6 p.m. Friday, July 11.
The commercial fisheries will be the third and fourth of the summer (June 16-July 31) season for the Nez Perce, Umatilla, Warm Springs and Yakama tribes. Tribal fishermen will be allowed to catch and sell salmon, steelhead, shad, yellow perch, bass, walleye, catfish and carp.
During a commercial fishery June 16-16 in Zone 6 (reservoirs on the mainstem upstream of Bonneville) the tribes caught 4,226 Chinook, 1,346 sockeye and 382 steelhead. During a fishery that has been conducted this week, the tribes expect to catch about 4,500 Chinook, 4,250 sockeye and 575 steelhead.
Based on the current run-size estimates, the tribes are allowed to catch as many as 18,563 adult summer chinook and 24,297 sockeye during the summer season. Harvests caps are imposed for both tribal and non-tribal fishers to limit the take of spawning fish, such as the Snake River sockeye, that are protected under the Endangered Species Act.
The upper Columbia summer Chinook return would appear on target with the preseason prediction that says 67,500 adult fish would return this year to the mouth of the Columbia. That would be similar to the 2013 return (67,600) and about 107 percent of the 10-year average (62,900).
The upriver summer Chinook (fish passing Bonneville since June 16) count through Wednesday was 24,795 adult fish. The ODFW and WDFW staffs calculate that on average 38 percent of the summer Chinook run will have passed Bonneville by day's end June 25. The average 50 percent passage date is June 29.
The state staffs say that, based on subsampling at the Bonneville count windows, about 39 percent of the passing adult summer Chinook are adipose fin clipped, which means they were hatchery produced. The clip rate for hatchery summer Chinook from brood years 2008-2011 averaged 84 percent. That means that this year's return includes a substantially higher percentage of natural origin fish than in recent years past.
---
Staff
Chinook Season Continues Through Sunday
Columbia Basin Bulletin, June 28, 2014
---
See what you can learn
learn more on topics covered in the film
see the video
read the script
learn the songs
discussion forum