---
High water temperatures have been causing problems for summer Chinook and sockeye on the Snake River.
The U.S. Army Corps of Engineers implemented new measures at Little Goose Dam on July 23, including cutting spill during daylight hours to pass more cold water downstream, to encourage salmon to reach Lower Granite Dam, according to Ritchie Graves, manager for the NOAA Hydropower Branch.
Since July 17, fewer than 20 sockeye a day had passed Ice Harbor Dam--the most-downstream dam on the lower Snake River--and fewer still passed at Lower Granite Dam, the lower Snake's most-upstream dam. Summer Chinook were also passing the four lower Snake dams in unusually low numbers.
Cooler water at the tailrace of Lower Granite were helping summer Chinook pass that project. Sockeye were being collected at a trap there, and Idaho Fish and Game was trucking the fish past the hot Salmon River to the Sawtooth Valley hatchery, Graves said.
In contrast, downstream at Bonneville Dam, summer Chinook and sockeye were passing in numbers greater than or similar to the 10-year average. Both were expected to return to the Columbia and Snake rivers in record numbers this year. Since July 20, steelhead counts for both the wild and hatchery components at Bonneville are trending upward, but are still below the 10-year average.
A recent 120-day water-supply forecast for the Columbia Basin was 84 percent of normal as measured at The Dalles Dam and 80 percent of normal for the Snake River Basin.
High temperatures heat rivers and reservoirs, slowing down migrating adult and juvenile fish. Salmon migration is time-sensitive. Adult salmon need to get to spawning areas before they die. And for juvenile salmon, the faster they make it to the ocean, the higher their survival rates.
In late July rivers continued to flow at levels normally seen in late August. The water-supply forecast remains for below-normal averages, according to the Northwest River Forecast Center.
In response to these conditions, the U.S. Army Corps of Engineers and Bureau of Reclamation continued to implement BiOp prescriptions for enhancing fish migration during low-flow years. The Corps and BuRec recently increased water releases from Libby and Hungry Horse dams in Montana and Dworshak in Idaho, among other measures.
Flow augmentation on the Columbia and Snake rivers is predicted to reach about 8.7 MAF this year. Peak releases from storage in July were anticipated at 48,000 cfs below multiple reservoirs.
The challenge for anadromous fish is likely to be greatest on Columbia and Snake river tributaries, where hot water is combining with low streamflows. Water forecasts at river gauges on many tributaries are ranging from 40-80 percent of average into mid-November.
Related Pages:
Summer Chinook Return Forecasted to Be Largest Since 1961 by Staff, Columbia Basin Bulletin, 7/10/15
Sockeye Arrives at Stanley Despite Warm Water by Associated Press, Teton Valley News, 7/29/15
Salmon Dying by the Thousands in Hot U.S. Rivers by Ted Ranosa, Tech Times, 7/29/15
First Sockeye of Year Returns to Redfish Creek Despite Hot Rivers by Rocky Barker, Idaho Statesman, 7/28/15
Why Are Thousands of Migratory Salmon Dying Before They Can Spawn? by Courtney Sherwood, Christian Science Monitor, 7/27/15
Biologists Bring Sockeye into Idaho on Trucks to Get Them Out of Hot Water by Rocky Barker, Idaho Statesman, 7/17/15
Sockeye Salmon Suffer Infections in Warm Columbia River System by Rich Landers, Spokesman-Review, 7/17/15
Half of Columbia River Sockeye Salmon Dying Due to Hot Water by Associated Press, The Oregonian, 7/18/15
---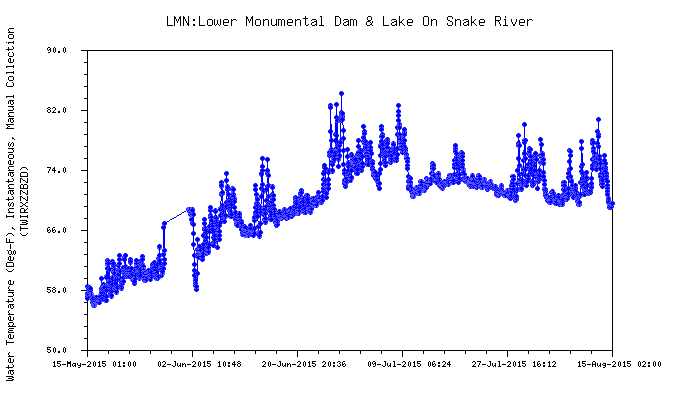 ---
---
---
---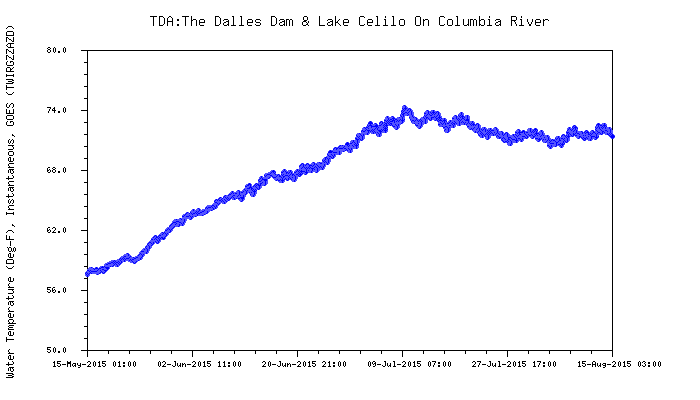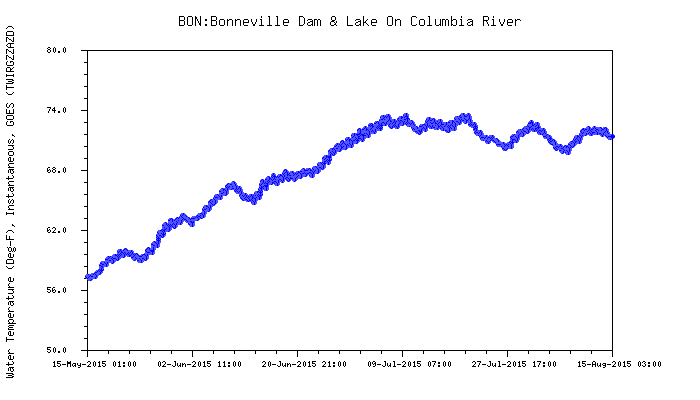 ---
Laura Berg
Summer Chinook and Sockeye Facing Trouble on Snake River
NW Fishletter, August 11, 2015
---
See what you can learn
learn more on topics covered in the film
see the video
read the script
learn the songs
discussion forum