---
Anglers and Brewster's economy are relishing the salmon's record numbers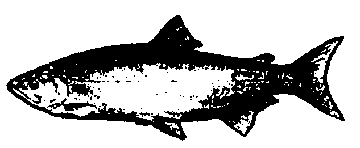 BREWSTER, Wash. - A record run of sockeye salmon surging up the Columbia River this summer has delighted folks in this apple-growing region just east of the Cascades.
"We caught seven yesterday, five the day before," said Kimberlee Ann Woods, of Ephrata, Wash., while waiting to launch her boat at Brewster in late July.
More than 386,300 sockeye have been counted this summer at Bonneville Dam east of Portland. Since dam counts began in 1938, the previous record run was 335,300 sockeye in 1947, including a substantial harvest below Bonneville that year.
A large majority of the fish are headed for native spawning grounds along a chain of lakes in the Okanagan region of southern Canada.
There, the tribal Okanagan Nation Alliance, the Canadian government and other entities are working to reopen historic habitat with the potential of increasing production of these prized, wild fish.
But before they get home, the sockeye often stop near Brewster at the mouth of the Okanogan River.
Typically, the fish run into water warmer than 71 degrees, an unhealthy environment for them. As a result they hold in the cooler Brewster Pool between Wells and Chief Joseph dams on the Columbia.
There, they become targets of a sport fishing fleet as well as a small commercial netting effort by the Colville Confederated Tribes.
Anglers in recent years have been coming from throughout the Pacific Northwest for a chance at catching these high-quality fish, which old-timers called bluebacks for the color of their skin.
Hype about the record run has drawn new anglers to the fishery.
"This is the first year we've fished for them because of the abundance," Woods said.
On weekdays, the fleet might be only a few dozen boats, but weekends have been drawing crowds of 100 boats or more. Dawn typically sees a line at the single-lane ramp at Brewster's waterfront park.
"It's crazy, this sockeye thing," said part-time police Chief Ron Oules, who was keeping an eye on the activity last month. He was warning boaters about a rock obstruction immediately downstream from the ramp in the middle of the Columbia.
"This fishery is such an economic boon to us. You can't put it into words," the chief said.
Sockeye fishing has been bringing new tourist dollars to a community that relies on fruit growing for its economy. Oules, for example, makes part of his living operating his own Reel-Lentless fishing guide service when he's not working as chief.
At 2 to 5 pounds, the sockeye is one of the smallest of the Pacific salmon on the Columbia, but it's considered one of the tastiest.
Summer chinook on the Columbia migrate alongside the sockeye and show up in Brewster about the same time each summer.
"I like the big ones," said Woods, the Ephrata angler. She explained that she prefers the sport quality of hard-fighting chinook. "My husband actually prefers the taste of sockeye."
Oules said he's had fishing clients ask to target sockeye even when chinooks were available.
Mike Whaley, of Coeur d'Alene, has been fishing at Brewster for eight years and has learned the small adjustments that can make the difference between success and another day on the water.
"I can come over here and know I'm going to catch fish," Whaley said.
For sockeye, he recommends using a small-size flasher trailed by a pair of red hooks tipped with a piece of shrimp and maybe some red or pink yarn. Trolling is done slowly and the hooks are tied within 2 feet of the flasher.
The Triangle Shell store in Brewster is the place to go for advice.
John Arterburn, a Colville tribal fisheries biologist, said the "thermal barrier" that typically forms at the mouth of the Okanogan River was not present during the second week of July when the heart of the run arrived.
That has left a smaller number of late-arriving fish for anglers to target.
"Most people think if you have that many fish it would be easy to catch them," Arterburn said. "Lots of anglers are out there trying their luck with mixed results."
But Arterburn said that more big runs are anticipated in the next few years as a result of favorable water conditions in the lakes and rivers, and in the ocean.
Better resource management and heavier spring flows for juveniles headed to sea - including required spills over Columbia River dams - have contributed to the surge in most Pacific Northwest salmon and steelhead runs this year and in recent years, Arterburn said.
In 2008, the 10-year average for sockeye passage at Bonneville was 58,600 fish.
Fisheries managers were surprised when nearly four times that many fish arrived that year. The run totaled 218,000 sockeye in 2008.
The numbers dropped to 177,000 in 2009, still well above average.
Arterburn said healthy ocean conditions of recent years are cyclical. As sure as the region has been blessed with lots of salmon and steelhead now, the ocean environment at some point will drop off and runs will decline.
Biologists are hoping success in bringing back fish in recent years will help them consolidate gains in rebuilding depressed salmon runs, especially the federally endangered Snake River sockeye, which had been on the verge of extinction for almost 20 years.
Only 52 sockeye crossed Lower Granite Dam on the Snake in 2007, despite a hatchery rescue program implemented to save the fish.
In 2008, the run swelled to 907 sockeye at Lower Granite; 1,219 in 2009; and this year, 1,990 as of Thursday.
A sport fishery on the Lake Wenatchee sockeye run opens today and continues through Tuesday.
Upward of 90 percent of the sockeye run reaches British Columbia, where fishery managers hope to expand habitat available to the fish.
Until last year, sockeye spawning was limited to streams feeding into Lake Osoyoos, which straddles the U.S. border north of Oroville, Wash.
Sockeye are distinct among Pacific salmon because juveniles spend a year in lake water before migrating to sea. Kokanee, a common fish in the region's lakes, are a nonmigratory sockeye.
The lake-loving nature of sockeye apparently makes it adaptable to the Columbia's system of reservoirs and dams, Arterburn said.
For years, the fish had been stopped at McIntyre Dam north of Oliver, B.C., and just south of Vaseux Lake. Now they can jump a new "overshot gate" in the dam and reach additional habitat between McIntyre and Skaha dams.
A 12-year study is nearing completion on opening even more habitat by creating fish passage at Skaha Dam at the opening of Skaha Lake, Arterburn said. The study is to be completed in 2012. The Colville tribe has been participating in the study.
"If you open Skaha, numbers could balloon," Arterburn said.
For biologists, the long-range dream would be extending fish passage into the vast Lake Okanagan past Okanagan Lake Dam in British Columbia.
"Theoretically, you could have a million-plus sockeye coming back to the basin if you could expand to all of the habitat that was historically available to these fish," Arterburn said.
---
Andrew Nusca
Sockeye Surprise
Spokesman-Review, August 1, 2010
---
See what you can learn
learn more on topics covered in the film
see the video
read the script
learn the songs
discussion forum