the film
forum
library
tutorial
contact

More Rearing Habitat for Upper Columbia Sockeye:
Cheap Fix Brings 'Incredible Biological Benefit'

by Staff
Columbia Basin Bulletin, July 25, 2014
---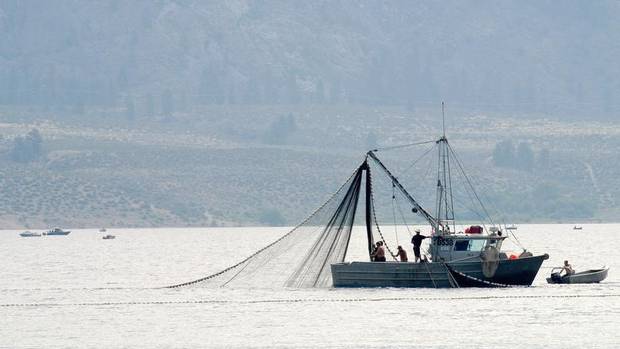 Upper Columbia River sockeye salmon that have amazed in recent years with record returns to the Okanogan River system now have more room to roam with new access to an area where potentially more fish can rear, and keep those adult returns strong.
A inexpensive fix made early this summer at the dam controlling Skaha Lake on the Okanagan River in southeastern British Columbia is expected to allow more fish to reach the lake and potentially spawn upstream, and give their young as much as four times the space now available to grow.
The cost of the fix? About $2,500, according to Chris Fisher, a fisheries biologist with the Colville Confederated Tribes.
"After years of looking at the outlet of an inactivated fishway at Skaha Lake dam and collectively shaking our heads, yesterday several 4 x 4 non-treated posts were cut, set, and wedged, creating 5 step pools," Fisher said in a June 10 e-mail to the Bonneville Power Administration's Joe Peone.
"At approximately 7 p.m. PST Skaha Lake, as well as Shingle and Ellis Creek became accessible to anadromous salmonids. Cost of project, around $2,500."
The project was "financially modest with an incredible biological benefit," Fisher said earlier this month.
The Okanagan adult sockeye salmon return has been amazingly numerous over the past six years, with annual counts at Wells Dam totaling at least 130,000 and reaching as high as 326,000 in 2012 and 291,000 in 2010. No other annual count on a record dating back to 1977 exceeded 81,000, according to data posted online by the Fish Passage Center.
That 2012 record could be in jeopardy. This year through July 14 the sockeye count at Wells totaled 242,578. Daily counts from July 10-14 ranged from 21,000 to 29,000.
Favorable ocean conditions, increased hatcheries releases and improved juvenile rearing habitat and freshwater migration conditions all can be given credit for the surge. New water management tools first implemented in the Okanagan basin in 2004-2005 have greatly reduced losses of eggs and juvenile fish to drought and flood and scour events, allowing more juveniles to survive and a mostly a naturally producing population to flower.
Okanagan sockeye swim upstream and downstream through nine major hydro projects. Wells Dam, owned by Douglas County Public Utility District, is the last of nine major hydro projects the fish pass on their way to Lake Osoyoos and beyond to spawn. The Okanagan reservoir is backed up by Zosel Dam, stretches from north-central Washington into British Columbia.
Wells is located at river mile 515, approximately 30 river miles downstream from the U.S. Army Corps of Engineers' Chief Joseph Dam, and 42 miles upstream from Rocky Reach Dam, owned and operated by Chelan County PUD.
After clearing Wells, the sockeye turn into the Okanogan and swim an additional 100 miles before they are ready to spawn.
More fish are on the way. The 2014 count at the lower Columbia's Bonneville Dam (river mile 146) was at 609,928 through Thursday. It is estimated that about 85 percent of those fish are headed for the Okanagan with most of the balance branching off into the Wenatchee River system in central Washington. More than 2,000 sockeye have taken a right turn in southeast Washington into the Snake River
"We expect 40,000 fish to show up at the fishway" at the Skaha Dam, said Richard Bussanich, a fishery biologist for the Okanogan Nation Alliance. A count of up to 60,000 sockeye arriving at Skaha would not be surprising, he said.
The Skaha dam, like McIntyre downriver, was "designed for fish passage but it was never executed," Bussanich said. In 2009 with the help of $1.4 million in funding from Grant County PUD gates at McIntyre were reconfigured to allow adult passage into the stretch of river downstream of Skaha.
Now, with adult passage enabled at Skaha, the next objective would be to create passage into Okanagan Lake, which is the river's source and historically the major rearing area in the basin. Fisher said creating passage there would provide rearing space 10 times greater than at Skaha.
In 1997, under direction of elders, the ONA began work to bring the sockeye salmon back into the Okanagan Lake.
The Okanagan population spawns in October, primarily in a 3.7-mile stretch of the Okanagan River north of the town of Oliver, British Columbia, and about 560 miles from the Columbia estuary, according to a 2003 report prepared for the Okanagan Nation Fisheries Commission. The report evaluates what risk might be posed by a reintroduction of sockeye salmon to Skaha might pose to resident fish, kokanee in particular.
The Evaluation of an Experimental Reintroduction of Sockeye Salmon in Skaha Lake was funded by Bonneville Power Administration through a partnership with Colville Confederated Tribes, during the period 2000-2003.
It was determined that with proper project design, reintroducing sockeye salmon into Skaha Lake posed little threat to resident fish stocks, and the ONA proceeded with an experimental fry reintroduction program.
Soon after, reintroductions began in the lake through a 12-year adaptive management approach by the ONA, Fisheries and Oceans Canada, Ministry of Environment, Colville Confederated Tribes, and BPA.
That program has been ongoing now for 11 years with 700,000 to 1.1 million fry planted in the lake annually.
Those fish have, particularly during the past three years, started to knock on the door. Under particular river conditions -- high flows -- a few of the fish have managed to jump the gates, Bussanich said. Now with the five step pools the sockeye should have easy access to Skaha.
Most of the production occurs when vulnerable fry emerge in early spring and migrate or are carried downstream about 12.4 miles to Osoyoos Lake where they feed and grow exclusively in the northernmost lake basin until the following spring when as smolts they resume their journey south to the Columbia River and thence to the Pacific Ocean.
The ONA has estimated that roughly 10 percent of recent annual spawner returns originate from those fry outplants in Skaha Lake.
Research done prior to the preparation of the report showed that sockeye were being pinched into a fairly small part of the large lake. "Osoyoos L. rearing area is currently restricted by temperature and oxygen limitations to a 10-foot deep vertical band of water termed a 'zone of tolerance,' for young sockeye," the report said.
Mature fish usually return to the Columbia River in their fourth year of age -- after a little more than 24 months at sea.
Back in 2003 three complete barriers to sockeye migration between Okanagan and Osoyoos lakes existed. These are the Okanagan Lake Dam built in 1915; the Okanagan Falls, or Skaha Lake Dam (1921) and McIntyre Dam. That primary spawning ground is between the head of Osoyoos and McIntyre.
Skaha, the next body of water upstream with adequate depth to provide rearing habitat, was explored.
"Skaha is deep enough," Fisher said. A review of the lake showed that physical and chemical conditions in Skaha Lake were as good or better than Osoyoos for adult holding and juvenile rearing. Likewise the food supply was judged adequate.
The sockeye resurrection effort over the years has included tribes from both north and south of the border, as well as state and federal partners, the Chelan, Douglas and Grant PUDs and others.
ONA was formed in 1981 as the inaugural First Nations government in the Okanagan. It represents the eight member communities including; Okanagan Indian Band, Upper Nicola Band, Westbank First Nation, Penticton Indian Band, Osoyoos Indian Band and Lower and Upper Similkameen Indian Bands and the Colville Confederated Tribes on areas of common concern.
Tribal officials, in particular, hope that the sockeye population will boosted with the completion of a new hatchery at Penticton, British Columbia. After more than seven years of collaborative visioning, planning, and detailed preparations for a new hatchery on the Okanagan River system, construction was started in the summer of 2013 and completed this year. The hatchery was developed in partnership with and funded by the Grant and Chelan PUDs.
The new hatchery will spawn adults, incubate egg and provide early rearing each year before fish are released into release into Okanogan River system, including Skaha Lake.
The 25,000 square foot salmon hatchery will have the capacity to rear up to 8 million sockeye salmon eggs which will be released annually as fry into the Okanagan system.
Related Pages:
Return of the Okanagan Sockeye by Jennifer Cockrall-King, Okanagan Life Magazine, 10/15/11
More Rearing Habitat for Upper Columbia Sockeye: Cheap Fix Brings 'Incredible Biological Benefit' by Mark Hume,The Globe and Mail, 9/21/14
---
Staff
More Rearing Habitat for Upper Columbia Sockeye: Cheap Fix Brings 'Incredible Biological Benefit'
Columbia Basin Bulletin, July 25, 2014
---
See what you can learn
learn more on topics covered in the film
see the video
read the script
learn the songs
discussion forum