---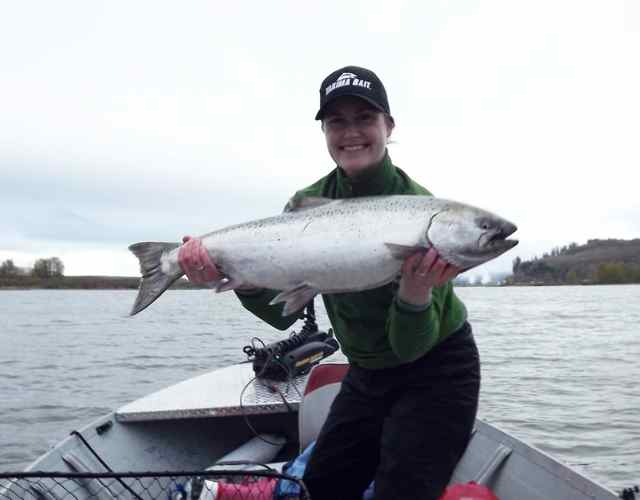 Hey anglers, it's time to swap out your Wally Pops and Power Bait for Spin-N-Glos and herring. The fifth-largest run of spring Chinook salmon since 1980 is on its way.
And almost 70 percent of these fat, bright springers are destined for rivers upstream of Bonneville Dam, with a Snake River forecast of 125,000 adults -- twice as many as last year.
Many of them have already arrived in Mid-Columbia waters.
Things have improved dramatically in the two decades since the mid-1990s, when spring Chinook runs plummeted to the lowest number on record, resulting in sport fishing closures. Improved hatchery practices, fish passage at hydro dams or ocean conditions could be factors.
An interesting twist for run size projections is that fisheries managers struggle to come up with an accurate estimate until after fish migrate past Bonneville Dam.
Only 2 percent of the projected run of adult Chinook salmon had passed Bonneville Dam as of April 19, the last day of the extended lower Columbia River season. Catch rates haven't been great either. The lower river sport harvest report in March was dismal -- one Chinook per 72 rods due to high, off-color river conditions. The harvest improved by the second week of April to one hatchery Chinook per five rods.
Studies by University of Idaho scientists show it takes two to four days for salmon to migrate between each of the four lower Columbia and Snake River dams. Armed with this information, and with an eye on dam passage counts from the Internet, most Mid-Columbia anglers watch and wait before firing up their trolling motors.
Because the run might not build until mid-May, or after the upper Columbia River season closes, you may choose to head downriver to Drano Lake and the Wind River. These locations become most productive after daily fish counts reach 2,000 per day over Bonneville.
Drano Lake can be crowded, but it is relatively sheltered from blustery conditions that anglers experience off the mouth of the Wind. These locations can be worth the drive with a two-fish daily limit and the two-pole endorsement rule in effect because of surplus hatchery origin fish.
A hint that substantial numbers of salmon have reached McNary Dam, usually by the first of May, is a hog line forming off the mouth of the Umatilla River. Boaters also anchor or troll downstream on the Washington shore from Plymouth to the I-82 Bridge on channel breaks from 15 to 25 foot deep.
Because springers average 12 to 15 pounds, smaller gear is favored. For example, green- or red-label cut-plug herring on a 3/0-2/0 hook setup. It is also recommended that you change bait frequently to keep it fresh.
Tri-City anglers watch for the McNary salmon count to build before they hit the lower Snake River. After extensive public comment, a rotating three-days per week, one-adult-salmon-per-day season has been proposed across four zones.
The section of river between Highway 12 and Ice Harbor Dam is one of the more popular stretches. Local guide Bruce Hewitt favors a downstream troll, fishing near the bottom with a cut-plug herring and an in-line flasher. Many boaters look for a current seam, drop their anchor 6 to 14 feet deep and wait patiently for their rod to go down.
If trolling becomes miserable due to high winds, you might consider dropping the anchor and deploying a plug or large spinner off a rod holder. Favorite lures include K-13 Kwikfish, M2 Flatfish, Magnum Wiggle-Warts, Mag Lip 4.5 and #5 Vibrax spinners. The key to success is getting your gear close to the bottom.
Don't have a boat? Do not despair, for there are several places for local bank anglers to ply their gear for spring chromers. One loyal group of plunkers collects on the Oregon side of McNary Dam between the juvenile fish facility and the I-82 bridge. Another group lines up along a shallow backchannel a few hundred yards downstream of Ice Harbor Dam. Further upriver on the Snake River is "The Wall," or the Little Goose Dam tailrace. Don't mix it up with this group of veteran anglers, however, unless you have a handful of 24- to 48-ounce lead balls, a portable rod holder and a heavy-duty rod and reel. Most bank anglers attach a Spin-N-Glo above fresh herring, prawns or a cluster of roe.
There's a long history to spring Chinook salmon in the Columbia River. For instance, Meriwether Lewis and William Clark reported on their return trip up the Columbia near The Dalles on April 19, 1806, "There was great joy with the natives last night in consequence of the arrival of the salmon."
The arrival of the first salmon of the year was an important event for local Native American tribes because, other than the occasional sucker, spring Chinook salmon were the first fresh fish available after a long winter of pemmican. At Kettle Falls, the "salmon chief" put his fishing basket or trap down before anyone else was allowed to start. The "first fish" tradition continues for area tribes today with spring longhouse feasts dedicated to roots and salmon.
Whether you are a tribal fisherman working a dip net off a wooden platform, a veteran salmon angler or someone new to the sport, the thrill of that first salmon of the season is hard to match.
---
Dennis Dauble is a retired fishery scientist (PNNL) and author. He is currently an adjunct professor at WSU Tri-Cities.
It's Salmon Season
Tri-City Herald, April 23, 2014
---
See what you can learn
learn more on topics covered in the film
see the video
read the script
learn the songs
discussion forum