---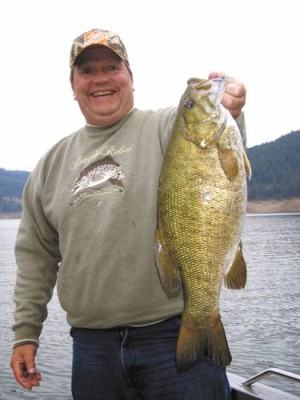 On July 9, 1955, Kentucky resident David Lee Hayes was vacationing with his family on Dale Hollow Lake, along the Tennessee/Kentucky border. David Lee went fishing, of course, as he had a reputation to uphold. Folks said he was probably the best bass and walleye fisherman on the lake, and it didn't take him long that day to prove everyone correct.
He was using a True Temper steel rod (cutting edge gear in those days), a Penn Peer 209 reel and 20-pound test line. Trolling his favorite bass lure, a 600 series pearl Bomber diving plug, with 300 feet of line out, he was working the edge of weed beds between two islands.
Cutting to the chase, Hayes boated an 11-pound, 15-ounce smallmouth which was accepted by Field & Stream Magazine as a new world record. Before the International Game Fish Association took over, the magazine was the keeper of record fish.
Unfortunately, someone came along and filed an affidavit with the magazine that he had witnessed Hayes stuffing the bass with scrap steel before having it weighed. The record was yanked.
Years later, an investigation found the affidavit was without merit and Hayes was reinstated by the IGFA as the smallmouth world record holder. Luckily, he lived long enough to know he was vindicated.
All that is a long-winded introduction to a big smallie caught June 24 near Stevenson, on the Bonneville pool portion of the lower Columbia River. State biologist Joe Hymer said a Camas angler, fishing a plastic grub, caught a smallmouth of 8 pounds, 8 ounces. That's a nice bass -- a hair under 22 inches long, with an 181/2-inch girth, and not far behind the Washington record smallmouth of 8 pounds, 12 ounces. One of the older records on the state's books, that one was caught on the Hanford Reach portion of the Columbia in April of 1966.
Experts have been saying for years that the new world record smallmouth would eventually come out of either the Snake or Columbia Rivers, but it hasn't happened yet.
The first "official" plant of smallmouth, according to data provided by Hymer, was in 1925, when state game protector N.E. Palmer put 5,000 fish in the Yakima River. Just four years later, in 1929, a 6-pound smallmouth caught in the Yakima by E.J. Farley of Prosser placed second in a Field & Stream national contest.
Hymer says the Bonneville, John Day and Dalles pools all offer good bass fishing for a mix of small and largemouth, and the Stevenson area is one of the most popular and productive. A good example, he said, was June 26-28, when WDFW creel samplers tallied 24 anglers in that area with 146 bass released. The John Day pool around Crow Butte and the islands and shoals upriver in the Umatilla National Wildlife Refuge also put out good fishing.
Baker sockeye
State biologist Brett Barkdull said that, as of Tuesday afternoon, a cumulative 3,000 sockeye had been transferred from the lower Baker Dam trap to Baker Lake. Barkdull's rule of thumb for the number of fish available in the lake to make decent fishing on the July 10 opener is about 2,500, so the count is over that already with a week still to go.
"It should be good on the opener," he said.
The Skagit River has also been good, but there will be no season extension on the river and the fishery will expire as scheduled on July 15. Kevin John at Holiday Sports in Burlington says the standard sockeye river plunking setup is a 4- or 5-ounce pyramid sinker about a foot off a spreader bar, with a 3-foot single-hook leader strung with a number 6 Spin 'N Glo and a sandshrimp tail. John likes red, orange or pink for the wing bobber, but said enough fishermen have reported success with greens or purples that they may be worth a shot.
Eastside anglers are drooling over the number of sockeye coming up the Columbia and headed for the Wenatchee and Okanogan, among other tribs. Joe Hymer said that through June 29, 339,849 sockeye had been counted over Bonneville Dam and that the run, which is currently the second-largest total count to date, could very easily pass the record of 364,800 fish set in 2012. The preseason forecast this year was recently upgraded to 450,000 adult sockeye.
Summer kings
The preseason forecast of 73,000 summer chinook returning to the Columbia was also upgraded to 85,000 fish and, if that plays out, it would beat the current record return of 70,900 fish in 1957.
Hymer also said the June 29 water temperature at Bonneville was nearly 71 degrees, the hottest temperature at that date since at least 1950. The most recent 10-year average on June 28 is 63 degrees.
Big cutthroat
Anton Jones, owner of Darrell & Dad's Family Guide Service on Lake Chelan, recently caught his personal record cutthroat on Omak Lake, at 10.1 pounds. He reports fewer strikes this year since the June 1 opener, but that the fish, averaging probably 20 inches, are larger than usual.
He launches at Mission Bay, which lets him bypass "Beer Can Beach," and fishes the south end of the lake. Downriggers and snap weights work about equally well, he said, using 2- to 6-ounce weights.
A favorite trolling setup, he said, is a smiley blade ahead of a red bead, then a stack bead, two floating beads and another stack bead, and a pair of 2/0 hooks. Three-inch spoons in cookies 'n cream patterns, and Squid rigs will also catch fish, Jones said. No bait is allowed in Omak Lake. A tribal permit is required, and Jones said the WalMart in Omak is one permit source.
Real trophy cutthroat are always a possibility in Omak, Jones said, and except for Pyramid Lake in Nevada, this could well be the best Lahontan cutthroat lake in the world. The state record of 18.04 pounds was caught there in July of 1993, by Dan Beardsley.
The IGFA-listed world record Lahontan cutthroat comes from way back -- a 41-pound fish from Pyramid Lake in December of 1925 by John Skimmerhorn. Outdoors skills workshop for women
Women can learn the basics of fishing, hunting and other outdoor skills at a September weekend workshop that includes sessions led by Washington Department of Fish and Wildlife experts. The annual workshop is scheduled for Sept. 18-20 at Camp Waskowitz near North Bend. It is presented by Washington Outdoor Women, a non-profit program in its 18th year as an educational outreach of the Washington Wildlife Federation.
Classes include archery, basic freshwater fishing, fly fishing and tying, big game hunting basics, map and compass, survival skills, birding, duck hunting, first aid and more. Participants must be at least 18 years of age.
More information about the conference, including fees and a registration form, is available at www.washingtonoutdoorwomen.org.
Coastal salmon
Wendy Beeghley, coastal creel sampling coordinator for the state Fish and Wildlife Department, said anglers last week in Marine Area 1 (Ilwaco) averaged a salmon and a half per rod, 70 percent coho. At Westport, it was about three-quarters of a fish per rod, roughly an even split between chinook and coho.
At Neah Bay it was about one chinook for every two fishermen.
Related Pages:
WA May End Bass, Walleye, Catfish Catch Limits to Save Salmon by Bill Rudolph, NW Fishletter, 2/12/13
---
Wayne Kruse
Near-record Smallmouth Caught Near Stevenson
The Herald of Everett, July 2, 2015
---
See what you can learn
learn more on topics covered in the film
see the video
read the script
learn the songs
discussion forum