---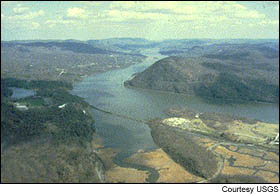 Part One of a two-part series. Part Two, which will appear in Friday's news edition, will focus on Alaska's endangered Canning River in the Arctic National Wildlife Refuge.
America's rivers may be the first to feel the effects of the national energy crisis, according to a report released Wednesday by American Rivers.
Each year the environmental group analyzes the condition of the nation's rivers and selects which are the most "endangered."
After reviewing nominations submitted by grass-roots organizations, American Rivers ranks the rivers based on threats they face and whether a public policy decision is pending that will magnify or eliminate these threats.
"The rivers we have listed this year confirm how damming, drilling, digging and burning to produce energy pollutes drinking water, destroys public recreational opportunities and drives river wildlife closer to extinction," said American Rivers president Rebecca Wodder.
The report discusses how traditional methods of producing and consuming energy affects rivers.
More than half of the nation's electricity is still generated by coal-fired power plants, which have scarred nearly 2.5 million acres of land in the United States and release harmful pollution into the atmosphere. That pollution often finds its way into rivers through acid rain and snowmelt, where it can kill and contaminate wildlife.
The report notes that 1,300 streams in the mid-Atlantic region alone are chronically acidic and that coal-fired power plants contribute to two-thirds of the sulfer-dioxide that contaminate them.
Hydroelectric dams, which produce less than 10 percent of the nation's energy, can transform a river as profoundly as clear-cutting a forest, American Rivers contends. Dams wash out important wildlife habitat and block migratory fish from their spawning grounds.
Conservation groups claim that the complex system of hydrolelectric dams in the Pacific Northwest has reduced the number of returning salmon in the region from about 16 million to less than 300,000.
Often left out of the environmental debate surrounding oil drilling is the impact that it can have on rivers. Heavy drilling equipment can reduce water flows and disturb wildlife habitat in riparian areas. Most of the 14,000 oil spills that occur each year in the United States end up in freshwater bodies, the report finds.
Natural gas consumption can harm rivers by withdrawing massive amounts of water to power steam turbines. When the water is replaced in rivers, the temperature is often too high to support wildlife.
Similarly, nuclear power plants draw water from rivers for their cooling operations and often return it as thermal pollution.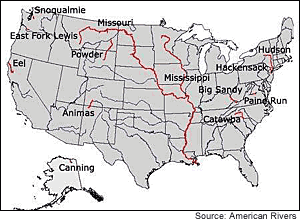 "Our energy policy hasn't advanced much since the 19th century," said Wodder. "Now we are slipping back even more. The Bush administration and some members of Congress have proposed stopgap measures to increase domestic energy production which will exacerbate these problems without resulting in long-term solutions."
Energy consumption has jeopardized most of the rivers on this year's roster. They include:
1. Missouri River in Montana, North Dakota, South Dakota, Nebraska, Iowa, Kansas and Missouri. Sources of damage: dam operations, channelization.
2. Canning River in Alaska's Arctic National Wildlife Refuge. Oil drilling.
3. Eel River in California. Dam operations.
4. Hudson River, New York. Pollution by PCBs manufactured for use in electrical transformers.
5. Powder River in Wyoming and Montana. Thousands of proposed natural gas wells.
6. Mississippi River in Minnesota, Wisconsin, Iowa, Illinois, Missouri, Kentucky, Tennessee, Arkansas, Mississippi and Louisiana. Flood control projects.
7. Big Sandy River in West Virginia and Kentucky. Pollution from millions of gallons of coal sludge.
8. Snoqualmie River in Washington. Development, sprawl.
9. Animas River in Colorado and New Mexico. Proposed water supply project.
10. Lewis River (east fork) in Washington. Proposed gravel mine expansion.
Others:
Paine River in Virginia. Acid rain.
Hackensack River in New York and New Jersey. Development.
Catawba River in North and South Carolina; Urban growth.
To stem this tide, American Rivers recommends increased efforts to use energy efficiently, produce conventional energy responsibly and expand the supply of energy from clean and renewable sources such as wind power and solar power.
These measures might stir a fierce battle in a divided Congress. President Bush's fiscal 2002 budget request for the Department of Energy includes a $277 million cut in funding for energy efficiency and renewable-energy programs.
"By putting off investments and incentives for energy efficiency, the nation finds itself with a supply of energy that is less reliable, more expensive and more harmful to the environment and public health than it needs to be," Wodder said. "I think it is really telling that we have more species of fresh water critters than any other place in the world, yet our current energy policy is one more reason those species are in so much trouble."
---
Margot Higgins
America's Rivers Ravaged by Energy Consumption
Environmental News Network, April 12, 2001
---
See what you can learn
learn more on topics covered in the film
see the video
read the script
learn the songs
discussion forum