---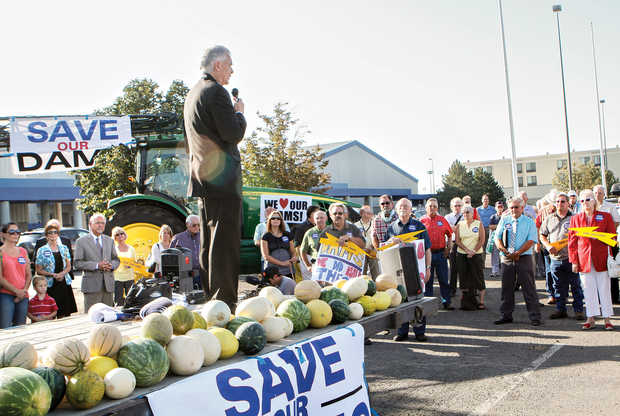 PASCO, Wash. -- U.S. Rep. Doc Hastings thinks it's possible to have both dams and fish.
Hastings is sponsor of House Bill 6247, which he said was introduced to begin a conversation about the value of dams to agriculture and their impact on fish. The bill would protect dams and promote new clean, low-cost hydropower, he said.
Representatives of agriculture and other groups spoke about the bill during a U.S. House Natural Resources Committee hearing Aug. 15 at the TRAC Center in Pasco, Wash.
Hastings, chairman of the committee, said the bill recognizes hydropower as a renewable source of energy and would prohibit groups that sue the federal government from collecting government funds or grants.
Hastings said dam removal "extremists" have changed their tactics from overt to covert, using lawyers and lawsuits to pressure federal agencies and advance their agenda.
Chris Voigt, executive director of the Washington Potato Commission, said agriculture needs to produce more food in the next 50 years than in the entire history of the planet. That will require more water resources and dams, he said.
"This 40 percent increase of food capacity we have to accomplish is going to be the greatest challenge our society is going to face," he said. "We might be able to reach that 40 percent, maybe we can cobble it together, but the next 40 percent we're going to have to get to after that -- that's where our children are going to have to be making the decision of who eats today and who does not."
Kara Rowe, director of outreach for the Washington Association of Wheat Growers, said progress and stewardship are both vital. She supports expansion of the irrigation system to relieve pressure on the Odessa Subarea aquifer and continued barge use as the most effective way to get products to market.
There were also people who spoke against Hastings' Bill.
Glen Spain, Northwest regional director of the Pacific Coast Federation of Fishermen's Associations, said each dam removal proposal must be judged on its own merits.
Noting Spain's group has participated in 18 lawsuits regarding fish, Hastings, R-Wash., and Subcommittee on Water and Power Chairman Tom McClintock, R-Calif., asked him several times which dams on the Columbia and Snake river system were economically obsolete. Spain only answered that the discussion is ongoing.
Rebecca Miles of Lapwai, Idaho, a member of the Nez Perce Tribe, said the four dams on the lower Snake River have had devastating effects on wild salmon and on her people. Miles said her comments were personal and did represent the tribe's viewpoint.
Hastings doesn't expect the bill to go very far, given that the legislative session is getting late.
"But I think the concept is certainly going to be part of the discussion well into the future," he said.
McClintock said he believes the bill's adoption is inevitable, and he said the American people will insist on it.
"They're becoming aware of the nonsense we're seeing in these policies in tearing down perfectly good hydroelectric dams and forcing up our electricity costs to astronomical levels," he said.
---
Matthew Weaver
Ag Reps Rally around Dam Bill
Capital Press, August 16, 2012
---
See what you can learn
learn more on topics covered in the film
see the video
read the script
learn the songs
discussion forum