---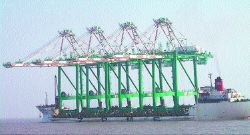 The Port of Tacoma just finished its largest expansion project ever.
But that doesn't mean the agency is taking a break. Executives on the Tideflats already are creating the next list of things to do.
That includes expanding more terminals, bringing more jobs to the area and convincing more companies to do business with the port.
Late last year, the $210 million, 171-acre Pierce County Terminal opened to serve the expanding business of Taiwan-based Evergreen Lines.
Business through the port is expected to grow nearly 20 percent this year.
Port Commissioner Ted Bottiger, who will serve as chairman this year, sat down with The News Tribune to discuss the agency's future.
Growth seems to be a theme at the Port of Tacoma. What do your tenants have planned?
Maersk is currently talking about more space on the viaduct. In part there is a constant question of whether Horizon Lines (which serves Alaska) will stay a tenant of Maersk or whether they will want their own berth and docking space.
Hyundai has an option to enlarge down here, and they are considering that.
What about Evergreen expansion?
Evergreen terminal has the option to expand the new terminal and get bigger, and they will be talking to us in the fall. That would require removal of the Kaiser aluminum plant, which is contaminated. We don't want to move too fast because this could get very expensive. But if we had three or four years, we could very economically make it a terminal site.
Do you think that you will need to expand the terminal sooner?
We've got control. We can say, "No, you are going too fast and it is costing us too much." Or, "If you want to go that fast, here is what it will cost you."
In a sense, there is a hesitancy to tell you that we could do it in two years.
What's going on in Frederickson?
It has grown, and we have been paid enough money to have covered all our investments. We are now into profits.
What we do with the profits from there is a matter we are discussing with the county. Basically there's a lot of interest in the properties there.
Is the delay in building the cross-base highway an impediment to growth in Frederickson?
I think we can safely say we have lost sales because we did not have a more firm date for construction. We are behind. We don't intend to stay behind.
We have heard about labor shortages at the port. What is the status of that?
Port jobs are very good paying jobs, and they have historically had a good labor background.
You don't want to get into a fight with the longshoremen. They are very influential. Having enough of them is a concern we have had, and we have expressed that to the union. They and the employer group have come to -- we understand -- an agreement and are ready to start implementing that.
Potential employers ask about the labor situation. Tacoma has been very successful in keeping an image called the Tacoma Advantage. It's because the longshoreman, the port commission and the port staff all get along.
Imports from China and other Asian countries are expected to continue to grow. Is the port ready to handle that?
Our customers are in excellent position -- as long as the infrastructure that supports our customers works. The big concern is rail.
We have a problem with congestion and getting stuff out of the port. We don't want cargo to get trapped down on the Tideflats.
Things are happening that are very, very encouraging -- including agreements between railroads to share use.
Ted Bottiger
Commission chairman, Port of Tacoma
Elected: 1997, up for re-election this year
Education: Bachelor's degree in public administration from University of Puget Sound; law degree from University of Washington
Public career: Four years as an assistant attorney general for Washington and 23 years in Washington Legislature
---
Marcelene Edwards
Port of Tacoma, Tenants Aren't Through Expanding
The News Tribune, February 18, 2005
---
See what you can learn
learn more on topics covered in the film
see the video
read the script
learn the songs
discussion forum