---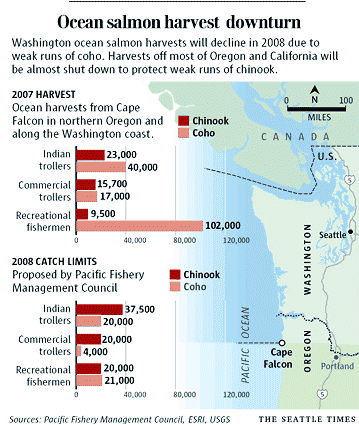 West Coast fishermen will have the smallest ocean salmon harvest on record this year, a dismal turn in fortunes that underscores the challenges in trying to rebuild the region's once-abundant fish runs.
Salmon fishing will be nearly halted off most of the Oregon and California coasts and harvest levels would shrink significantly off the Washington coast under a plan approved Thursday by the Pacific Fishery Management Council.
The cutbacks will hit sport, tribal and commercial trollers, as well as coastal towns which look to strong salmon seasons to help draw visitors. The cutbacks also could mean scarce supplies and steeper prices for consumers who buy fresh-caught Northwest salmon rather than much more abundant wild Alaska salmon or farmed salmon.
"Collectively, from Canada to Mexico, this will be the worst ever season off the West Coast," said Don McIssac, executive director of the Pacific Fishery Management Council, which will pass on the harvest plan to NOAA Fisheries for final approval. Both Oregon Gov. Ted Kulongoski and Washington Gov. Christine Gregoire are expected to seek federal assistance for the hardest-hit fishermen.
Most of the salmon in trouble spend their ocean time off the coasts of Oregon and California, rather than heading north to feed off Alaska. Scientists say these fish have encountered a scarcity of food in recent years that could have greatly reduced survival rates.
"Since 2003, the [ocean] food chain that supports the salmon has not been very productive," said Bill Peterson, a NOAA Fisheries marine scientist based in Newport, Oregon who tracks ocean conditions in the Northwest.
The feed is sustained by cold-water upwellings that bring up nutrients. In recent years, those upwellings have been weak or much more sporadic than in years past, according to Peterson.
These changes could be part of natural variations in upwellings, or possibly linked to climate change, he says.
The lack of ocean food likely combined with freshwater problems such as irrigation diversion to trigger a historic crash in Sacramento River chinook runs, which typically feed off Oregon and produce hundreds of thousands of fish for Northwest fleets.
This year, biologists predict the lowest return on record for the Sacramento River chinook. To protect these stocks, commercial ocean fishing off California and most of Oregon would be shut down. Only a tiny sport fishery of some 9,000 coho would be allowed.
Washington coastal communities also will feel the bite of cutbacks.
Poor ocean conditions appear to have hurt Columbia River coho, which feed off the Northwest coasts after migrating from freshwater spawning grounds.
To protect these stocks, the 2008 harvest quota for tribal, commercial and sport fleets would be about 45,000 coho under the draft plan submitted to the Pacific Fishery Management Council.
That compares to a 2007 quota of 178,000 fish, which was a mainstay of the charter boats, which are important to the economy in many of the state's coastal communities.
The downturn comes as the Northwest is deep into a multibillion-dollar effort to restore salmon runs, with a multitude of projects to improve freshwater spawning and rearing grounds, as well as passage along the rivers dotted with dams.
There are still some bright spots. Many Puget Sound runs are expected to sustain modest harvest levels akin to last year. Columbia River chinook, which head north to Alaska to fatten, are in much better shape than Sacramento stocks. So, the fisheries council plan proposes a tribal, sport and commercial harvest of about 77,500 chinook off Washington coast and a small portion of northern Oregon's coast. That's an increase of some 10,000 fish over last year's harvest quota.
"In a relative sense, we're far better off than Oregon and California," said Mark Cedergreen, executive director of the Westport Charterboat Association and the council's vice chairman. "But it's going to be tough for a lot of people."
Alaska -- the dominant source of wild North America salmon -- forecasts a harvest of about 137 million salmon this year, most of it caught in nets.
---
Hal Bernton
Salmon Harvest to Plummet this Year
Seattle Times, April 11, 2008
---
See what you can learn
learn more on topics covered in the film
see the video
read the script
learn the songs
discussion forum