---
Close to half of the urban landscape in the United States is dedicated to automobiles, about 20% reserved for parking alone. With land becoming an increasingly scarce resource, attention has turned toward making parking lots more productive urban features, serving multiple functions rather than only providing space for cars that sit idle 95% of the time.
Parking lots provide an unparalleled opportunity for generating clean, renewable energy through installation of photovoltaics (PV). PV carports provide highly desirable shade for parked cars and can help improve air quality by reducing parking lot temperatures, thereby reducing hydrocarbon emissions from gasoline that evaporates from leaky fuel tanks and worn hoses.
The abundance of large parking lots can be considered a resource, as these sites are particularly well suited for large-scale PV installations that support goals of municipal energy independence.
In an October 2000 study for the LGC, the National Renewable Energy Laboratory reported that buildings owned by California local governments have the capacity to generate nearly 200 MW of solar electricity. However, the capacity for parking-lot installations is greater still.
For many "asphalt rich" communities, identifying a parking lot with good solar potential can be easier than identifying a properly-oriented roof with unobstructed solar access and the structural integrity to support solar panels. This kind of "mixed-use" parking provides the additional benefits of shade, public education, energy reliability, and better air quality.
The mounting support structure itself can cost one to two dollars per watt, according to Marianne Walpert of Schott Applied Power. The additional cost of the PV system can be offset, however, by charging for sought-after covered parking spaces, using public-private partnerships that maximize incentives, and wrapping the installed system cost into long-term financing.
Sacramento
The largest parking lot solar system in the world is located at Cal Expo, in Sacramento. The 540-kilowatt system produces enough energy to power about 180 homes. The solar arrays, mounted on solar-tracking devices, provide shaded parking for 1,000 cars and serve as a stunning display of parking lot PV potential. The energy produced by the arrays is fed into Sacramento Municipal Utility District's (SMUD) grid, for distribution to its Greenergy customers.
In partnership with SMUD, Arden Fair
Mall recently announced plans to build the largest commercial solar project in Sacramento County. The two-part project includes installation of pliable solar panels that will be installed on the mall's roof by rolling them on like traditional roofing material. A separate installation will include a 66-space PV carport with improved appearance, making it suitable for a retail environment. The shaded parking structure will be used for valet parking – free to the utility district's Greenergy customers. The 30 kW carport will be highly visible along busy Arden Way, and demonstrates the leadership role the mall has taken with solar energy.
Through a creative partnership, the mall will pay for the support structure and SMUD will install the solar panels and retain the electricity. The mall benefits by greening its image and supplying valet parking to customers. Arden Fair will own and use the 37 kW rooftop installation to diversify its power supply.
Riverside
The Riverside Utilities Operations Center is providing shade for 152 parking spaces with a new solar carport. The 113-kW PV array generates clean, renewable energy that helps reduce afternoon peaking demand and reduces the City's dependence on outside electricity sources.
The carport's graceful cantilever design provides maximum unobstructed space for vehicles and a unique, aesthetically pleasing look.
The grid-tied application was completed in October 2001 under contract with Schott Applied Power Corporation. Riverside Electric Utility is also pursuing other opportunities for large-scale PV installation.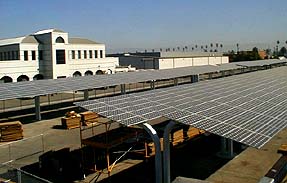 Fairfield
Completed in July 2001, the Fairfield Transportation Center integrates sustainable building principles, optimized building orientations, durable building materials, daylighting, super-insulation, and electric vehicle solar charging ports. A 2.6 kW PV array is included as an architectural element to make a public statement that there are sustainable alternatives to the internal combustion engine. The PV system powers four electric vehicle charging ports and sends excess power back to the grid.
Fairfield plans to leverage state incentives to implement the second phase of the project – PV shade structures for 175 parking spaces immediately adjacent to the new transportation center. The City also has ambitious plans to install a PV parking structure designed to shade over 500 parking spaces off Red Top Road, at the intersection of Interstate 80 and 680.
State government goes solar
California is taking a lead in incorporating PV into government facilities. The Capitol Area East End complex – California's largest and greenest state facility to date – includes Building Integrated Photovoltaic (BIPV) and a PV carport. The five-city-block project incorporates 28 kW of thin film PV technology into vertical screens that hide rooftop equipment. The 21 kW PV carport shades the top level of the 750-space parking structure.
The East End complex is the first state facility to incorporate sustainable elements, as ordered under Governor Davis' Executive Order D-16-00 that sets forth a goal of sustainable building practices.
The complex is featured in Building Better Buildings: A Blueprint for Sustainable State Facilities as a "leadership building" that serves as a prototype for state agencies.
Other features of the 1.5 million-square-foot complex include recycled and reused building materials, water-efficient technologies and daylighting. Designed to exceed 1998 Title 24 standards by 30%, the project will result in approximately $400,000 annual energy savings.
Recent legislation supports renewable energy on state facilities and parking lots. Senate Bill 82 (Murray), signed into law in October 2001, requires installment of PV on all state buildings and parking facilities no later than January 1, 2007, where feasible. It also requires PV to be installed, where feasible, as part of the construction of all state buildings and parking facilities commenced after December 31, 2002.
In pending legislation, Senate Bill 532 (Sher) would create the California Renewables Portfolio Standard to increase the amount of renewable energy in the state's energy portfolio from 10% to 20% by the year 2010.
---
Alison Pernell
Parking Lot or Power Plant?
Local Government Commision, May 2002
---
See what you can learn
learn more on topics covered in the film
see the video
read the script
learn the songs
discussion forum