---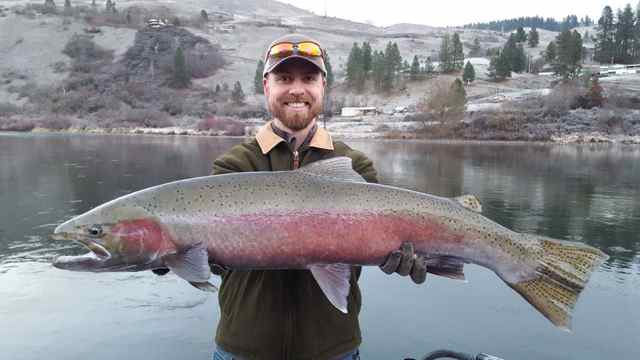 Idaho and Washington have conflicting state laws that demonstrate how people separated by a border -- even fishermen and biologists -- can be ruled by opposing beliefs.
Anglers continue to be confused and conflicted about the differing fishing regulations, especially the stands the two states take on handling wild steelhead and salmon.
Both states enforce rules that prohibit snagging and require anglers to use barbless hooks in the Columbia and Snake river systems mainly to satisfy federal endangered species protections that apply to some wild stocks.
Steelhead with an intact adipose fin cannot be reduced to possession and must be released.
Hatchery-raised steelhead have their adipose fins clipped before they are turned out into the rivers and swim to the Pacific Ocean to mature. When they return to their natal streams a few years later to spawn, the clipped fins distinguish the hatchery fish from the wild fish coming at the same time. These marked hatchery fish are the ones anglers can catch and keep for eating during open seasons.
But one distinct rule difference between the states gets scrutiny every time a photo is published of an lucky angler holding a big, wild Idaho steelhead out of the water on a boat before it's released.
Washington prohibits anglers from taking wild steelhead and salmon out of the water for a photo before the fish is released.
Idaho doesn't go that far.
"Idaho Fish and Game thinks it's important for anglers to be able to take pictures of fish (including steelhead) as this will enrich their fishing experience and enhance their memories well into our future," Joe DuPont, regional fisheries manager in Lewiston said when I queried him about the differences in state rules.
"This is why we give the directions in the fishing regulations pamphlet on how to release fish and properly hold a fish for a photograph (pages 40, 49 and 50). We do not believe holding fish out of the water in this manner will increase their mortality."
(Sturgeon are an exception. They cannot be removed from the water in Idaho.)
Rules aside, a recent photo published on Spokesman.com/outdoors of a wild steelhead being held on a boat before being released generated plenty of atta-boys and angler envy. The image also prompted concern.
"As a lifelong steelhead fisherman, I was stunned at the picture you put in your article about fishing the Clearwater," wrote Tuck Miller, a former licensed outfitter and guide. "That is obviously a wild fish that's protected by a number of regulations. . ."
"Lifting large, wild steelhead out of the water dramatically increases their mortality within two hours," he said. "Fishermen killing large, wild steelhead due to improper handling is unacceptable."
Miller cites studies that indicate significant handling mortality of wild large steelhead. "The death rate rises exponentially as fish size increases," he said.
Jim Fredericks, Idaho Fish and Game Department Fisheries Bureau Chief in Boise, says those studies are based on incomplete research and not conclusive. He said he's confident Idaho rules sufficiently protect the fish.
However, the amount of time a fish is exposed to air factors into the fish's chances of survival, according to a recent survey of studies about the impacts of exposing fish to air detailed in the journal Fisheries.
The survey concludes that an angler should take no longer than 10 seconds to remove the hook, snap a photo and return a fish to water.
Air exposure causes inadequate oxygenation of the fish's blood, known as hypoxia, and damages the gills, causing injury that increases with the time the fish is exposed to air, the study says.
Reducing air exposure is critical when the landed fish is exhausted and water temperatures are beyond normal range, especially in sensitive species, said co-author Katrina Cook. She is a PhD student at Pacific Salmon Ecology and Conservation Laboratory at the University of British Columbia in Vancouver, B.C.
Groups such as the Native Fish Society and Trout Unlimited see the survey as evidence to their "Keep Them Wet" campaigns for catch-and-release fishing.
Authors of the survey say anglers give a trout the best odds of survival if they unhook the fish while it's submerged in a knotless mesh net.
Rainbow trout mortality has been shown to be highest from air exposure when the trout has struggled to escape. Survival is higher for fish that remain calm.
"Idaho appreciates that some fishing groups are trying to discourage their memberships from lifting fish out of the water for prolonged periods," Fredericks said.
Some groups have appealed to Fish and Game managers to follow suit with Washington.
"We respectfully explained our reluctance," Fredericks said.
"When you look at the population-level impact the time out of the water for a photo has on these fish, it's very minimal.
"Prohibiting people from a neat opportunity to take a picture seemed unnecessary, although we agreed to put additional guidelines in the rules pamphlet, including recommendations to use nets rather dragging fish up on the rocks or bouncing them in the bottom of a boat."
Good handling minimizes injury, he said, noting that Idaho is undertaking its own research on the impacts of air exposure to fish as well as to their progeny.
"But the last thing we should be doing is vilifying anglers who catch and release fish in a good way."
Idaho Fish and Game recommends precautions such as keeping a camera ready and having a plan when the fish is lifted out of the water to support it properly, reduce loss of mucous and scales from the fish and minimize air exposure.
Some of the differences between our two bordering states are dramatic. For instance, marijuana use that is legal in Washington could result in a jail sentence in Idaho.
Lifting a wild steelhead or salmon totally out of the water is an infraction in Washington. It's not in Idaho, but the practice is still worth contemplation, and perhaps refinement.
---
Rich Landers
Holding Wild Steelhead Out of Water Viewed Differently in Idaho, Washington
Spokesman-Review, February 10, 2016
---
See what you can learn
learn more on topics covered in the film
see the video
read the script
learn the songs
discussion forum