---
Chinook give area's economy a needed boost
OROFINO -- Orofino is hooked on salmon and the prosperity they are bringing to economically depressed Clearwater County.
Idaho is in the midst of the largest return of hatchery chinook salmon since the four Lower Snake River dams were built in the 1960s and '70s, and Orofino is seeing a rare boost to its businesses.
"It has a big effect on the economy here," Orofino Mayor Joe Pippenger said.
Orofino residents are hoping they can convert the green-backed salmon swimming up the Clearwater River to greenbacks in the till.
More than 115,000 chinook had passed over Lower Granite Dam in Washington through Thursday, compared with 17,800 by that date last year.
Many of those salmon will be heading upstream past Orofino.
Businesses in towns such as Orofino, Kooskia, Kamiah and Riggins are preparing for the anglers that follow the fish.
Salmon are especially vital to Clearwater County, which was hit hard by a recent mill closure and hoping tourism will soften the blow.
Orofino is making salmon fishing the major tourist draw this summer after years of sacrificing for salmon by drawing down Dworshak Reservoir, which also brought anglers and boaters to the area.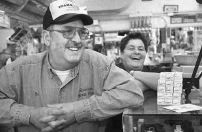 "We've invested more time and energy in this than we have in any other single event in the last 17 years," said Stu Kestner, owner of Riverside Sports Shop in Orofino.
Kestner said he has spent between $25,000 and $30,000 on tackle for salmon fishing, and he is hoping to increase his business 20 percent to 30 percent this summer over last summer.
Fishing guides also are filling their boats with salmon anglers, who pay about $175 for a day of fishing.
Evelyn Kaide, owner of The Guide Shop and Clearwater Drifters, said she is seeing a 50 percent increase in her business.
Kaide has a fleet of three jetboats, six drift boats and three other jetboats she leased for the salmon season. She also has hired three additional guides to handle the extra workload.
Orofino's two motels were full last weekend, according to Sandy Medley, Orofino Chamber of Commerce executive director.
Pippenger said motel and hotel reservations in Orofino are up 30 percent to 40 percent compared with last year, and more people are on the way.
"I'm getting calls from Seattle (from people) making plans for Memorial Day," Medley said.
She said the salmon season has stretched the area's tourist season, which normally tapers off after steelhead season ends April 30 before starting up again when school gets out in June.
Medley said anglers are the biggest spenders of all visitors to the area.
"I truly believe that," she said.
Medley said there is no way of measuring how much money the salmon season will bring to the area, but she hopes it will have a lingering effect.
Salmon fishing brings new people to the area, and Medley predicts many of them will return later.
"We think people who come for one thing will come back," she said. "We see that with other people who come for other sports."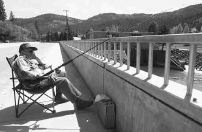 Salmon angler Vic Bruderer of Spokane caught five steelhead from the Clearwater this year, and he was back last weekend to fish for salmon.
"I wouldn't be here if it wasn't for the salmon," he said.
Bruderer was staying in his camper and didn't plan to spend much money while he was there, but he planned to return several times during the season.
"I will keep coming back until I get enough fish, or until I get tired of fishing," he said.
Most Orofino residents agree that the salmon boom will help their community. The benefits of salmon can be traced back to Lewis and Clark and the Corps of Discovery, which feasted on the Clearwater salmon after nearly starving while crossing from Montana to Idaho.
Salmon are a living icon of the wild character of the Pacific Northwest. A fishing season provides a brief glimpse into the past when people annually flocked to Idaho's rivers to catch the migrating fish.
But Orofino residents realize salmon won't solve all their problems.
Clearwater County's unemployment rate is consistently among the highest in the state. Last month, it was second-highest, with 14.1 percent unemployed, trailing only Adams County with 14.4 percent jobless.
In August, Potlatch Corp. closed its mill in nearby Pierce, which left 215 people unemployed, Medley said. About 40 percent of those people live in Orofino.
A three-month salmon season won't offset that loss, but it can help people make a transition.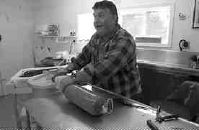 Kenny Jenks of Orofino cut timber for 20 years. Five years ago, he opened Kenny's Smokehouse, a custom meat-processing business. Salmon are helping Jenks maintain a life after logging.
Jenks expects the salmon season to increase his business by 40 percent to 50 percent. He may have to buy another smoker and hire another person to keep up with demand.
Last week, Jenks already had taken in about 30 salmon to be smoked, and he expected many more.
"It will get better as more fish get here," he said.
Although a record run of salmon is headed to the area, business owners realize there are no guarantees.
"My biggest fear is people won't utilize this fishery as much as they should," Kestner said.
He wants his store filled with everything salmon anglers need during the season, which ends Aug. 4 unless the National Marine Fisheries Service closes it earlier to protect wild salmon.
But he doesn't want to get stuck with a large inventory of unsold lures, heavy line and tackle used only for salmon fishing.
"A lot of this stuff is good only for salmon, and you don't want it sitting here for four or five years waiting for another salmon season," he said.
Kaide isn't counting her money before the guided fishing trips she has booked are completed. She had to cancel fishing trips last week when rain and snowmelt swelled the Clearwater and made it unfishable. She couldn't rebook trips later because most dates were full.
Kestner is pragmatic about the economic boost the salmon season is providing. He does not plan to hire extra people, but will work longer hours at his business.
Many others in Orofino plan to work longer, or have their employees work extra hours. But they say the extra money they make will circulate through the economy to all businesses, not just those that cater directly to salmon anglers.
And the salmon season isn't all about money. Kestner shares the excitement when anglers land their first salmon.
"I get a heck of a kick out of being able to help people go out and catch these fish," he said.
Kestner would like to see big salmon runs every year, but he doesn't expect to. He is focusing on the positive things the salmon season brings, not the negatives that undoubtedly will occur if salmon don't return in the future.
"We should be glad it happened," Kestner said. "I'm more prone to appreciating it than expecting it to happen all the time."
Related Sites:
Fish Passage Center City of Orofino
---
Roger Phillips
Salmon, Anglers, Cash Flow into Orofino Area
Idaho Statesman, May 14, 2001
---
See what you can learn
learn more on topics covered in the film
see the video
read the script
learn the songs
discussion forum