---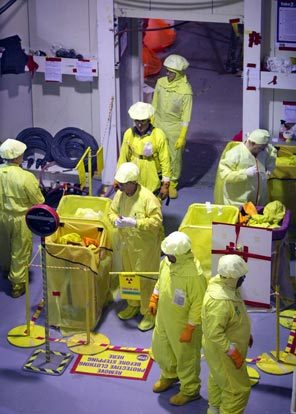 RICHLAND -- When Washington's only commercial nuclear-power plant applied for license renewal last year, the timing seemed charmed. Hailed as a clean alternative to carbon-belching coal and gas, atomic power was poised for a renaissance.
Operators at the Columbia Generating Station near Richland were so bullish on the technology they talked about expanding with small, modular reactors.
What a difference a disaster makes.
Since Japan's megaquake and tsunami washed away much of nuclear power's luster, several countries have banned new reactors. The German parliament voted Thursday to shut down the country's nuclear plants and Switzerland plans to follow suit. In the United States, nuclear watchdogs and environmental groups called on the Nuclear Regulatory Commission (NRC) to freeze new licenses and renewals.
But the NRC says the furor won't delay its decision on the Columbia Generating Station, which was singled out last year as one of the nation's least reliable nuclear plants. Nor will the license review address the two issues critics say are of most concern at the 27-year-old plant:
The pool where spent fuel is stored is similar to the ones that sparked fears of massive radiation releases from Japan's Fukushima nuclear complex.

Geologists have discovered new faults in the area, which may raise the earthquake risk.
The NRC is analyzing the lessons from Fukushima separately and will require all plants to adopt fixes, regardless of their license status, said agency spokesman Victor Dricks. Likewise, new geologic information will be considered as it develops, he said.

Some nuclear experts argue the NRC shouldn't grant license extensions until regulators fully understand the cascade of missteps and malfunctions at Fukushima and how to make plants here less vulnerable.

"We need to step back and take a serious look at the advisability of extending the license on this reactor -- and others like it -- until these concerns are addressed," said Robert Alvarez, a former top Energy Department official and nuclear-policy analyst for the progressive Institute for Policy Studies.

In a preliminary report, the NRC's Fukushima task force acknowledged American nuclear plants haven't planned for the kinds of multiple whammies that knocked out power, roads and communications simultaneously in Japan.

A special inspection at Columbia Generating Station after the meltdowns in Japan noted some of the plant's secondary fire- and flood-control systems and emergency-response centers weren't designed to stand up to major earthquakes, which is fine under current NRC rules.

WPPSS holdover

The Columbia Generating Station is all that's left of the infamous Washington Public Power Supply System (WPPSS) nuclear program, except for a legacy of four failed reactor projects and the nation's largest municipal-bond default. Construction on the reactor started in 1973 on the Hanford nuclear reservation, three miles from the Columbia River. Operators flipped the "on" switch in 1984.

The reactor is a newer version of the General Electric design used at Fukushima. It was licensed to run 40 years, through the end of 2023. The 20-year extension would keep it online through 2043.

It's typical for nuclear plants to seek renewal more than a decade before their licenses expire. Long lead time is important for regional power planning, and the review process can take years, say officials at Energy Northwest, the utility consortium that runs the plant.

The 1,150-megawatt reactor produces 6.4 percent of Washington's electricity -- enough to power every single-family home in King, Pierce, Snohomish and Kitsap counties. The output is blended with production from hydropower dams and sold to 28 member utilities, including Seattle City Light, by the Bonneville Power Administration.

Plants' longevity

NRC and industry officials say there's no reason nuclear plants can't run for 60 years -- and maybe more.

The original 40-year licenses were based on the time it takes to pay off construction, not mechanical limitations, said Don Gregoire, regulatory-affairs manager for Energy Northwest.

"We're very confident the plant has the capacity to run another 20 years," he said.

But several early nuclear engineers told The Associated Press recently they never envisioned plants lasting beyond four decades, a contention industry officials dispute. Alvarez argues it's irresponsible to renew licenses so long before the major effects of aging show up.

But the NRC doesn't seem likely to change course.

The agency has approved extensions for 66 of the country's 104 nuclear-power plants. No applications have been rejected.

To gain approval, plants are required to develop monitoring plans to detect corrosion, leaks, metal fatigue and other signs of deterioration. That's on top of routine maintenance and replacement of components, Gregoire said.

In a strongly pro-nuclear part of the state, residents and officials urged the NRC to approve the license extension at public meetings this spring. More meetings are planned, but the NRC turned down a request from a Seattle-based nuclear-watchdog group to hold one in the Puget Sound region.

The NRC expects to decide on the renewal by next June.

No serious incident

The reactor has never experienced a serious radiation leak or accident.

But performance has been spotty. The NRC placed the plant under heightened scrutiny last year after six unplanned shutdowns, or scrams, in two years. An industry-oversight group ranked the plant as one of the two most poorly run in the country.

Scrams are worrisome because they stress the plant's systems, including safety equipment, said Dricks, the NRC spokesman.

Enforcement and inspection records reveal dozens of incidents, most minor, but a few earning rebukes from the NRC. Electrical fires flared in 2007 and 2009, the latter creating toxic gas and knocking out power to reactor cooling pumps. On three occasions, one of the emergency diesel generators used to cool the reactor during power outages was inoperable -- once for more than a month.

The NRC slapped the plant with a "yellow" finding -- its second-highest category -- in 2001 for failing to develop a plan to warn and evacuate workers at nearby businesses in case of an accident. And in an example of how events can cascade, a ruptured pipe in 1998 sent water flooding down a stairwell and into pump rooms after floor drains failed to work. Several pumps were submerged.

The plant has improved its reliability, with a stretch of 505 days of uninterrupted service that ended with a scheduled shutdown in early April. The number of mishaps and mechanical failures reported to the NRC each year have dropped from as many as 45 in the early 1990s to two last year.

That mirrors an industrywide trend, said Tony Pietrangelo, chief nuclear officer for the industry's Nuclear Energy Institute. "Safety indicators are at or near all-time highs," he said.

Disaster preparation

A tsunami isn't something the plant's operators need to worry about, but the Fukushima accident was stunning proof that some worst-case scenarios weren't bad enough.

Among the nightmares considered in Washington were volcanic ash clouds and a blowout at Grand Coulee Dam upstream on the Columbia. The plant was designed to withstand a magnitude-6.9 earthquake, then considered the worst that could happen.

But geologists recently discovered some faults extend from Western Washington across the Cascades to the Tri-Cities, which means quakes as big as magnitude-7.5 might be possible, said Brian Sherrod, of the U.S. Geological Survey.

A swarm of more than 1,000 microquakes near the plant in 2009 probably occurred on that network of faults, Sherrod said. Though the biggest was only magnitude-3, they rocked the surface surprisingly hard because they were so shallow.

In worst-case accident calculations, plant operators estimate a 7 percent chance the reactor vessel would fail in an earthquake powerful enough to shake the ground with extreme violence -- a level of 1 g, where "g" measures how rapidly the ground moves and stands for gravity, or G-force.

It would take a big, shallow quake to rattle the ground that much, said John Vidale, director of the Pacific Northwest Seismic Network at the University of Washington. Plant operators put the yearly odds at 2 in 1 million, and Vidale agrees it's highly unlikely. But he pointed out that the relatively small, magnitude-6.3 quake that caused severe damage in New Zealand in February generated shaking of more than 1 g in places, because it was so close to the surface.

Seismic issues are not considered in the relicensing, Dricks said. But the NRC and plant operators are tracking the research, he added, and haven't seen anything that calls the plant's safety into question.

Spent-fuel pools

The Fukushima disaster introduced the world to the dangers of the spent-uranium fuel rods stored in pools at reactors around the world. Columbia Generating Station's pool holds 1,748 fuel assemblies, more than double the number in the reactor core itself.

Though not as "hot" as fresh fuel, the spent rods must be constantly cooled. When damaged pools leaked after the Japanese quake and tsunami, fuel was exposed and the remaining water boiled. That's when operators called in water-toting helicopters in a desperate attempt to prevent a fire or explosion.

A 1997 analysis from Brookhaven National Laboratory estimated a severe fire in a spent-fuel pool would release enough radioactive material to cause as many as 28,000 cancer deaths in a densely populated area and render 188 square miles uninhabitable.

Columbia Generating Station's spent-fuel pool is similar to those in Japan -- and could be damaged in a strong earthquake, terrorist attack or industrial accident, said Alvarez, the nuclear expert. The steel-lined pool sits inside the reactor building, several stories above the ground, and is made from thick concrete. But it's not enclosed in the kind of containment structures that surround the reactor core.

"Spent-fuel pools are the most vulnerable components at operating reactors," Alvarez said.

Changes in fuel storage aren't required for license renewal, but Alvarez and other nuclear experts have been pushing for power plants to thin out storage pools by shifting more fuel to dry storage casks. In the absence of a national nuclear-waste storage site, the casks are the safest alternative, he said.

Columbia Generating Station has moved more than 1,800 spent-fuel assemblies into the casks, a much higher percentage than most plants.

Out of sight, out of mind

About 425,000 people live within a 50-mile radius of the plant. But from the perspective of the Puget Sound region, it's largely out of sight and mind. Even Heart of America Northwest, which tracks nuclear and environmental issues at Hanford, was caught unawares by the renewal application.

Nina Bell, of Portland-based Northwest Environmental Advocates, helped write a petition asking the NRC to suspend all license actions until the Fukushima reviews are done.

It's a longshot, she knows. But license renewals are one of the few opportunities for the public to have a say in matters that are usually sorted out between the NRC and nuclear-plant operators, a relationship that even government auditors have criticized as cozy.

"These kinds of issues need to be brought into the light of day," Bell said. "When citizens participate, the issues are more thoroughly vetted and power plants are more likely to be operated safely."
---
Sandi Doughton
Seattle Times researcher Gene Balk contributed to this report
State's Only Commercial Nuclear-power Plant: How Safe is It?
Seattle Times, July 2, 2011
---
See what you can learn
learn more on topics covered in the film
see the video
read the script
learn the songs
discussion forum