the film
forum
library
tutorial
contact

Lower Willamette Group Not Complying with
Superfund Cleanup Order for Portland Harbor, EPA Says

by Scott Learn
The Oregonian, July 31, 2012
---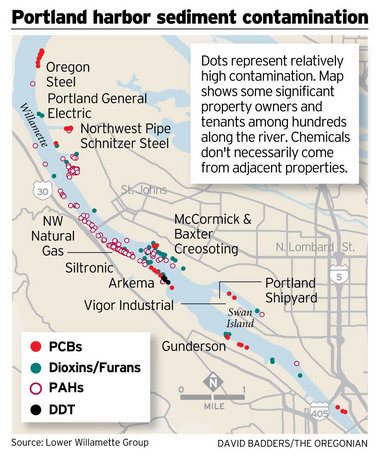 For the first time in 11 years, the Environmental Protection Agency has declared a key group of Portland Harbor property owners out of compliance with the harbor's cleanup consent order.
The dispute raises tensions in the already high-stakes debate over health risks to people who eat harbor fish and shellfish.
EPA said in June that the Lower Willamette Group's revised human health report for the harbor contained "several instances of incorrect or misleading information" about risks, which underlie the amount of cleanup required at the federal Superfund site. The group includes the city of Portland, the Port of Portland and harbor industries such as Gunderson and Siltronic.
The 14-member Lower Willamette Group decided last week to appeal EPA's decision, which could mean fines up to $5,000 a day, to top officials in the agency.
The dispute could further delay harborwide cleanup, now slated to begin in 2016. It could also make it tougher for the group, which spent $73 million studying contamination in harbor sediments, to eventually recover costs from polluters who didn't participate.
Barbara Smith, spokeswoman for the Lower Willamette Group, said the group has documentation that it followed EPA instructions when revising the health report.
"We very strongly object to EPA's characterization that we're out of compliance with this order," Smith said. "It's a very serious charge, and we have to dispute it."
. . .
---
Scott Learn
Lower Willamette Group Not Complying with Superfund Cleanup Order for Portland Harbor, EPA Says <-- Full article available at original site.
The Oregonian, July 31, 2012
---
See what you can learn
learn more on topics covered in the film
see the video
read the script
learn the songs
discussion forum