---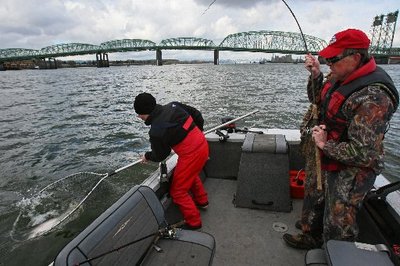 Here is state Fish and Wildlife's fishing report on the Columbia River and its tributaries, which shows a mix of chinook and steelhead being caught along with a sprinkling of sockeye.
In the Cowlitz River bank anglers were catching some spring chinook at the barrier dam while boat anglers are catching some steelhead around the trout hatchery. Effective June 16, bank anglers may fish the south side of the river from Mill Creek to 400 feet or the posted markers below the barrier dam.
Last week Tacoma Power recovered 109 spring chinook adults, 162 jacks, four winter-run steelhead and 131 summer-run steelhead during five days of operation at the Cowlitz Salmon Hatchery separator.
During the past week Tacoma Power employees released 5 spring chinook adults, 150 jacks, and one winter-run steelhead into the upper Cowlitz River at Packwood.
River flows at Mayfield Dam are approximately 6,100 cubic feet per second on Monday morning, June 13. Water visibility is 10 feet.
In the Kalama River there was no report on steelhead angling success. Remains closed to fishing for spring chinook. Through June 8, just 73 hatchery adult spring chinook had returned to Kalama Falls Hatchery. The escapement goal is 400 fish for hatchery brood stock.
In the Lewis River there has been light effort and catch. Remains closed to fishing for spring chinook. Through June 8, a total of 1,022 hatchery adults had been collected for brood stock. The goal is 1,300 fish.
In the Wind River fish were being caught throughout the river but the coffer dam area was the best location. No boats were observed at the mouth yesterday (Sunday June 12) and only eight vehicles at Milepost 7 and at the coffer dam.
Through June 8, a total of 926 spring chinook had returned to Carson National Fish Hatchery. The escapement goal is 1,500 fish.
In Drano Lake there has been light effort, but a few spring chinook were still being caught. No boats were observed there yesterday.
In the Klickitat River anglers were catching a mixture of adult and jack spring chinook and summer run steelhead. Up to two hatchery adult spring chinook may be retained in the upper river.
In the Lower Columbia below Bonneville Dam last week state Fish and Wildlife sampled over 1,400 salmon anglers (including 82 boats) with 205 adult spring chinook and 132 jack spring chinook, 83 steelhead, and five sockeye. 156 (76-percent) of the adult and 108 (82-percent) of the jacks were kept as were 68 (82-percent) of the steelhead, and all of the sockeye. 92-percent of the adults and all but one of the jack spring chinook sampled were upriver origin based on Visual Stock Identification (VSI).
Over 1,000 salmon bank anglers and 300 boats were observed on the Lower Columbia mainstem during last Saturday's (June 11) effort flight count.
The summer chinook fishery gets under way June 16 from the Megler Astoria Bridge up to Priest Rapids Dam. One difference is anglers fishing below Bonneville Dam can retain two adult hatchery-reared chinook after June 16, rather than one.
In Bonneville Pool there was no effort observed at the mouths of the Washington tributaries. Beginning June 16, boat anglers can fish from Bonneville Dam upstream.
In The Dalles Pool bank anglers were catching some adult and jack spring chinook.
In the John Day Pool, Paul Hoffarth, a state Fish and Wildlife biologist in Pasco says an estimated harvest in the John Day Pool for June 6 through June 12 is 20 adult hatchery chinook and 33 hatchery jacks. An estimated 21wild adult chinook and 20 wild jacks were caught and released.
Catch and effort picked up a bit this past week. Water is turbid and the flows are high. Effort was light with 126 boats on the water fishing for salmon for the week. Salmon bank angler effort declined this past week with more bank anglers fishing for walleye than salmon. An estimated 961 adult hatchery chinook have been harvested in this fishery and 304 wild adults have been caught and released.
---
Mark Yuasa
Upper Columbia River Region Opens for Sockeye Fishing
Seattle Times, June 14, 2011
---
See what you can learn
learn more on topics covered in the film
see the video
read the script
learn the songs
discussion forum