---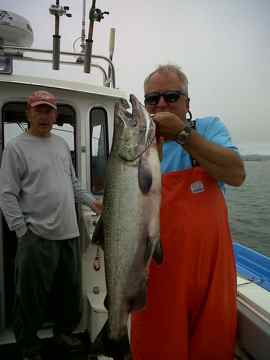 Here are the latest fishing reports for the Columbia River and its tributaries by state Fish and Wildlife:
Salmon/Steelhead
Cowlitz River - On the lower river, anglers are catching a mixture of fall chinook and coho. No report on angling success in the upper river.
Last week Tacoma Power recovered 2,089 fall chinook adults, 111 jacks, 1,792 coho adults, 85 jacks, eight spring chinook adults, one jack, 96 summer-run steelhead, 16 sea-run cutthroat and three pink salmon during five days of operation at the Cowlitz Salmon Hatchery separator.
During the past week Tacoma Power employees released 161 coho adults, five jacks, 124 fall chinook adults, two jacks and three spring Chinook adults into the Upper Cowlitz River at the Skate Creek Bridge in Packwood and 673 fall chinook adults, 35 jacks, 362 coho adults, five jacks, five spring chinook adults and one jack into Lake Scanewa behind Cowlitz Falls Dam.
Also during the week 560 fall chinook adults, 33 jacks, 187 coho salmon adults and nine jacks were released into Mayfield Lake at the Ike Kinswa State Park boat launch and 318 fall chinook adults, 18 jacks, 309 coho adults and 22 jacks were released into the Tilton River at Gust Backstrom Park in Morton.
A total of 16 cutthroat trout and the pink salmon were released into the Cowlitz River at the Barrier Dam boat launch during the week.
River flows at Mayfield Dam are approximately 4,780 cubic feet per second on Monday, September 26. Water visibility is 16 feet.
Kalama River - Bank anglers are catching some fall chinook and steelhead.
Lewis River - On the North Fork boat anglers averaged over a chinook per rod while bank anglers were mainly catching coho. Colvin Creek (located upstream from the salmon hatchery) upstream to Merwin Dam closes to all fishing beginning October 1.
Washougal River - Bank anglers are catching some fall chinook.
Drano Lake - Boat anglers are catching a mixture of fall chinook, coho, and summer run steelhead. Drano Lake is closed to all fishing from 6 pm Tuesdays to 6 pm Wednesdays during October.
Klickitat River - In the lower river, anglers are catching some fall chinook.
Yakima River - From Paul Hoffarth, WDFW Fish Biologist in Pasco WA - Angler effort continues to rise on the lower Yakima River. This past week there were an estimated 931 angler trips on the Yakima River for salmon. WDFW staff sampled 125 anglers with 7 adult chinook and 5 jacks. Anglers averaged one chinook for 26 hours of fishing. Estimated harvest for the week and season is 36 adult chinook and 50 jacks. For the season an estimated 50 adult chinook and 64 chinook jacks have been harvested.
Lower Columbia below Bonneville Dam - Last week we sampled 372 salmonid anglers (including 100 boats) with 86 adult and 23 jack fall chinook, 2 adult coho, 3 steelhead, and 2 pinks. 82 (95%) of the adult and all of the jack fall Chinook, half of the adult coho and two-thirds of the steelhead were kept.
All areas the Columbia River below Bonneville Dam will be open for chinook fishing as of Oct. 1, including the stretch between the Lewis River and the Rocky Point/Tongue Point line. The daily limit for adult fish below the dam will be two chinook or hatchery coho, two steelhead or one of each.
Bonneville Pool - Boat anglers are catching some fall chinook and coho.
Hanford Reach - From Paul Hoffarth - Staff interviewed 361 boats last week with 338 adult chinook, 76 jacks, and 4 coho. Anglers averaged slightly better than one salmon per boat. An estimated 1,556 adult chinook, 352 jacks, and 18 coho were harvested this past week. Effort is spreading out throughout the Hanford Reach and the Tri-cities. An estimated 4,112 angler trips this past week. For the season, 3,008 adult chinook, 611 jacks, and 31 coho have been harvested.
On September 23, the in-season run update for the Hanford Reach was completed. The adult return estimate is now predicted to be 70,448 adult chinook. This is roughly 12,000 adult chinook higher than the Sept 15 estimate.
. . .
---
Mark Yuasa
Columbia River Area Offers a Decent Mix of Fall Fishing Opportunities
Seattle Times, September 27, 2011
---
See what you can learn
learn more on topics covered in the film
see the video
read the script
learn the songs
discussion forum