---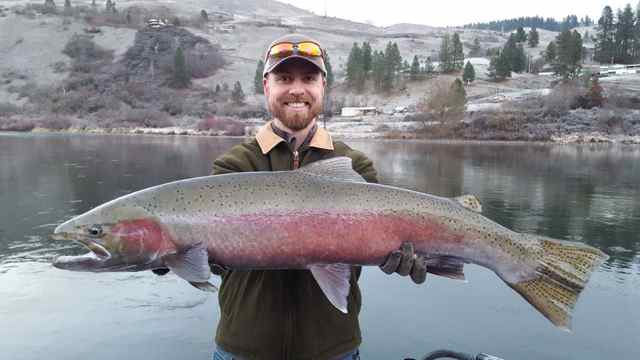 Fishing locally in the Snake River seems to have picked up for the first time since the unusually hot weather of early summer.
Rich Wilson of Clarkston said he has been catching nice-sized trout in the Snake, downstream from the mouth of the Grand Ronde. He didn't believe they were salmon or steelhead smolts, which are now heading downstream for the initial part of their migration.
Because of the recent high water that was let off during the Fourth of July weekend in the Snake, it makes sense that trout from Hells Canyon would have been swept downstream to find themselves within the lower reaches of the river.
Although the Snake was in a high state during the last couple of weekends, the trend of low water is again beginning to show up. It will probably stay low for the remainder of the season, unless more unexpected rains come our way.
While nightfishing for catfish near Swallows Rock between Clarkston and Asotin, Al and Linda Swan of the Cleman's Addition were surprised when Linda hooked into a five-foot-long sturgeon. It was 11:30 in the evening when the large fish hit.
Linda fought it for 43 minutes using a steelhead rod equipped with only 10-pound test Stren line. With Al keeping the boat directly above the fish, it eventually tired and was subdued long enough for unhooking and a picture.
Several people have said they are catching a lot of smolts. Some quickly release the small fish so they can finish their trip, while others keep them for the skillet. At this time, both choices are correct. If you decide to keep them, they fall under the trout category for whichever state's license you have.
If they are undamaged, it's a good practice to wet your hands before handling these fish if you intend to release them. A lot of the smolts now lingering in our area will become residents until caught by fishermen, or eaten by predator fish.
A report of shad entering our area via Lower Granite Dam's fish ladder was heard last week.
Could this be a new local fishery in the offing? One person said several shad could be seen daily in the fish-viewing window at the dam.
A check of the fish counts at Lower Granite confirms the report. Wednesday's shad count at the dam totaled 419, bringing the year's total to 19,003. It just may be worth a fishing trip.
Shad fishing has become a popular fish in the lower part of the Snake and Columbia with millions coming over the lower dams. It seems only a matter of time until their migration extends as far upstream as our area.
As more shad are reported, various techniques will be explored for the catching and cooking of this hard-fighting fish.
Water temperatures in the Snake range from 66 to 70 degrees, depending on the slowness of the water.
Related Sites:
Spring Chinook Fishing Extended With Increased Bag Limit; So Far, Jacks Passage Very Low by Staff, Columbia Basin Bulletin, 6/8/18
With Run Downgrade, Summer Chinook Fishing Below Bonneville Dam Ends Early; Sockeye Above Forecast by Staff, Columbia Basin Bulletin, 6/29/18

---
Lenny Frasure, a lifelong Clarkston resident and fishing enthusiast.
Snake River Might Hold a Few Surprises
Lewiston Tribune, July 16, 2018
---
See what you can learn
learn more on topics covered in the film
see the video
read the script
learn the songs
discussion forum