---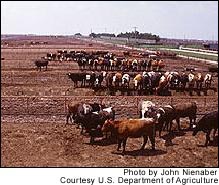 The Western United Dairymen of Modesto, Calif., is hoping that a state grant program to convert cattle manure into electricity will be so popular that the group will have to ask the state for more money. Farmers are increasingly facing more regulation concerning the refuse, which can pollute the environment if used improperly.
Several projects are in the works in the West that will convert some manure into methane gas for producing electricity, a short commodity in California. The processes create methane that can be burned in generating equipment. The leftovers from gas production are usable as organic fertilizer.
California is offering to ante up half the cost of equipment from a $10 million fund. About 50 members of the Western United Dairymen (WUD) are interested. Michael Marsh, WUD chief executive officer, said, "We're excited about the potential, and we hope to have positive results. One of the concerns is that we may end up with more demand than we've got money. That's kind of a good position to be in."
The group represents about 1,100 dairies and an undetermined number of bovines, all of which produce about six pounds of droppings daily. That is a lot of material to sidestep, and the group persuaded the state legislature for grants to help cover some of the cost of equipment to generate electricity, which has been in short supply in California.
Generating electricity with cattle manure is not a new idea. It was a thriving business in the 1970s and 1980s until tax credits expired. Those credits helped subsidize the financial viability of the units in times of low electricity prices. But now that electricity prices have gone up in the state, manure-generated electricity is more competitive.
Besides the expiration of the credits, some technology 30 years ago wasn't mature or reliable enough to keep operating properly for the long term. That snag also helped shut down the operations. Out of about 100 units constructed on farms nationally since the early 1970s, about 20 survive now, said Marsh.
He said that hardware reliability and efficiency have improved considerably, but without a substantial down payment, it is still hard to convince a banker to put assets on the line for an idea that did not work previously.
Synagro Technologies of Houston, Texas, pushes its technology to help farmers comply with upcoming federal Environmental Protection Agency regulations that will dictate what farmers can do with the waste. Called Confined Animal Feeding Operations (CAFO) rules, the regulations are being etched in stone by the U.S. Environmental Protection Agency and the U.S. Department of Agriculture, which recognize runoff from too much manure as a pollutant.
Synagro plans a facility at the Inland Empires Utilities Agency, which put up $4.5 million for the project. It will produce methane gas from the droppings of about 3,700 dairy cattle. The gas will be burned to generate electricity to power a water-desalting facility and to demonstrate that the system works.
Ross Patten, chairman and chief executive officer of Synagro, said, "This project is sort of a model that we think, and the agricultural community thinks, will be a model that will be used elsewhere around the country that will help manage the residues from the agricultural industry."
In Washington state, where Portland General Electric (PGE) is constructing a small plant on a farm near Salem, it is estimated that one county alone could produce 10 megawatts of electricity from cow manure. The 10 MW could power about 10,000 average homes.
The PGE facility is expected to produce about 100 kilowatts, or one-tenth of a megawatt, from 500 animals that would power about 100 homes.
Related Pages:
Salem Dairy to Produce Electricity from Manure by John Schmitz, Capital Press 1/25/2
---
Staff
California Dairy Group Hopes Manure Program Breaks the Bank
Environmental News Network, August 15, 2001
---
See what you can learn
learn more on topics covered in the film
see the video
read the script
learn the songs
discussion forum