---
Lower River Closed Until Run Update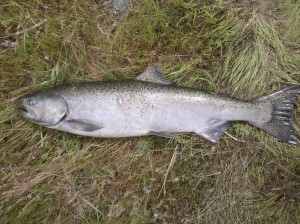 Anglers will have at least four more days to fish for hatchery-reared spring chinook salmon on a section of the Columbia River stretching 163 miles upstream from Bonneville Dam.
Citing the late timing of this year's run, fishery managers from Washington and Oregon on Monday agreed to extend the fishery through May 6.
According to current projections, anglers will catch only about 232 of 1,689 salmon available for harvest through May 2, when the fishery was initially scheduled to close pending an updated run-size assessment.
"Fishing above Bonneville Dam has been slow, with the bulk of the run yet to arrive," said Cindy LeFleur, Columbia River policy manager for the Washington Department of Fish and Wildlife. "Both states agree we can safely give anglers an additional four days of fishing above the dam with little risk to the resource." The states are harvest co-managers on the mainstem where the Columbia is their shared boundary.
The extension does not apply to salmon fishing below the dam, which has been closed since April 23 pending the run update, which is expected in early to mid-May. By then, anglers had taken about 70 percent of their initial quota of upriver chinook for that stretch of the river -- most during the last week of fishing.
The lower Columbia River recreational fishery was open through Sunday April 22 and had an estimated catch is 11,826 kept adult fish from 106,400 angler trips. Kept and release mortalities of upriver fish is estimated at 8,922 fish, or 70 percent of the 12,700 available prior to the run update," according to an April 30 fact sheet prepared by the Oregon and Washington department of fish and wildlife staffs.
Two mainstem commercial salmon fishing periods on the lower Columbia (18 hours combined) occurred on April 3 and April 10. Landings include 6,179 chinook. Upriver chinook mortalities total 4,318 fish, compared to the 5,900 available pre-update (73 percent).
The current season total catch of upriver spring chinook (kept and release mortalities) in all non-treaty fisheries is 13,562 fish (62 percent of the 21,994 available, based on the preseason forecast, prior to the run update). A final upriver run size of 149,000 is required to remain within catch balance and impact limitations for completed fisheries; the ongoing Bonneville to OR/WA border recreational fishery (through May 2); and Select Area commercial fisheries in the Columbia River estuary (through April 27).
The Technical Advisory Committee, which creates and updates the run-size forecasts, will meet again Monday to review stock status. Much of their reassessment is based on fish passage at Bonneville Dam. Catch limits are imposed on upriver stocks to hold down impacts on parts of the run - wild Upper Columbia and Snake River spring chinook - that are protected under the Endangered Species Act.
Above Bonneville Dam, boat and bank anglers are allowed to fish from the Tower Island powerlines to the Washington/Oregon state line, 17 miles upriver from McNary Dam. Bank anglers can also fish from the powerlines downriver to Bonneville Dam.
Anglers fishing those areas can keep two marked hatchery adult chinook per day. All wild, unmarked chinook must be released unharmed.
Prior to this year's fishing season, fishery managers projected a strong return of 314,200 upriver spring chinook salmon to the Columbia, anticipated to be the fourth-highest on record. To guard against overestimating the run, both states have managed the fishery with a 30 percent "buffer," LeFleur said.
Through Thursday a total of 29,992 adult spring chinook had been counted at Bonneville's fish ladders.
"We'll have a better idea of the actual size of the run once more fish have passed Bonneville Dam," she said. "That assessment will also determine whether we can give anglers additional time to fish."
---
Staff
Low Catch Rates Prompt More Fishing Days Above Bonneville
Columbia Basin Bulletin, May 4, 2012
---
See what you can learn
learn more on topics covered in the film
see the video
read the script
learn the songs
discussion forum