---
Sea lions are finding additional places to attack Northwest ratepayers' investments in endangered fish.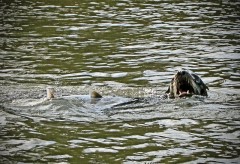 According to wildlife managers, sea lions chomped on an estimated 3,700 adult salmon and steelhead at Willamette Falls, south of Portland, Ore., in 2014.
"This is a growing concern for us," Robin Brown of the Oregon Department of Fish and Wildlife told the Northwest Power and Conservation Council's Fish and Wildlife Committee.
That's in addition to the more publicized sea lion predation at Bonneville Dam on the Columbia River, which is bringing calls for reform from Congress.
Data presented at the Jan. 13 committee meeting showed observers spotted 30 ravenous marine mammals -- 27 of them California sea lions -- around Willamette Falls last spring. The count is the highest on record at the falls.
The predation is a concern for electric cooperatives and power customers that buy federal hydropower from Bonneville Power Administration. About one-third of Bonneville's wholesale power costs are allocated to fish and wildlife programs. That tally approached $700 million in 2013.
In past years, only a dozen or so sea lions showed up at the falls, said the Oregon Department of Fish and Wildlife, which has been monitoring the area on and off since 1995. It conducted hazing activities to drive away sea lions in 2010, 2012 and 2013, and plans to step them up this year.
Several of the sea lions spotted at the falls appear to be repeat offenders, as identified by their brands. Of the 30 at Willamette in 2014, about half had been seen in previous years either there or at Bonneville Dam, about 45 miles northeast of the falls.
Meanwhile, two Northwest House members want to expand a federal program that authorizes trapping and euthanizing problem sea lions.
Reps. Jaime Herrera Butler, R-Wash., and Kurt Schrader, D-Ore., said the Endangered Salmon and Fisheries Predation Prevention Act would enable tribal members, under the training of the U.S. Fish and Wildlife Service, to remove sea lions by lethal means after relocation efforts fail. They introduced the bill Jan. 27.

---
Steven Johnson
Sea Lions Find New Places to Snack on NW Fish
Electric Co-op Today, February 2, 2015
---
See what you can learn
learn more on topics covered in the film
see the video
read the script
learn the songs
discussion forum