---
Lab tests awaited to confirm cause of deaths in traps at Bonneville Dam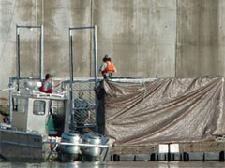 The deaths of federally protected sea lions found in traps at Bonneville Dam on the Columbia River may have been caused by overheating, federal officials said Wednesday.
Government wildlife specialists made that conclusion after their review of the necropsies conducted on the six protected sea lions.
Studies of tissue samples taken after the deaths May 4 are expected in about 10 days and may reveal more.
The states of Oregon and Washington had been trapping the animals as part of a federally approved removal process to reduce sea lion effect on salmon at the dam.
The Humane Society of the United States questioned Wednesday whether the 60-degree weather at the time would kill animals that can survive worse.
Initially, federal officials said they had thought that the animals had been shot to death.
The National Marine Fisheries Service's initial reports about the deaths raised intense interest in the long-running dispute over the sea lions, which prey on protected salmon. As a consequence, the government and the Humane Society reached agreement to suspend trapping and removing the sea lions this year.
But the preliminary results of the examination of the carcasses found no evidence of recent gunshot wounds, fisheries service spokesman Brian Gorman said.
Mark Oswell, a wildlife enforcement officer for the service in Silver Spring, Md., said after the shooting theory was discarded that human involvement could not be ruled out and said dehydration, heat exhaustion or panic could have been factors. He said it is still is not known what caused the doors of the cage traps to close, trapping the animals.
Oswell said that toxicology tests will be done if further investigations warrant it and that tissue samples have been taken. He said the sea lions have been taken to the federal Fish and Wildlife Service's forensics laboratory in Ashland, Ore., where officials declined to comment.
The sea lions included two endangered Steller sea lions and one California sea lion pup. Only one of the adult California sea lions was on the service's list of sea lions to be removed.
The Humane Society, which has sued to block the authorized killing or removal of up to 85 animals a year for five years, agreed with the federal government and the states of Oregon and Washington to continue a ban on killing and to stop permanent removal until next year, in part to allow more efforts to determine what happened to the six marine mammals.
The agreement allowed the governments to continue removing animals and branding them for identification if they are returned to their habitat.
Sea lions gather at the dam each spring to eat migrating salmon. Those removed were being sent to aquariums.
---
Associated Press
Heat may have Killed 6 Caged Sea Lions
Seattle Post-Intelligencer, May 14, 2008
---
See what you can learn
learn more on topics covered in the film
see the video
read the script
learn the songs
discussion forum