---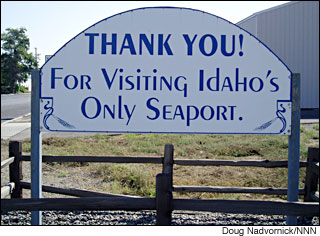 Lewiston, ID -- The ebb-and-flow of the long political battle to breach four Snake River dams in eastern Washington is back in flow mode.
Salmon advocates are pressuring the Obama administration to come out in favor of removing the dams. That's an idea that leaders in Lewiston, Idaho have long fought.
The city bills itself as the only seaport in Idaho. But now, even there, a few business leaders are softening their stance just a little bit. Inland Northwest Correspondent Doug Nadvornick reports.
We're in a little back office at the Lewis-Clark Grain Terminal in Lewiston, Idaho. A big wall of lights and dials shows which silos are empty, which trucks are unloading and which barges are getting pumped full of wheat.
The terminal's general manager, Arvid Lyons, is managing the traffic.
Arvid Lyons: "My job right now is to make sure those trucks go into the correct bin so that, when we load a barge, it's what the exporter, or the customer, has purchased."
The grain terminal is on the grounds of the Port of Lewiston, where the Clearwater and Snake Rivers meet. Trucks haul in wheat, peas, lentils and other crops. Barges ship them to Portland and points beyond.
Proponents of breaching say if the Snake River dams are ripped out the barges could just be replaced by trucks and trains. Lyons thinks that would be a mistake.
Arvid Lyons: "Barges use less fuel. They're easier to coordinate, logistically. And there's an economic component there; it costs half to transport the grain than it does by rail."
Some Lewiston businesspeople believe that taking out the dams would kill this region's economy. That's why they've fought dam breaching so fiercely here.
But the concept isn't going away and Idaho Senator Mike Crapo knows it. Recently, the Republican senator declared that he would broker a regional discussion, or collaboration, about salmon. He says that, even though he doesn't support it, dam breaching should be an option.
Twenty-one Lewiston businesspeople responded to Crapo's suggestion with a supportive letter. He invited them to meet with him recently at his office in Lewiston.
Senator Mike Crapo: "I just want to be sure you understand what I mean when I say collaboration. I mean it that then, at that point, everything's got to be on the table. We come in, we talk and we work back and forth, working through issues."
Businessman Mike Kingsley tells Crapo he welcomes the discussion.
Mike Kingsley: "One thing that's kind of always been over our head here is, well, are the dams going to stay or are the dams going to go? So it's hard to plan. What I'd like to see is some settlement, some resolve. I think the dams should stay and I think most of the businessmen here do agree with that, but we also know we're not in control. That judge, that president, somebody can make that decision and, you know, we're done for."
Having a discussion about dam breaching isn't controversial. But some believe the businessowners' letter goes beyond that.
Critics question the motive of the man who wrote it. Dustin Aherin is the director of a small advocacy group, Citizens for Progress. His critics say he has taken money from one of the most vocal environmental groups, Save Our Wild Salmon.
Aherin admits to that and says that he wouldn't mind seeing the dams go. But he says he's not trying to force his will on the community.
Dustin Aherin: "This is a big, scary issue. It's very polarized, both sides. My hope is to bring the citizens of Lewiston kind of into the middle, to start with anyway, and once you get all your information and once you can make some decisions, then is the time to advocate."
But in the eyes of at least one Lewiston business leader, the motive is clear. Financial planner Scott Arnone signed the letter but now wishes he hadn't.
Scott Arnone: "The letter was then couched to some other folks who now say that 21 Lewiston businesses are now thinking about dam breaching. Well, I want to be on record as saying I am not about dam breaching whatsoever."
Arnone says he does, however, support Crapo's idea of collaboration.
Lingering in the background is one other issue that could factor into whether the dams should be breached: flooding. If you stand here on the levee that overlooks the Clearwater River, you can see Lewiston faces a risk of high water.
On the bottom of the river are hundreds of tons of dirt that have flushed downstream over the years and settled. That dirt is clogging the river channel.
Tom Dechert, Lewiston's stormwater program coordinator, worries that, in high water years, those layers of sediment could push the river over these levees.
Tom Dechert: "When I brought FEMA in here to look at what was going on, that was FEMA's immediate response, 'Gee, this whole downtown area could look just like New Orleans.'"
Dechert says breaching the dams would take care of the risk of flooding by flushing out the sediment on the bottom of the river.
The Army Corps of Engineers, which operates the levees, is studying whether it should raise them or dredge dirt from the bottom of the river.
That's a complicated undertaking without an obvious resolution, as is Senator Mike Crapo's decision to convene a regional discussion about salmon.
Crapo says he'll have to include voices not only from his own state, but also from Washington, Oregon and British Columbia. And he says that could take quite awhile.
Mike Crapo: "People have a deep-seated worry that if they check their guns at the door and go into a collaborating room that they are going to be somehow losing advantage or taken advantage of."
A few residents in Lewiston say they'll take their chances. They just want to make sure they're invited to the table.
---
Doug Nadvornick
Lewiston, Idaho Remains Against Breaching Dams
Oregon Public Broadcasting, September 17, 2009
---
See what you can learn
learn more on topics covered in the film
see the video
read the script
learn the songs
discussion forum