the film
forum
library
tutorial
contact

Lay Is Indicted as Enron Inquiry Reaches the Top

by John R. Emshwiller, Deborah Solomon & Rebecca Smith, Staff Reporters
Wall Street Journal - July 8, 2004
---
Former CEO Faces Charges He Conspired
to Manipulate Energy Concern's Finances
An investigation that for two years has climbed the executive ranks of Enron Corp. has finally reached the top rung, as federal prosecutors charged former Chairman Kenneth Lay with being part of a wide-ranging scheme to defraud investors in the collapsed energy giant.
Mr. Lay, who served as Enron's chief executive for 15 years, was indicted yesterday by a federal grand jury in Houston for his role in an alleged conspiracy involving other top former officials to manipulate Enron's financial statements, said people familiar with the matter. The criminal indictment is expected to be unsealed this morning. Additional civil charges related to alleged securities violations are expected to be filed as well.
Mr. Lay, 62 years old, presided over the Houston-based company when it filed for bankruptcy-law protection in December 2001. The collapse sank one of the biggest corporate success stories of the 1990s, which at one time had a market capitalization of $70 billion, and turned the company into a symbol of the excess greed of the period. The ensuing scandal helped bring down the former Arthur Andersen LLP, one of the world's largest accounting firms, and triggered a spate of corporate-governance legislation in Congress. The debacle even touched the White House, because of Mr. Lay's political connections.
To emphasize his purported position as a co-conspirator, the charges against Mr. Lay are expected to be added to a pending indictment against Enron's former president and chief executive, Jeffrey Skilling, and its former chief accounting officer, Richard Causey. The indictments against Messrs. Skilling and Causey involve allegations that range from lying to the public about Enron's financial condition to manipulating Enron's financial statements to hide losses and create reported earnings. If the indictment against Mr. Lay is equally broad, he could face many years in prison and multimillion-dollar penalties, if convicted. Both Mr. Skilling and Mr. Causey have pleaded not guilty and were expected to go to trial sometime in the first half of next year. Adding Mr. Lay to that mix could delay the proceedings.
Since Enron's downfall, Mr. Lay has steadfastly maintained that he did nothing illegal during his years at the company's helm. That is now expected to become the crux of his defense: that while other executives plotted the complex financial maneuvers that ultimately undid the company, he had no knowledge of the darker side of Enron that federal prosecutors say existed. In a brief statement yesterday evening, Mr. Lay said: "I have been advised that I have been indicted. I will surrender in the morning. I have done nothing wrong, and the indictment is not justified."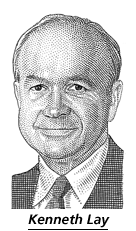 The indictment is likely to include a raft of charges, especially after instructions issued last week by Deputy Attorney General James Comey urging prosecutors to obtain charges that include various factors that traditionally have been considered by judges in sentencing, but not presented to juries. Such factors could include the size of investor losses in white-collar crimes. The deputy attorney general's directive followed a recent Supreme Court ruling involving state sentencing guidelines stating that judges can't act alone to increase prison sentences based on facts that juries never consider or that defendants don't plead to. Some legal experts say the high court ruling could apply to the federal system as well.
The Securities and Exchange Commission also is expected to file civil charges against Mr. Lay, accusing him of various securities-law violations, including financial fraud and insider-trading stemming from stock-related transactions he engaged in months before Enron's bankruptcy filing. In past indictments against Enron executives, the SEC has also filed separate civil charges.
The SEC is expected to seek millions of dollars in civil penalties and disgorgement from Mr. Lay. If successful, the money would ultimately be returned to investors.
The indictments signal that Mr. Lay's rags-to-riches story, which transported him from a small Missouri town to the company of presidents, may culminate in a federal prison sentence. That never seemed like a possibility during the go-go 1990s, when Mr. Lay was a leading spokesman for a heady era in U.S. business. Enron embodied the drive by American business interests to deregulate vast swaths of the marketplace, and the company profited greatly from the loosening of rules in such areas as natural gas and electricity marketing.
Under the leadership of Mr. Lay and his principal protégé, Mr. Skilling, Enron transformed itself from a relatively stodgy natural-gas pipeline company into a global trader that dealt in everything from megawatts of power to space on the information superhighway. The company, which reported revenue of $100 billion in 2000, became a Wall Street darling and saw its stock price zoom.
But Enron came unglued in late 2001 amid rising investor concerns over its use of off-balance-sheet entities, some of them run and partly owned by company executives, to hide losses and debt. Enron's collapse produced a raft of private lawsuits and government investigations. Mr. Lay became a symbol for all that was suddenly perceived to have been wrong with the era he had helped construct. His wealthy lifestyle -- including corporate jets, a luxury condominium in Houston and homes in Aspen, Colo. -- helped make him a lightning rod for critics of corporate greed.
The indictment of Mr. Lay climaxes a wide-ranging investigation that has resulted in criminal charges against 30 individuals and civil charges against 15 individuals and several banks accused of aiding and abetting Enron's fraud. Most of those accused of criminal activity have pleaded not guilty and await trial.
However, several have reached plea agreements with prosecutors and agreed to cooperate in the probe. Most prominent is former Chief Financial Officer Andrew Fastow. Mr. Fastow's cooperation agreement in January, in return for a 10-year prison sentence, has been the biggest breakthrough to date for prosecutors, giving them access to someone at the top of the company who was directly involved in many of Enron's most suspect financial maneuvers. Quickly following Mr. Fastow's plea deal, prosecutors filed their more than 30-count indictments against Mr. Causey and Mr. Skilling.
The 50-year-old Mr. Skilling has long been viewed as the principal architect of Enron's 1990s transformation. Mr. Lay was viewed more as Enron's public face. He was the company's main political contact and developed close relationships with many leading elected officials, most prominently fellow Texans President George W. Bush and President George H.W. Bush.
In interviews over the past several weeks, Mr. Lay and his supporters have attempted to portray him as a big-picture chief executive who left operational details to trusted subordinates. Such an effort seems aimed at convincing listeners, including jurors, that Mr. Lay lacked the specific knowledge or intent to commit a crime.
While Mr. Lay is Enron's best-known figure, he has been an elusive target for federal investigators. He tended to eschew memos and e-mails and left much of the day-to-day operating of Enron to others, particularly Mr. Skilling. Unlike his mentor, Mr. Skilling was known as a detail-oriented executive.
Yet Mr. Lay was hardly an unsophisticated business executive. He has a doctorate in economics and was until Enron's decline an influential figure in national energy matters, including helping to advise Vice President Dick Cheney on the Bush administration's national energy policy.
In their investigation of Mr. Lay, prosecutors focused on his activities during the six months before Enron's bankruptcy, a period when Mr. Skilling was no longer at the company. In early 2001, Mr. Lay turned over the CEO's mantle to Mr. Skilling while retaining the chairman's post. At the time, many believed that Mr. Lay might eventually take a cabinet post under President Bush.
But in August 2001, Mr. Skilling unexpectedly quit the company after only six months as chief executive, citing unspecified personal reasons. In an effort to reassure investors, Mr. Lay reassumed the CEO post.
Mr. Skilling's departure prompted investigations by The Wall Street Journal and others into Enron's labyrinthine finances. Those inquiries explored some of the off-balance-sheet entities used to hide hundreds of millions of dollars of company losses. The public detailing of those activities in late 2001 caused a precipitous drop in investor confidence.
During the last months of 2001, Mr. Lay consistently said that Enron was in excellent financial shape. He also maintained that the off-balance-sheet entities -- including ones run and partly owned by Mr. Fastow, the CFO -- were perfectly proper and had been fully vetted by him and other top company officials.
However, since Enron's fall, Mr. Fastow and others have pleaded guilty to using some of those entities to manipulate the company's finances.
In recent weeks, prosecutors have been quizzing Wall Street securities analysts and others who had dealings with Mr. Lay during the company's final months to ascertain what he was telling them, say people familiar with the inquiry. Investigators also have been questioning former Enron officials about what Mr. Lay was saying, and hearing, during internal company meetings. This was a period when Enron's financial problems were becoming increasingly difficult to mask. Some of the crucial off-balance-sheet structures were using Enron stock to absorb losses on business investments. But Enron's stock price was falling, making these structures ever shakier.
Mr. Lay publicly urged employees and others to buy Enron stock during this period, claiming it was undervalued. At the same time, in the year before Enron's collapse, he sold at least $70 million of Enron stock. Mr. Lay and his supporters have argued that these transactions were perfectly proper and often done because he needed to raise cash for other investment demands. They also say that he passed up opportunities to cash out more of his Enron holdings, believing the share price would rebound.
At one point, in late August 2001, an Enron executive named Sherron Watkins warned Mr. Lay that some of the biggest of the outside financial structures, known as the Raptors, were deeply troubled and could be the focus of a major accounting scandal. Mr. Lay ordered an internal investigation, but the company didn't publicly reveal the problems with the Raptors for weeks. At one point in mid-October, in response to questions from the Journal, Mr. Lay said that he didn't know the entities' names.
Since Enron's bankruptcy, there have been calls for Mr. Lay's indictment from public officials, particularly in the West, where deregulated energy markets were damaged from market manipulation by Enron traders and others. Commenting on the Lay indictment, Sen. Dianne Feinstein (D., Calif.) said yesterday: "This marks another step forward in holding the leaders of Enron accountable for their many misdeeds, which included taking advantage of Californians by manipulating the energy market for financial gain."
By many accounts, Mr. Lay has spent the past two years trying to go about his life as if nothing unusual had happened. He lunches and dines regularly with friends and, most Sundays, attends services at his Methodist church in Houston.
Sue Walden, a Houston public-relations professional who has worked on several civic measures with Mr. Lay -- including the 1996 campaign to build the baseball stadium that was known as Enron Field, before it was renamed Minute Maid Park -- said she had lunch with Mr. Lay a few weeks ago and found him as upbeat as ever. "Ken feels he did nothing wrong. He's a man of faith with a wonderful family that has supported him through all this," she said. "I think that's what keeps him going."
Mr. Lay resigned from several boards but reportedly kept active in some civic groups and issues. Ms. Walden said she asked Mr. Lay during their lunch if he would participate in a political campaign but said he declined. He told her "he was afraid his association would bring more harm than good," she said.
---
John R. Emshwiller, Deborah Solomon & Rebecca Smith, Staff Reporters
Lay Is Indicted as Enron Inquiry Reaches the Top
Wall Street Journal, July 8, 2004
---
See what you can learn
learn more on topics covered in the film
see the video
read the script
learn the songs
discussion forum