---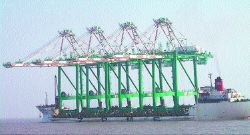 The woes of Southern California ports and the Port of Tacoma's reputation for efficient service paid a major dividend for Tacoma on Friday when a Taiwanese containership line signed a memorandum of intent to become the port's newest customer.
Yang Ming Marine Transport Corp. officials signed the agreement at the port's Sitcum Waterway headquarters. Details, such as the length of its lease, are still being ironed out.
If negotiations go according to plan – and port officials say there's no reason to believe they won't – Yang Ming will begin weekly containership service at the port's Terminal 7-D next summer.
The 32-year-old containership line is one of the fastest growing shipping companies in Asia with 74 ships in its fleet and nearly a dozen more on order.
Brendan Dugan, the port's senior director of container terminal business, said Yang Ming's interest in Tacoma was driven by two factors: the company's good existing relationship with Tacoma and the expensive congestion vexing shipping companies at the Southern California ports of Long Beach and Los Angeles.
Yang Ming has worked with the Port of Tacoma for nearly 10 years as part of a shipping alliance that includes Japan's "K" Line, Hanjin Lines of Korea and COSCO of China. The four shipping lines share ships and shipping capacity on a route between Asia and the Pacific Northwest. Yang Ming has contributed one ship, the YM Tacoma, to that alliance.
Dugan said Yang Ming intends to remain part of that alliance, but also to begin its own service from Asia to Tacoma. The details of that service haven't yet been made public.
"Yang Ming has shown great foresight in deciding to expand here," Dugan said.
Labor and equipment shortages, traffic and rail congestion at the nation's largest ports in the Los Angeles area have containerships waiting in the harbor there for an average of a week before they can unload their cargo.
Containerships calling in Tacoma usually unload immediately after arriving.
"The Southern California ports in the last few years greatly expanded their terminals, but the supporting infrastructure wasn't expanded in step with that capacity increase," Dugan said.
Yang Ming will occupy an expanded Terminal 7-D on the Sitcum Waterway. "K" Line calls at that terminal, but it will move to an expanded Terminal 3-4 on the Blair Waterway next spring. Evergreen Lines will vacate Terminal 3-4 in January when it moves to a new 171-acre home at Pierce County Terminal.
Port officials said Terminal 7-D will be expanded from the present 33 acres to 54 acres for Yang Ming by removing two huge alumina ore storage domes on the site. The alumina domes served the now-closed Kaiser Aluminum smelter on the Tacoma Tideflats. An Eastern Washington businessman has bought the two domes. He plans to dismantle them and reassemble them east of the mountains for agricultural products storage.
The terminal also will be repaved, Dugan said.
The cost of the repaving and expansion hasn't yet been determined. Existing container cranes on the site will remain in use until Yang Ming decides to put new super-sized containerships on the route.
The port has yet to calculate how many jobs the new containership service will create in Pierce County.
Southern California's congestion is creating a brisk market for Tacoma's containership terminals, Dugan said.
"I've seen more interest from shipping lines in coming here in the last months than I saw in the prior six years," Dugan said. "This is nothing short of amazing."
---
John Gillie
Port of Tacoma Lands New Tenant
The News Tribune, October 16, 2004
---
See what you can learn
learn more on topics covered in the film
see the video
read the script
learn the songs
discussion forum