---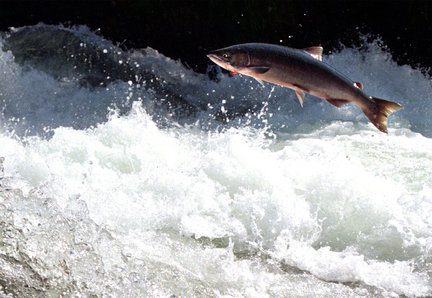 Adult salmon returning to the Columbia River from the northern reaches of the Pacific Ocean to spawn use built-in geomagnetic orientation to find and return to the river's plume and mouth, and then mostly follow olfactory cues to their spawning grounds.
The fish acquire the olfactory cues beginning in the embryo stage on the spawning grounds and imprint those and other cues as they grow and migrate downstream to saltwater, according to a presentation by Dr. David Noakes, senior scientist and director of the Oregon Hatchery Research Center near Alsea, Oregon.
Noakes spoke to the Northwest Power and Conservation Council's Fish and Wildlife Committee about research at the 10-year old center at the Council's meeting last week.
It has long been known that water in each stream and section of stream has a chemical makeup that returning adult salmon home in on to find their way back to natal spawning grounds. What has not been recognized is that imprinting also occurs at the embryo stage, guiding adult salmon all the way back to the exact spawning area from which they initially migrated.
"Salmon show homing behavior and not all fish do that," Noakes said. "That's what defines them. They get to do this once and they don't get the chance to learn from experience."
Juvenile salmon use olfactory imprinting as they go downstream, learning a series of waypoints from their natal home of birth and those imprints become cues for finding their way back as spawning fish, the fish equivalent of dropping bread crumbs to mark the return trail.
They also use magnetic orientation in their migration to saltwater, up the Washington Coast into rearing areas and when it's time to return to spawn, magnetic orientation guides the fish to the Columbia River plume where olfactory orientation becomes their primary guide.
The problem is that very few hatcheries use surface or stream water (they often use water from wells) when rearing juvenile fish. Well water does not contain the chemicals of local stream water and imprinting is less precise. Consequently, hatchery salmon have a high stray rate (instead of returning to their home of origin, they stray to other streams), which, according to the center's most recent study on olfactory imprinting, can result in "undesirable interactions" with wild fish that also occupy a stream.
"Homing is governed by olfactory discrimination of home-stream water, and exposure to the home stream during appropriate juvenile stages is critical for olfactory learning (imprinting) and successful completion of the adult homing migration," the study says.
"Here, we propose a new embryonic imprinting approach to improve successful imprinting and reduce straying by exposing embryonic salmon to waters collected from their targeted return location."
The study, "Imprinting of Hatchery-Reared Salmon to Targeted Spawning Locations: A New Embryonic Imprinting Paradigm for Hatchery Programs," was published online in the journal Fisheries, http://news.fisheries.org/imprinting-of-hatchery-reared-salmon-to-targeted-spawning-locations/.
Authors are Andrew H. Dittman, Environmental and Fisheries Sciences, Northwest Fisheries Science Center, NOAA Fisheries; Todd N. Pearson , Grant County Public Utility District; Darran May, School of Aquatic and Fisheries Sciences, University of Washington; Ryan B. Couture, Oregon Hatchery Research Center; and Noakes.
Currently some hatcheries imprint at special hatchery acclimation and release facilities. They are often expensive, but they also imprint the fish later in their young life during the parr-smolt transformation, the developmental period when the juvenile changes in preparation for life in saltwater.
Noakes and the scientists at the Oregon Hatchery Research Center propose bringing water directly from where fisheries managers want the fish to eventually spawn and to imprint the eggs in the embryo stage, which they have determined is also an important imprinting stage. This is especially important for salmon and steelhead used in supplementation or conservation programs.
The study says that hatchery programs share a common dilemma when confronted with the need for imprinting earlier than the parr-smolt transformation: "releasing salmon into the wild at earlier life stages provides a better opportunity for successful imprinting and homing, but releasing salmon at later life stages (i.e. larger sizes) provides a better opportunity for survival and may reduce deleterious ecological interactions with other species."
However, when fish from acclimation facilities return to spawn, they will tend to return to the hatchery or acclimation facility, not to targeted spawning grounds.
Hatchery-reared salmon returning as adults will tend to "seek their earliest detectable imprinted olfactory waypoint as the appropriate location to terminate their spawning migration," the study says.
On the other hand, embryonic imprinting will guide the fish back to their natal spawning grounds.
"(E)mbryonic imprinting may provide an important new management tool for reducing negative interactions between hatchery and wild salmon populations, facilitating recovery of endangered populations and recolonization of recovered habitat, and increasing the homing precision of hatchery-reared fish," the study concludes.
The Oregon Hatchery Research Center is funded by the Oregon Department of Fish and Wildlife and jointly run by ODFW and Oregon State University. The Oregon legislature committed $600,000 each year for 10 years to fund research at the center. Over those 10 years, according to Noakes, center scientists have completed some 100 research projects.
Research is focused on fish recovery and hatchery programs, including the differences between hatchery and wild fish, Noakes said. A former hatchery converted into a research center, it is located on Fall Creek, a tributary of the Alsea River, a coastal river in Oregon.
Two other studies from researchers at the Center published in 2014 describe the magnetic homing instincts of salmon.
"Rearing in a distorted magnetic field disrupts the 'map sense' of juvenile steelhead trout," Biology Letters, The Royal Society. Authors are Nathan F. Putman, Department of Fisheries, Oregon State University; Amanda M. Meinke, Southeast Fisheries Science Center (Miami, Florida), NOAA Fisheries; and Noakes.
"Inherited Magnetic Maps in Salmon and the Role of Geomagnetic Change," Integrative & Comparative Biology, The author is Nathan Putnam.
Related Sites:
-- CBB, Feb. 7, 2014, " Experiments At Oregon Hatchery Research Center Confirm Link Between Salmon Migration, Magnetic Field by Staff, Columbia Basin Bulletin, 2/7/14
Hatchery Salmonids Exposure to Unnatural Magnetic Fields (Iron, Steel) Negatively Impacts Navigation by Staff, Columbia Basin Bulletin, 6/6/14
Noakes' presentation to NWPCC
---
Staff
Successful Salmon Homing Requires Both Olfactory Imprinting, Geomagnetic Navigation
Columbia Basin Bulletin, January 22, 2016
---
See what you can learn
learn more on topics covered in the film
see the video
read the script
learn the songs
discussion forum