---
Low stream flows, increased water temperatures, and dying fish forced fish and wildlife commissions in Washington and Oregon to curtail fishing in several rivers and streams, effective July 18.
Both commissions said closing or restricting fishing will help reduce the stress on fish caused by drought conditions.
The Oregon Department of Fish and Wildlife reported dead and dying sockeye in the Deschutes River over the July 5-6 weekend. Subsequently, more than 80 dead sturgeon were found in Columbia River reservoirs above Bonneville Dam and about 100 dead salmon were discovered on the Middle Fork John Day River in Oregon.
On the Columbia, biologists suspected high water temperatures along with lower streamflow, which decreases the amount of dissolved oxygen in the water, caused the sturgeon die-off.
According to a Washington Department of Fish and Wildlife news release from July 16, water temperatures on the Columbia River above Bonneville Dam had averaged 73 degrees over the prior two weeks, compared to an average of 64 degrees during the same period over the past five years.On the John Day River, drought conditions--low water levels and increased water temperatures--were again the likely culprits.
The Washington-Oregon Columbia River Compact closed recreational sturgeon fishing from upstream of Bonneville Dam on the Columbia, the lower Snake River and adjacent tributaries. The sturgeon moratorium applied to all sturgeon fishing, including catch-and-release.
Washington's fishery managers closed or limited fishing on more than 30 rivers in the state.
Oregon also imposed fishery restrictions, including prohibitions at all times in some river stretches.
Related Pages:
Sockeye Arrives at Stanley Despite Warm Water by Associated Press, Teton Valley News, 7/29/15
Salmon Dying by the Thousands in Hot U.S. Rivers by Ted Ranosa, Tech Times, 7/29/15
First Sockeye of Year Returns to Redfish Creek Despite Hot Rivers by Rocky Barker, Idaho Statesman, 7/28/15
Why Are Thousands of Migratory Salmon Dying Before They Can Spawn? by Courtney Sherwood, Christian Science Monitor, 7/27/15
Biologists Bring Sockeye into Idaho on Trucks to Get Them Out of Hot Water by Rocky Barker, Idaho Statesman, 7/17/15
Sockeye Salmon Suffer Infections in Warm Columbia River System by Rich Landers, Spokesman-Review, 7/17/15
Half of Columbia River Sockeye Salmon Dying Due to Hot Water by Associated Press, The Oregonian, 7/18/15
---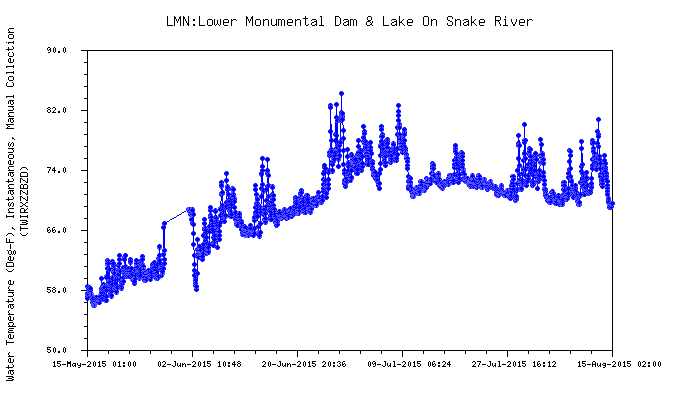 ---
---
---
---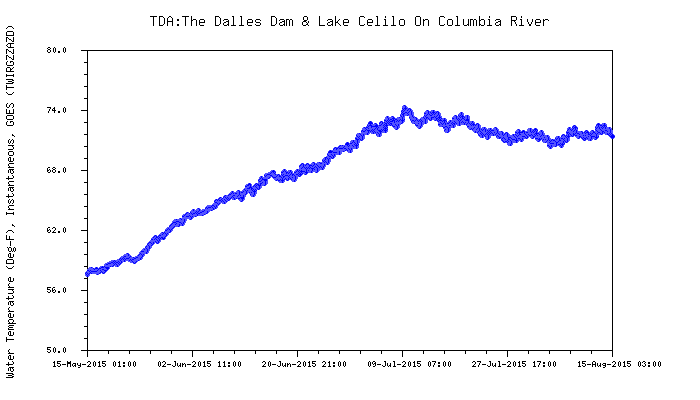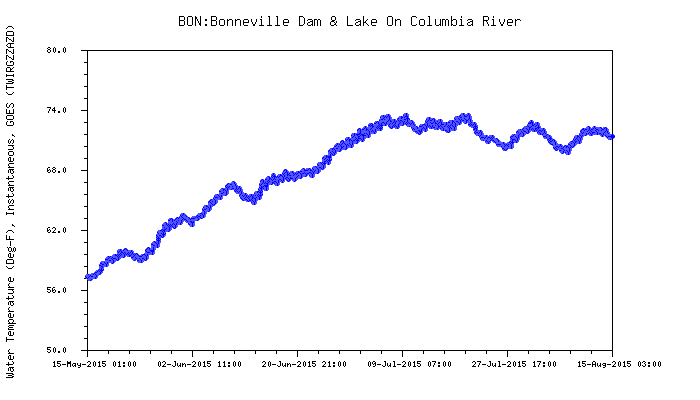 ---
Laura Berg
Drought Conditions, Heat and Fish Kills Prompt Washington, Oregon Fishing Closures
NW Fishletter, August 11, 2015
---
See what you can learn
learn more on topics covered in the film
see the video
read the script
learn the songs
discussion forum