---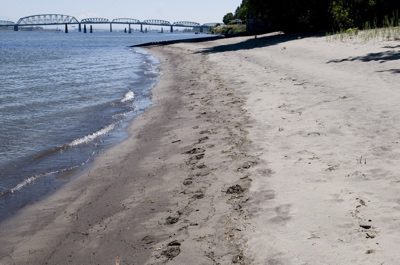 Choosing a destiny is always hard. But it's Portland's turn. And it's no time to flinch.
As the city falls in economic prosperity behind vanguard peers such as Seattle and Austin, it must decide whether to commit to a project that seems to pair industrial growth with environmental plunder.
But only the first part is true. And until the specious use-conservation fight is squared, we'll get nowhere.
The project means developing more than 300 acres of the 826-acre West Hayden Island, situated near the confluence of the Willamette and Columbia rivers.
West Hayden Island is rich, if largely unseen. Bald eagles nest on it, along with dozens of songbird species and western painted turtles; its shoreline waters are habitat for federally protected steelhead, coho, chinook and chum salmon. The place is just plain pretty, too, the more so for being in an urban setting.
But the Port of Portland wants to erect a deep-water marine terminal on the island to serve ships carrying anything from commodities to cars. The agency bought the island property years ago from Portland General Electric -- access to the navigation channel and railroads now crossing the island, as well as proximity to Interstates 5 and 84, had made it seem ideal.
Finding no other land like it, the Port of Portland figures a new terminal on West Hayden strengthens Portland's marine shipping future while promising growth in a region hard up for jobs. The Portland Audubon Society, meanwhile, promises to lead a fight to keep West Hayden Island as is: a fecund preserve, a rare working natural system whose value to the region is underestimated.
Portland Mayor Sam Adams is in the middle. He pitched the idea to the City Council with the proviso that 500 acres of West Hayden be kept unsullied as open space. The council weighs the proposal this week.
As it does, city commissioners must unkink a tiresome debate about use versus preservation. Both, in the end, are possible on Hayden Island.
If the council directs city staff to proceed, it must request a wide search for terminal configurations and operations that would bring the least impact to fish and wildlife, with consultation from conservationists. It must decide the scale of remediation on the island and in waterways -- measures to offset the creation of a hard-use terminal.
But most of all it must secure open space as a conservation area. Much has been made about paving paradise and putting up a parking lot. Though imported cars could be offloaded and parked before dispatching to domestic destinations, no one can yet guarantee the uses of a West Hayden terminal that would be years in the making.
Shipping is like that. Fifteen years ago no one knew China would annually import 40 million metric tons of soybeans, roughly half of it from the U.S. with an increasing share chugging through Northwest waters.
Likewise, little is known of the 1,200 jobs a West Hayden terminal could bring. Some would be in the $70,000 to $80,000 longshoreman's range. But some would be lower pay jobs in related businesses and concessions.
Outsourcing a new terminal to the Port of Vancouver, which some argue could eliminate the need for a Hayden Island terminal , is a long shot. While Vancouver has the capacity, it is committed to other projects that would push anything like this to 2018 or beyond.
A start now means taking a look. A successful start, however, means creating conservation zone alongside a terminal designed and operated around known wildlife impacts.
Yes, it's hard work. But it's nothing less than creating a destiny -- finding and naming, with no flinching allowed, what it is Portland wants to be.
---
Editorial Board
Navigating the Future from West Hayden Island
The Oregonian, July 24, 2010
---
See what you can learn
learn more on topics covered in the film
see the video
read the script
learn the songs
discussion forum