---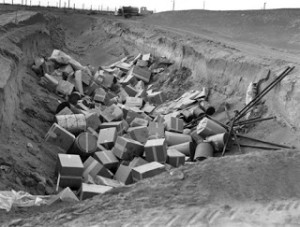 Sen. Patty Murray, D-Wash., asked the energy secretary Wednesday why the Department of Energy is not using an additional $45 million she and other members of Congress fought to get for Hanford cleanup in the present budget.
Work is well underway toward cleanup on the 324 building and the 618-10 Burial Ground, with $209 million combined spent, she said at a hearing of the Senate Appropriations Energy and Water Development Subcommittee.
"It seems to me that DOE now is trying to pull the plug on them, which creates a safety risk, cleanup delays, cost increases and missing those Tri-Party Agreement milestones," she said.
The hearing was to address the administration's proposed budget for fiscal 2016, which would reduce spending on cleanup along the Columbia River by almost $204 million from current spending to $108 million.
Overall the Hanford DOE Richland Operations Office -- which is responsible for Hanford cleanup other than management of waste in storage tanks or treatment of the tanks -- would have spending cut by about $93 million.
Much of the cleanup along the Columbia River is expected to be finished this year, but the proposed cut would impact work on the 618-10 Burial Ground and the 324 Building.
"Several high-risk projects close to the city of Richland, close to the Columbia River and Energy Northwest remain," Murray said. "I'm really concerned that the fiscal year 2016 budget request would hamper this cleanup, and in the case of the 324 Building and the 618-10 Burial Ground, they'd be stopped or mothballed or kicked down the road."
The administration's budget request cites technical challenges to rationalize the cuts to those projects, but no one has been able to tell Murray what those technical challenges are, she said.
"What is holding you back from continuing to make progress on those projects?" she asked.
Energy Secretary Ernest Moniz did not respond directly to her questions about cleanup work near the Columbia River.
He suggested that DOE meet with Murray or her staff to discuss the fiscal 2016 budget proposal and said he would need to look into the details of spending on cleanup for those projects and get back to her.
Murray said she wanted his answer to be part of the public record so all members of the Senate Appropriations Committee have the information.
The 324 Building, just north of Richland, sits over a spill of highly radioactive waste. DOE's plan is to leave it standing while the spill is dug up from within the building. Engineering work on a system to dig up the waste has begun.
Work also is being done to dig up waste in the trenches of the 618-10 Burial Ground, one of two high-risk burial grounds that remain at Hanford near the Columbia River. The burial ground also has pipes buried vertically in the ground where cans of radioactive and hazardous chemical research waste were dumped. Work still must be done to remove that waste.
The other high-risk burial ground is 618-11, which is adjacent to an Energy Northwest parking lot for its nuclear power plant.
Sen. Maria Cantwell, D-Wash., Rep. Dan Newhouse, R-Wash., and Rep. Jaime Herrera Beutler, R-Wash., also have each asked Moniz about cleanup of the 324 Building and the six-acre 618-10 Burial Ground, six miles north of Richland, during congressinal hearings this year.
Moniz did not directly answer their questions.
Murray also brought up the Nuclear Regulatory Commission's safety evaluation of the proposed Yucca Mountain, Nev., nuclear repository on Wednesday.
The recently completed evaluation found that it would be safe to operate Yucca Mountain as a repository, confirming more than 30 years of independent studies, she said.
"I really urge you, Mr. Secretary, to follow the congressional intent as directed in the Nuclear Waste Policy Act and defend DOE's Yucca Mountain license application," she said.
The administration's fiscal 2016 budget proposal does not including money to restart adjudication with the Atomic Safety and Licensing Board Panel, she said.
Moniz said $17 million unspent from previous budgets is available, plus some additional money obligated to specific work, which should provide money for any work that would be needed.
---
Annette Cary
Sen. Murray: DOE Appears to be Pulling Plug on Some Hanford Cleanup
Tri-City Herald, March 25, 2015
---
See what you can learn
learn more on topics covered in the film
see the video
read the script
learn the songs
discussion forum