---
Aggressive boat inspections, treatments may prevent spread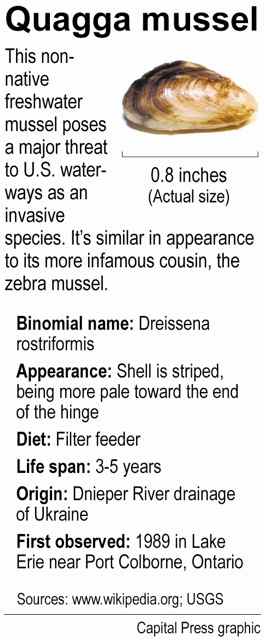 It's taken tens of thousands of boat inspections and a lot of diligence, but Idaho's effort to keep quagga mussels from invading the state's waterways has paid off so far.
The state has conducted more than 40,000 boat inspections since March and intercepted 24 boats harboring quagga mussels, a freshwater invasive species that can create havoc in water ecosystems.
The boats were decontaminated with 140-degree water before being released.
Idaho is one of only five Western states that quagga mussels have not been introduced into and state officials want to keep it that way.
Quagga mussels, which range in size from microscopic to the size of a fingernail when full grown, are prolific breeders and attach themselves to hard and soft surfaces. They foul freshwater ecosystems by clogging intake pipes, water delivery and hydro systems, and irrigation pipe fittings, and cost millions of dollars a year to treat.
Amy Ferriter, the Idaho State Department of Agriculture's invasive species coordinator, said the mussels could cost Idaho up to $100 million a year to treat if they gain a foothold here.
"We're really trying hard to keep them out," she said.
Rep. Eric Anderson, R-Priest Lake, who is leading the effort in the Idaho Legislature to keep the mussels out of the Gem State, said they can completely change the ecology of a water system.
"(They) are very, very intrusive," he said. "(They) will take over an ecosystem. They are truly a threat to our resources."
The water in boat engines, bilge compartments, live wells and buckets can carry microscopic mussel larvae. Quagga mussels are transported to other bodies of water mainly through boats.
ISDA officials, along with those in other Western states and federal agencies, have been urging boaters and owners of other watercraft to clean, drain and dry their boats and equipment before entering Idaho.
"We need boaters to be vigilant and help us in this effort to keep them out," ISDA Director Celia Gould said.
Ferriter said it's believed quagga mussels made their way to the Great Lakes through the ballast water from Russian ships following the end of the Cold War. They were discovered for the first time in the Western United States in 2007 in Lake Mead in Nevada.
The boat inspection program is the main tool the ISDA is using to prevent the tiny mussels from invading the Gem State. Mandatory boat inspections began in March this year, much earlier than normal, in an effort to intercept boats that were heading back to Idaho for the summer after wintering in other states.
The $850,000 program is entirely funded with money collected from boat registration fees, but Anderson says state officials would have immediate access to $5 million in emergency funds to prevent quagga mussel populations from expanding if they do gain entry into Idaho.
While it only takes one boat to introduce the mussels into Idaho, state officials think they have a decent shot at keeping them out.
Ferriter notes that Minnesota, the land of 10,000 lakes, has had quagga mussels for 20 years but has managed to keep them confined to about 40 lakes through prevention efforts.
"I think we have a shot at keeping them out with some pretty serious intervention efforts," she said.
---
Sean Ellis
Officials Draw Line in the Water to Halt Quagga Mussels
Capital Press, September 1, 2011
---
See what you can learn
learn more on topics covered in the film
see the video
read the script
learn the songs
discussion forum