---
"Only about 9% of the public in Washington buys a recreation fishing license. And only 30% of those are for salmon.
... If you want local fish, you have to get them from commercial fishermen."
-- Robert Sudar, a commercial fishing advisor based in Longview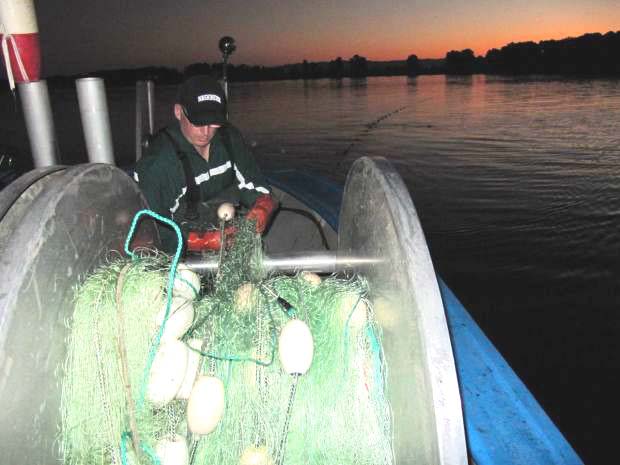 A recent update to the state's Columbia River salmon management policy to change harvest allocations and allow commercial gillnetting on the main stem has anglers reeling.
Recreational fishers say the change will reduce opportunities for sport fishing, negatively affect conservation efforts and cause incongruity in the rules on a waterway managed by two states.
Though they agree policy differences will arise between Washington and Oregon because of the change, commercial fishers say the rest of the anglers' fears are blown out of proportion.
"We've made a lot of changes over the last 30 years to how we fish in order to adjust to (federal Endangered Species Act) listings, in order to adjust to harvesting the best fish in the river at the best times," said Robert Sudar, a commercial fishing advisor based in Longview. "It's a totally different fishery than it was 30 to 40 years ago."
Washington Department of Fish and Wildlife commissioners approved the controversial changes Sept. 11. The updates shift the allowable harvest for spring, summer and fall Chinook fisheries to an average threshold of 70% recreational and 30% commercial. That's compared to the 80% recreational, 20% commercial split that was previously in place.
Additionally, the new harvest allocations use an "abundance-based matrix," which calculates the specific annual harvest percentage based on the run size. In years with low return numbers, the policy allows sport anglers to take more than 70% of the overall quota, with commercial boats sacrificing the difference. But in years of high returns, commercial fishers can take more than their avearge 30%.
The updates also return gillnets to the list of approved commercial gear for the mainstem Columbia.
The updates are set to take effect in 2021, though the specifics may change as Washington officials try to reconcile them with Oregon's rules.
Study dives in
WDFW implemented the original policy, formally named C-3620, in 2013. The stated intent was to promote orderly fisheries, advance conservation and recovery of salmon and steelhead and maintain or improve the economic well-being and stability of the fishing industry in Washington, according to WDFW documents.
WDFW Columbia River fishery manager Ryan Lothrop said the creation of the policy was driven in part by a growing interest in sport fishing and in part by a rising concern about mismanaged commercial fisheries with "lots of by-catch impacts" and a high mortality rate for non-target fish.
"The release mortality rates on gillnets are not low. They range from 40 to 60%. But other tools like tangle nets ... are typically around that 10% range," he said.
Washington officials worked with counterparts in Oregon to create similar guidelines for the two states. Both states agreed to phase out gillnets on the river.
The Washington policy called for wildlife managers to review its success after five years. After almost a full year of study, WDFW concluded that C-3620 "hasn't worked as intended," Lothrop said.
"Some elements have, but many of the key elements have not," said Lothrop, who co-authored the evaluation study of the policy. "The recreational fisheries saw benefits, but not as much as they would have expected given the allocation changes. ... So their sport fishing trips, which was the economic measure, weren't fully realized."
According to the study, the average numbers of angler trips per year before the policy was put in place was about 420,000. After the policy took effect, that dropped to around 400,000.
However, the economic impact of the trips stayed relatively steady -- actually growing slightly post-policy. The average annual impact before the policy was $25.2 million, compared to about $25.5 million after.
On the commercial side, fishery managers found there were not enough opportunities for gillnetting off the mainstem to adequately support the industry. And multi-million dollar tests and trials of alternative gear never led to widespread use by fishers.
"We were able to test and research and even do pilot studies, but full implementation, that's where it fell behind," Lothrop said. "That doesn't mean we can't get there. We are still working on it, trying to figure out if there are gears and other variations of the gear that will work."
The review process also found that large mesh gillnets can be more selective in the harvest process if they are used at the right place and right time, Lothrop said.
"There's a political disagreement about whether it should be used or not. ... We do have evidence and have applied it that it does help avoid steelhead because the mesh is so large that it reduces the number of steelhead we catch and have to release," Lothrop said. "By applying that fishery at a certain time and location, you can also help avoid some of the other fishery runs," so fewer non-target fish are caught in the gillnet.
Pros and cons
Nello Picinich, executive director of Vancouver-based Coastal Conservation Association Washington, said the updates are a "big step backward" in conservation of salmon and steelhead, including those listed as endangered species.
The old plan intended to get rid of gillnets because they are not "mark selective," so fishers can't identify different types of fish before harvesting them, he said. That means a commercial gillnetter who is fishing for Chinook will probably bring in endangered species like steelhead, which are protected under federal law. And considering the gear's high mortality rate, those fish are unlikely to survive an encounter with a gillnet.
Now, after a nearly two-year ban on the mainstem, the controversial gear is making a come-back.
"The huge downside is the conservation losses that will be achieved. There will be more by-catch of steelhead. There will be more by-catch of sturgeon," Picinich said. "And by the way the birds, seals, sea lions, whatever is swimming in the river at the time if it runs into a gillnet ... in all likelihood will suffer fatal injuries."
Sudar, the commercial fishing advisor, said gillnet practices have improved in the last three decades, and the gear has become more selective.
"You pick the size of the opening in the net to match the fish you are trying to catch," he said. "So when you are fishing for Chinook, we generally use a net that's eight or nine inches in the opening. ... There is good data the sockeye and the steelhead pass through those nets because there's big openings."
Sudar added that the policy changes are "not big." Sport fishers will still have the vast majority of the allowable harvest. Commercial fisheries will still be highly regulated by wildlife officials.
But for local gillnetters, whose way of life has revolved around the practice for multiple generations, those little changes are "significant to us."
"We are still going to have quotas. We will still be turning in our harvest data on a daily basis. All of the management structures are still in place," Sudar said. "There won't be rampant fishing. It's just a little more opportunity. That's about all."
The original policy "just crippled our industry" by taking away the main tools it used and most of the chances to fish, Sudar said. The policy update restores opportunities for gillnetters to bring fish to local markets, particularly in the spring and the summer. The old language "didn't let us fish for early summer Chinook because it wouldn't let us use gillnets, which are the right tool for that time," Sudar said.
The policy update also increases the commercial share of harvest, which could put more salmon on the market for non-fishing residents.
"We are fishing for the public," Sudar said. "Only about 9% of the public in Washington buys a recreation fishing license. And only 30% of those are for salmon. ... If you want local fish, you have to get them from commercial fishermen."
He said his average delivery to market of about 900 pounds of salmon equates to almost 2,000 meals.
"A lot of people benefit from this," Sudar said.
Ed Wickersham, a Ridgefield resident and retired U.S. Fish and Wildlife Service special agent, argued that commercial fishers like Sudar overplay their economic contributions. If part of the policy was aimed at supporting work and commerce on the river, it makes more sense to boost sport fishing opportunities, he said.
He cited a 2008 study of economic impacts of commercial and recreational fishing released by WDFW that found that the groups collectively supported 16,375 jobs in 2006. Recreational fishing, though, supported nearly 75% of the jobs. And it generated nearly $424 million in net economic values, compared to $38 million from commercial fishing.
Wickersham added that all of the money raised from recreational license and endorsement fees goes to WDFW to support fishery management. Commercial fishers don't buy endorsements. And there are significantly fewer commercial licenses than recreational ones.
"This policy change will take and convert about 25% of the catch of spring Chinook and summer Chinook into these commercial boats. And what that computes to is thousands of angler trips that are worth millions of dollars," Wickersham said.
Sudar contends that the "economy benefits most when you have a viable commercial fishery and a viable recreational fishery. But right now we don't have a viable commercial fishery."
The only point on which commercial and recreational fishers seem to agree is how the new policy has misaligned Washington's river management plan with Oregon's. The two states jointly manage fisheries in the Columbia River, but Oregon's management rules restrict gillnetting and set slightly different harvest allocations.
When rules in the two states are not concurrent, it's much harder to enforce the rules on the river and its fisheries, Lothrop said.
"No one wants to go there," he said.
So WDFW now must work with Oregon officials to get the rules in both states as close as possible, Lothrop said. That means the policy on this side of the river may change yet again.
"Really, the policy update does not mean this is done," Lothrop said. "It just means the conversations with Oregon will continue."
---
Mallory Gruben
Gillnetters Approve, Anglers Reel at Columbia River Salmon Policy Change
The Daily News, September 21, 2020
---
See what you can learn
learn more on topics covered in the film
see the video
read the script
learn the songs
discussion forum