---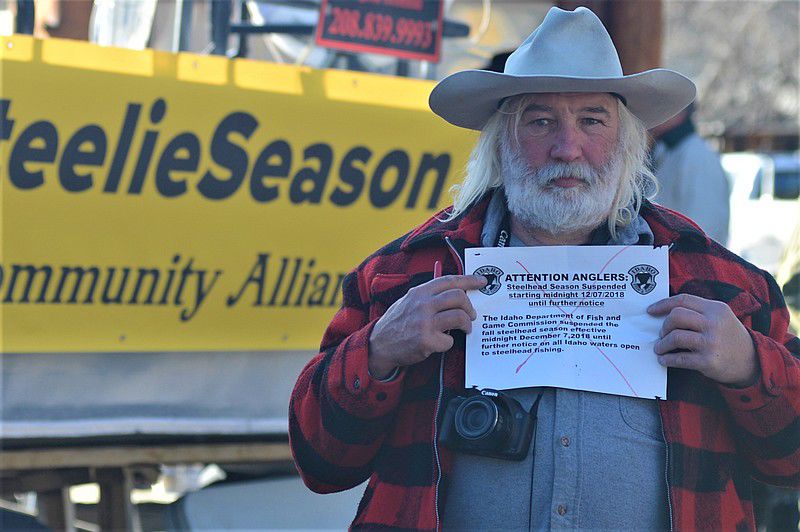 RIGGINS -- A sizable portion of this town's winter work force might already have departed if not for the news that came last Friday night, Dec. 7, when the Idaho Fish and Game commission approved an agreement to hold off a court fight and allow steelhead fishing to continue across much -- but not all -- of North Central Idaho.
"It came down to today for me," 15-year Riggins resident and river guide Rusty Peterson told the Free Press after festivities on Dec. 8 shifted downtown. "I was ready to pack up, put my house to rent and go do something else."
He was one among the roughly 100 who attended what had been billed as a protest last Saturday, Dec. 8.
Environmental organizations had given notice of intent to sue the state for lack of a federal permit, and the commission had decided to close steelhead season, rather than chance being taken to court. The recently-founded Idaho River Community Alliance (IRCA) had planned the Dec. 8 event as a protest, but also participated in developing the resolution under which the season is set to continue. So IRCA declared the Dec. 8 event a celebration after the resolution was signed and the season was reopened.
Roy Akins of Riggins and Homer Brown of White Bird -- men who run river tourism businesses and who are elected officials of their respective towns -- both said they were pleased with the outcome. The sentiment was echoed by all who spoke with the Free Press on the record during and after the Dec. 8 event, including Kerry Brennan of Riggins, former Riggins Mayor Bob Crump, Dan Anduiza of White Bird, independent river guide Matt Parker and State Sen. Carl Crabtree of Grangeville.
Federal regulators brought new paperwork to the fore Nov. 6 for 30 days of public review; NOAA moved last week to extend the deadline to Dec. 13. The federal lead agency, NOAA Marine Fisheries Service, has the details online, and said of the extension, "this additional period for public comment will not affect NMFS's overall schedule for completing our ESA [Endangered Species Act] review."
Idaho Fish and Game released a statement Friday night that anticipates NMFS will issue the permit "later this winter," while Idaho's Congressional delegation on Dec. 7 sent NMFS a letter asking the permit be issued "no later than the end of January."
Under the agreement, two areas will remain closed to steelhead fishing until the state receives the federal permit: the South Fork Clearwater River above the Mt. Idaho Grade bridge and the Salmon River from Warren Creek to Copper Mine Boat Ramp. IRCA agreed its members will voluntarily take some of the steps environmentalists requested to reduce mortality from incidental catch of wild steelhead: To use single-pointed barbless hooks, to keep the first-caught hatchery fish and to not remove wild fish from the water.
Related Pages:
Agreement Staves Off Steelhead Season Closure by Eric Barker, Lewiston Tribune, 12/7/18
Conservation Groups did Idaho a Favor by Ending Steelhead Season by Josh Babcock, Moscow-Pullman Daily News, 11/16/18
Steelhead Season Gets Snagged on a Legal Barb by Eric Barker, Lewiston Tribune, 11/16/18
Columbia River Salmon, Steelhead Fisheries Reopen Jan. 1 by Eli Francovich, Spokesman-Review, 11/13/18
Idaho Fish and Game Suspends Steelhead Seasons Under Threat of Lawsuit by Eric Barker, Lewiston Tribune, 11/14/18
Idaho Mulls Scrubbing Steelhead Season by Eric Barker, Lewiston Tribune, 11/14/18
IDFG Cuts Clearwater Steelhead Bag Limit by Eric Barker, Lewiston Tribune, 9/30/18

---
Andrew Ottoson
Friday Night Reverse Keeps Steelhead Fishing Season Open
Idaho County Free Press, December 13, 2018
---
See what you can learn
learn more on topics covered in the film
see the video
read the script
learn the songs
discussion forum